How to completely Wipe a Device?
If the corporate or the personal devices used for work got lost or stolen, you could not risk a corporate data leak. Locking the device is a solution, but what if they cracked the password? So, completely wiping the device might be the only option to protect such sensitive data.
You can either perform a corporate or a complete wipe. A corporate wipe is usually recommended if you are wiping a BYO Device. This ensures that the personal data in the device will be left untouched. Use complete wipe to wipe a corporate-owned device.
To wipe a device completely,
Login to your Hexnode portal.
Navigate to Manage tab.
Click on the device you wish to wipe or select the devices.
From Actions drop-down, select Wipe Device.
If you are remotely wiping a device running macOS 10.8 or above, enter your Find My Mac PIN.
If required, enable Clear Factory Reset Protection/Activation Lock.
In case the attempt to Erase All Content and Settings fails in macOS 12.0+ devices, the device falls back to a behavior termed Fallback behavior. Select your Mac's fallback behavior from the below options:

Complete Wipe: Device gets wiped completely and requires manual re-installation of OS before the device can be used again.
Do not wipe: No attempt is made to wipe the device completely.

Click Wipe, in the confirmation dialog.
Enter the password of your Hexnode MDM portal and click Confirm to initiate device wipe.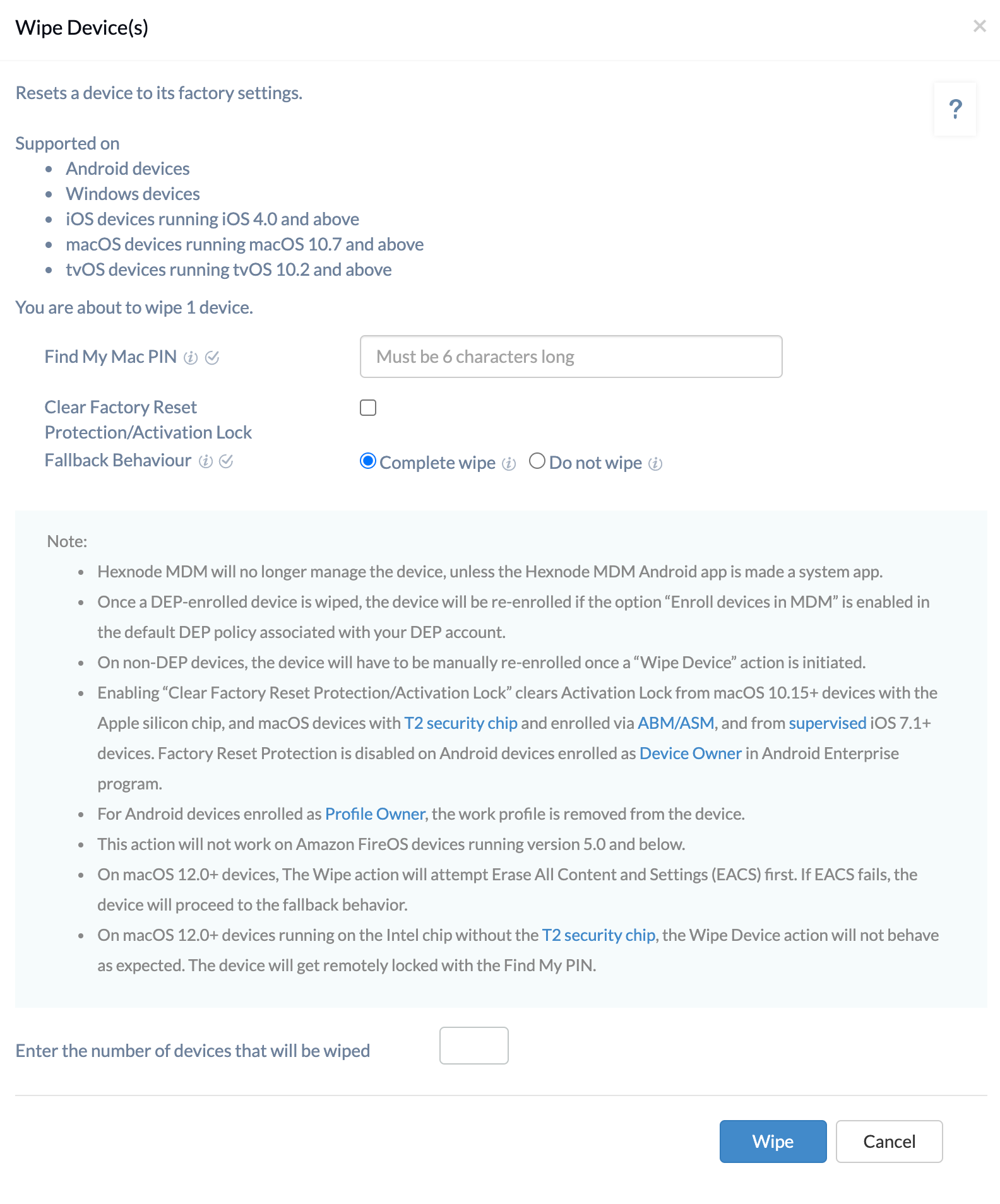 To wipe a single device:
To wipe multiple devices:
Automatic device wipe using Hexnode UEM
A device can be set up to get completely wiped automatically if the user enters an incorrect password for a specific number of times. This feature is available only on iOS, Android and Windows devices. To set up,
Go to Policies and create a new policy or continue with an existing one.
Go to iOS > Passcode/ Android > Device Password/ Android > Work Profile Password/ Windows > Password.
Set a value for Failed Attempts/Failed attempts before wipe.
To associate this policy with targets before saving,
Go to Policy Targets tab from the policy set up screen.
Add devices, users, device groups, user groups or domains.
Now, save the policy.
To associate the policy after saving the policy,
Go to Policies and select the required policy.
Click on Manage > Associate Targets.
Click on Device/User/Device Group/User Group/Domain.
Select the required targets and click on Associate.