Managing Location Reports in Hexnode UEM
Hexnode UEM's Location Tracking feature allows organizations to track the device location remotely and finds significant applications in various industries, such as logistics.
Knowing the whereabouts of your managed devices and the time spent in a specific location helps you assess employee productivity and make well-informed business decisions. Moreover, it can help you keep track of the lost or stolen devices that may contain sensitive corporate data.
With Hexnode UEM, you can obtain a detailed report on the locations traversed by the devices enrolled in the Hexnode portal for which you enabled Location Tracking.
A Location History report contains the following details:
Device: Friendly name of the device.
User: The assigned user of the device.
Serial Number: The serial number of the device.
Latitude: The latitude coordinates of the device location.
Longitude: The longitude coordinates of the device location.
Location: The location of the device at the time of reporting in the Hexnode portal.
Reported Time: Date and time at which the device location was reported in the Hexnode portal.
Location Notes: Notes entered by the user during location check-in from the device end.
To get a location report of your enrolled devices:
Log in to your Hexnode portal.
Navigate to Reports > Location Reports.
Select Location History.
Click on the edit icon to view additional details (if available) or choose only the required details in the report.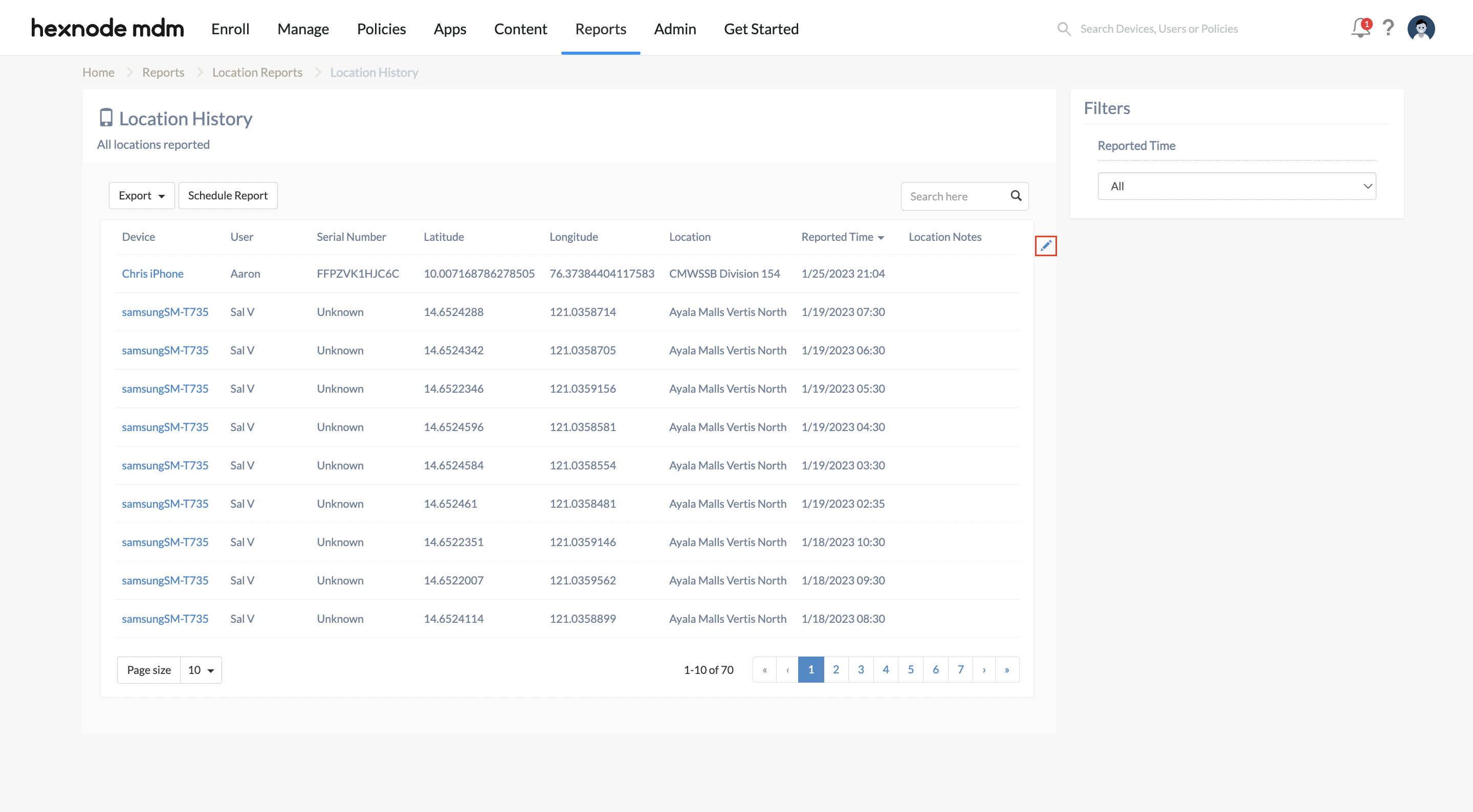 You can filter the Location History report based on:
Reported Time: Filter results according to the time range during which the locations were reported— All, Today, Yesterday, Last 7 days, Last 30 days, or set Custom duration by specifying the start and end dates.
You can schedule reports at specific intervals and send them to the required recipients via email. Additionally, you can Export the report to your device as a PDF or CSV file.