How to enforce software updates on Apple TV?
This article will guide you with the process of enforcing Apple TV OS update remotely with Hexnode UEM.
Apple releases exciting new versions of tvOS to improve device performance and stability. Newer OS versions offer you enhanced security and management capabilities to get your users up and running in no time. Besides, running an outdated OS version can bring in many security flaws that may not be ideal for your organization. Also, some apps may not be compatible with devices running outdated software. The perfect solution to iron out these challenges is by updating the Apple TVs to the latest patches.
Hexnode simplifies the deployment process of large-scale OS updates to Apple TV devices without disrupting business productivity. Here, you can target software updates to an individual device or a particular group of devices from a centralized console. You can either choose to download and install Apple TV updates automatically or just download it for the users to install it at their convenience.
Enforce Apple TV OS Update
To enforce OS updates on a single Apple TV,
Log in to your MDM portal.
Navigate to Manage > Devices. Utilize the search box to find the required Apple TV or make use of the filter column to sort devices based on the platform (Apple TV).
Click on the device you want to enforce OS updates.
Select Update OS from the Actions drop-down menu.
You can also target the software updates to multiple Apple TV devices. In that case,
Head on to Manage > Devices.
Check the devices that you need to update to the latest tvOS versions.
From the Actions drop-down, click Update OS.
There are two choices available to enforce OS updates on Apple TVs: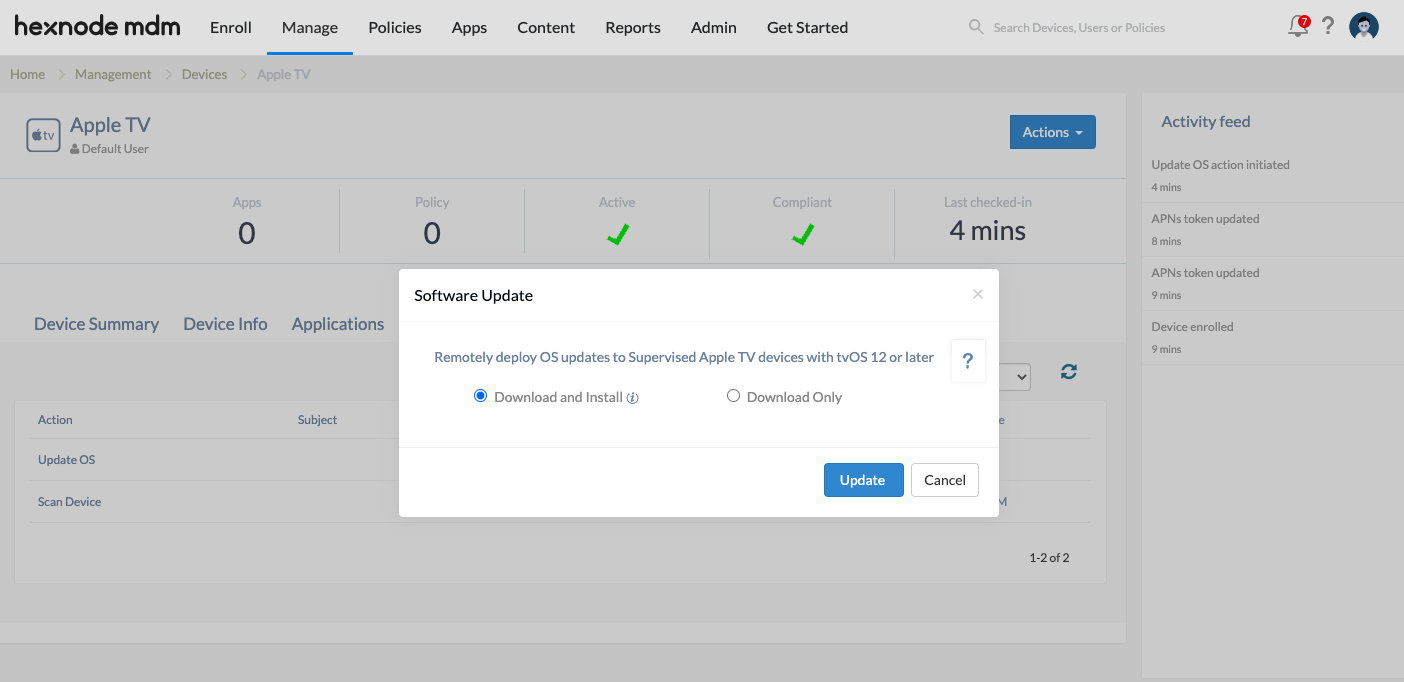 Download Only: Check this option to download OS updates on the device. However, this action will not automatically install the updates on the devices. The user must install it manually on the device from Settings > System > Software Updates.
Download and Install: This option downloads the system update over the air and installs it as soon as it's downloaded. Note that the installation will start if the updates are already downloaded on the device. You can simultaneously update a large number of devices based on your bandwidth considerations.
To view the status of the 'Update OS' action pushed to a device, head on to the Action History tab available on the device details page of that device.