Device Enrollment Program
What is Apple Device Enrollment Program?
The Apple Device Enrollment Program (DEP) gives businesses the ability to enroll and deploy corporate-owned iOS devices. Apple DEP streamlines the process of large-scale device deployments and management by allowing you to pre-configure devices prior to their distribution.
Users receive their devices fully-configured and out-of-the-box ready, while data remains private and the system secure. All pre-configured settings are controlled by administrators from a remote location, and compliance is maintained wirelessly so that no hands-on management is ever necessary.
How do I join the Device Enrollment Program?
Apple DEP is available in over two dozen countries. Business and educational institutions in these regions can join the Apple Device Enrollment Program if they have purchased their devices directly from Apple or one of their authorized re-sellers. You can check eligibility through Apple's Device Enrollment Program guide, or by contacting your Apple representative.
You can register your school or business with the Apple Device Enrollment Program by heading over to Apple's deployment page and following a few simple steps. Once you've registered your organization and created an account, you can then enroll and configure devices for your programs through the Hexnode portal.
Which devices can be enrolled in DEP?
Any Mac computers, iOS devices or Apple TV purchased either directly from Apple or from a participating Apple Authorized Reseller on or after March 1, 2011 can be enrolled into the Apple DEP. Mac computers must be running OS X 10.9 or later, iOS devices must use iOS 7 or later and Apple TV must be using tvOS 10.2 or later. You can add iOS and tvOS devices to Apple DEP using Apple Configurator, regardless of where the devices were purchased. When you set up a device that has been enrolled manually, it behaves like any other enrolled device with mandatory supervision and mobile device management (MDM) enrollment. For devices that were not purchased directly, the user has a 30-day provisional period to remove the device from enrollment, supervision and MDM.
How does Hexnode integrate with Device Enrollment Program?
The Device Enrollment Program makes it easy to assign Apple devices to the Hexnode server. Through our server, you can assign profiles, automate enrollment, and wirelessly supervise all the devices tied to your network, all the while skipping basic, and often tedious, setup steps. This hands-off approach to IT management saves time, so it can be spent elsewhere.
Multiple DEP Account
Organizations can now add multiple DEP accounts in the Hexnode portal. So that they can manage devices enrolled to different DEP accounts from the same portal.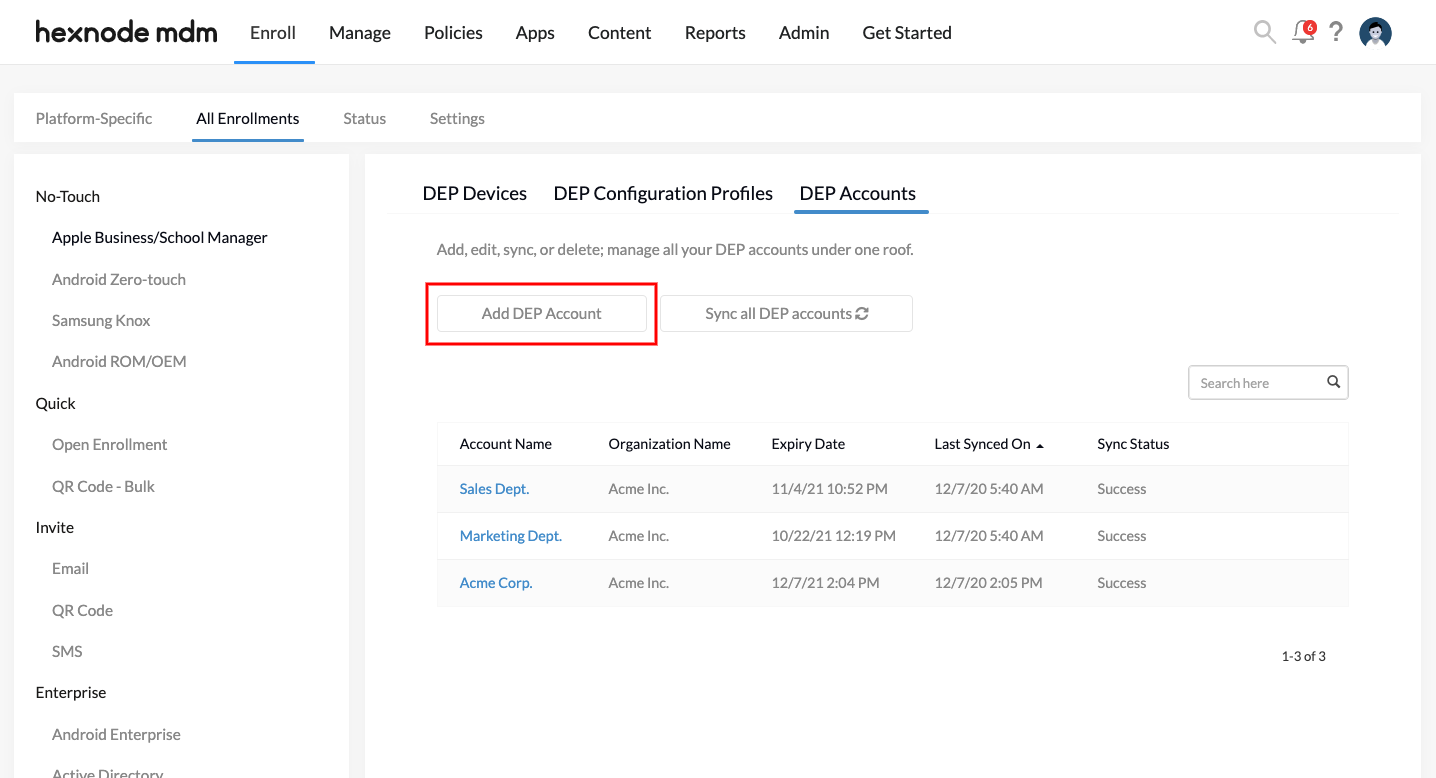 What are the advantages of enrolling with Apple DEP?
The biggest advantage with Apple DEP is the ease you get with the automated enrollment process. This process ensures that all devices are configured according to your organization's requirements and it also guarantees that all users have the same apps, settings, restrictions, and privileges on their devices before it is even issued to them.
Other advantages include:
Install non-removable MDM profiles
Prevent users from manually removing MDM configuration that would leave a device unmanaged
Ability to wirelessly turn on supervision
Preconfigure an initial setup that eliminates time-consuming hassles for end-users
Silent app installation and push capabilities
More control for IT
Less security worries
Should I migrate from Apple Configurator?
Apple Configurator is a solution for small organizations that have only a few devices to manage or only need a basic configuration for their devices. And since it has no wireless capabilities, devices managed with Apple Configurator must be physically tied to a Mac computer in order to make any changes. This may be a good for organizations that require a hands-on approach.
Migrating from Apple Configurator to Apple DEP with Hexnode is the solution for organizations of any size which desire an easy-to-use system to manage any number of mobile devices. By migrating, you'll get a user-friendly and wireless solution that has advanced features which can be adjusted to meet the needs of organizations of any size.
Does DEP only work with newly purchased devices?
Not necessarily. Apple devices purchased on or after March 1, 2011 can be enrolled into DEP after it is factory reset. The only other restriction is that the device must be enrolled into Apple DEP within three years from its purchase date.
Can I remove devices from DEP?
You can remove devices from the Apple Device Enrollment Program at any time. Damaged, lost, or stolen devices can and should be removed from your DEP as soon as possible. Once a device is removed from DEP, it can never be added back into the program.
Will DEP work for devices purchased from Apple resellers?
Yes. Apple DEP works with Apple devices that support DEP if they have been purchased from authorized resellers and carriers. Be sure to check with your reseller before making purchases. In order to register for DEP with Apple, you will be required to enter an Apple Customer Number or a DEP Reseller ID. If a reseller doesn't have this number, then you will not be able to gain access to the DEP program.