What are the benefits of using MDM to manage endpoint devices?
Hexnode Mobile Device Management is a security software that monitors, manages, and secures employees' endpoint devices like tablets, smartphones, desktops, and laptops.
There are many security risks associated with using portable devices for work. Some of them include privacy and security issues associated with using BYO devices, device theft, malicious software, etc.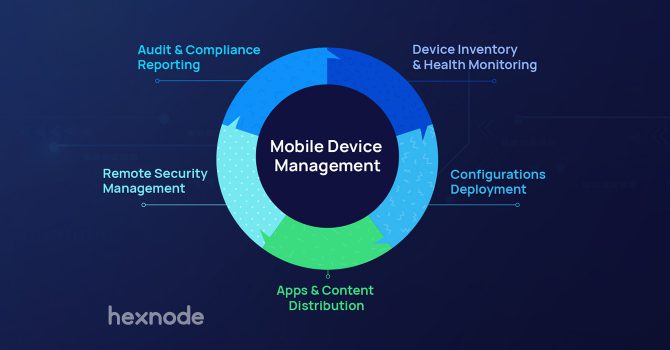 Here are some of the benefits of using MDM for managing devices,
Ensuring personal data protection by containerizing personal and corporate data on the device.
Cost savings for the organization as MDM empowers users to use personal endpoint devices to work. Managing and restricting data usage via the MDM also helps to helps to reduce telecom expenses.
Remote monitoring and management of devices.
Schedule software updates on devices.
Remotely configure features like VPN, Wi-Fi, etc. to ensure network security.
Remotely configure settings like global HTTP proxy, Firewall, BitLocker, etc. to ensure device security.
Remotely deploy apps and content to the devices, update or downgrade the apps, configure app permissions, configurations, and notifications on the device.
The compliance of the device will be checked and updated at regular intervals.
Improve employee productivity by allowing them to work anytime, anywhere, using their endpoint devices enrolled in the MDM.
Reduce the workload of IT employees as all the device management features can be achieved using a single management console.
Remote actions like Scan Device Location, Remote Ring, etc. can prevent the devices from falling to the wrong hands. Actions like Wipe Device and Lock Device help to protect the data even if the device gets stolen.
Geofencing policies to alter the behavior (OR security) of devices inside and outside a secure location.
Blacklist malicious and unwanted apps and websites on the devices. Or, whitelist the apps or websites that are required for the organization.
Kiosk mode to lock the device down to a single app or a few selected apps to minimize user distractions.
Generate comprehensive reports to monitor and analyze corporate asset information while ensuring data confidentiality within the organization.