Setting up app inventory
The app inventory in Hexnode acts as a repository where you can add apps of your choice. Hexnode UEM supports the addition of platform-exclusive store apps, custom enterprise apps, web apps and Managed Google apps. Deploy these apps to your enrolled devices via a remote action or by associating a policy. App inventory lets you manage all your different kinds of apps in the same place. Click on the Apps tab in the portal to see the app inventory. You can filter, sort or search the app list.
Add apps to app inventory
To add apps to the repository, click on the +Add Apps button under the Apps tab. It provides 5 options to add apps:
Store App
Web App
Enterprise App
Choose any of the options listed above. Add relevant data corresponding to each of them and click Add. The newly added apps will be listed in your app inventory.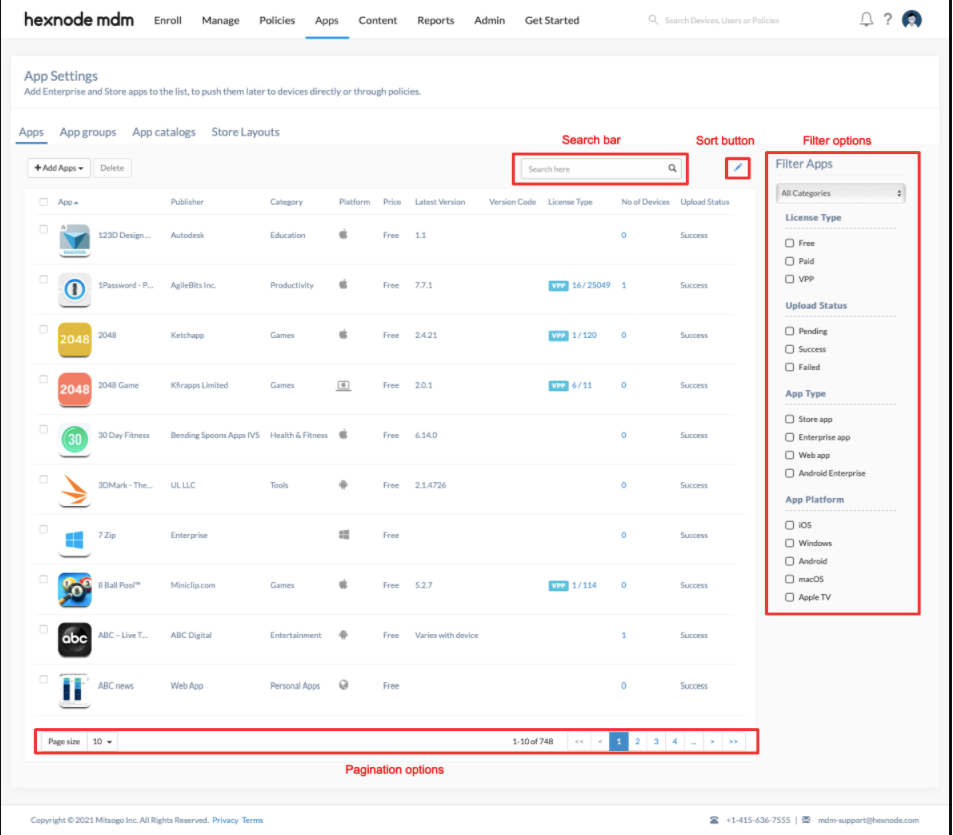 Managing app inventory in Hexnode
To edit the columns shown on the app inventory table, press the edit-columns button (pencil icon). This will bring up a pop-up window with all available columns applicable to the app table. Check or uncheck columns as required and confirm by clicking OK.
To filter the app inventory list, enable the checkbox for the options to apply, one at a time. The page will refresh automatically with the updated list.
To search for an app, type the app name in the search-bar and press Enter or click on the Search icon.
Delete apps from the app inventory
Navigate to Apps.
Select the apps which are to be deleted from the app inventory.
Click on the Delete button.
Type in the number of apps that will be deleted. Click Yes.
Confirm your action by entering your password.