System Agent App
What is System Agent App?
Hexnode System Agent is an optional app that can grant system permissions to the Hexnode MDM Android app as new versions are being installed. Granting system permissions ensures you can use all the advanced MDM features like removing pre-installed apps which are not available natively on Android. With the agent app, you don't have to manually download and re-sign every new Hexnode MDM app version. You'll be able to get all the latest Hexnode MDM updates directly from Play Store and then grant them system permissions on the go, using the agent app.
Use case of System Agent App!
Hexnode UEM's ROM Enrollment where custom ROMs are flashed onto android devices is a flawless way of enrollment. However, here we may have to re-sign the Hexnode MDM app from the OEM vendor for every app update. This may be troublesome with the frequent updates being released.
Once the ROM is flashed, you cannot make any further changes to the Hexnode MDM app unless your OEM vendor re-signs it. Instead, if you have opted for Hexnode's System Agent app, it eliminates the need for manually downloading and signing each new Hexnode MDM app updates.

Privileges offered by System Agent App
System Agent App grants you with the following privileges over the Hexnode MDM app.
Silent App Installation – Silent App Installation allows you to install apps automatically to the target devices without any user intervention. The app gets installed on the device without showing any prompts.
App Uninstallation – System Agent App lets you remove apps from the device if you no longer require the app to be present on the device.
Remote Reboot – A reboot action can be carried out remotely.
Power Off – A device can be turned off remotely using Agent App. Any work the user is on will be lost as no prompts are displayed to the user to turn the device off.
Update OS – Remotely deploy OS updates to Android 5.0 + devices with the Hexnode System Agent app. Installation of updates to the devices can be done either automatically or by prompting the user.
How to get System Agent App?
System Agent App will be custom-developed and made available to you by the Hexnode team.




Sign the Agent App from your OEM vendor and ensure that the app is set as the Device Administrator.
You can either grant the app with system level permissions by placing it under system/app folder or you can grant the app with signature permission and place it under system/app folder.
The System Agent App now provides Hexnode MDM app with the system level privileges mentioned above.
Enable System Agent Settings from Admin > General Settings > Hexnode System Agent Settings.
You will have the following options to be configured.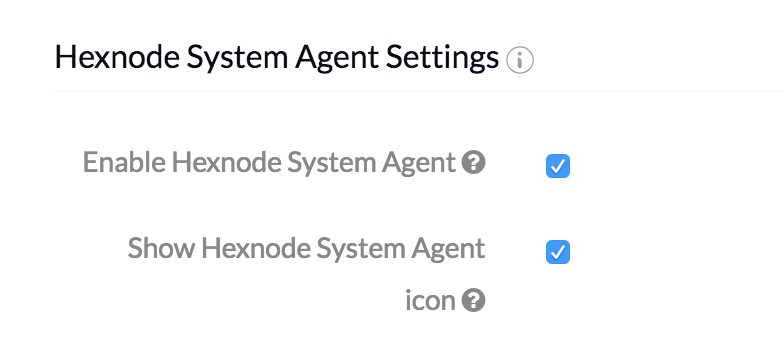 Enable Hexnode System Agent – Check this option to enable the communication between the Hexnode MDM app and Hexnode System Agent app.
Show Hexnode System Agent icon – Check this option to display Hexnode System Agent app icon on the device launcher.