Microsoft Active Directory Integration with Hexnode
Active directory domain services hold all directory information and takes care of all the interactions between the user and domain. Any unauthorized user access to a device or a server can be verified using Microsoft Active Directory Integration. With Hexnode, you can manage multiple Active Directory domains from a single console. In order to integrate your Active Directory with Hexnode, you must first configure AD Agent Settings.
Hexnode MDM AD Agent Settings
To configure an AD Agent service, click on Admin > Active Directory. This opens up the Agent Settings page when you first configure an Active Directory. First, click on the Download link to download and install the AD Agent on your server. Next, click on the second Download link to download configuration file.

Launch the Hexnode MDM_AD Setup Wizard. Click on Next to continue or Cancel to exit setup.

Select the destination folder. By default, the setup wizard will install the Hexnode MDM_AD in the folder C:\HexnodeMDM_AD




Select the configuration file downloaded in step 2. Click on Next.

Once you have uploaded the configuration file successfully, setup will begin installing Hexnode MDM_AD on your computer. Click on Install.

Click on Finish to exit setup.

On Hexnode MDM Console, click on Check agent status to know whether the agent is connected or not. Now, click on 'Configure AD' to configure Active Directory Settings.
Active Directory Settings
Server Configuration
Domain Name – Enter the Active Directory Domain Name which can be the same as the organization's public domain name, sub-domain or any alternate names which may end in .local.
Domain Controller – Enter the Domain Controller Name.
Domain\Username – Enter the Domain Name and Username in the format NetBiosName\SAMAccountName.
Password – Enter the password.
Select Agent – Select the AD Agent name from the drop-down list. Click on Add New Agent to add a new agent.
Selected OU's – By default, all the OUs in the domain will be selected. You can click on Change to select the specific OU's you want.
Allow Self Enroll – If you enable 'Allow Self Enroll' option, users in this particular domain will be able to enroll directly from the portal without any enrollment requests.
Schedule Sync for Microsoft Active Directory
You have an option to choose how often you want the AD to be synced with Hexnode UEM. You can schedule daily or weekly sync, select the days of the week and choose the time of the day the sync has to occur.
On clicking Save, your Active Directory will be synced with Hexnode MDM databases.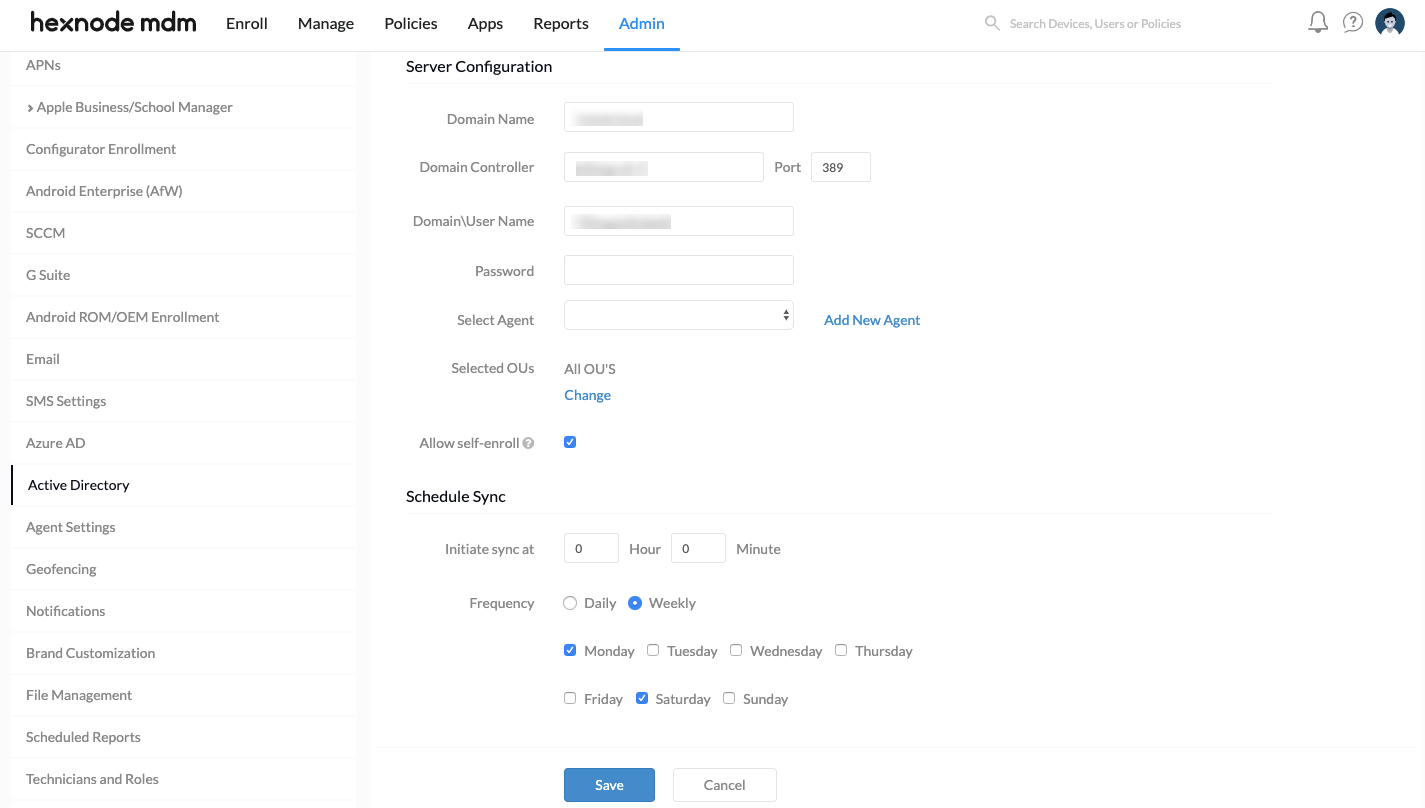 Navigate to Admin > Active Directory.
In the server configuration page, you can add a new agent by clicking on Add new agent.
Similarly, to create a new Active Directory, click on the empty slot with the + sign and configure the settings.