It would be of great use if all certificates you need for various purposes (such as VPN credentials and identity certificates for WiFi and ActiveSync) can be added in one location.
To add a certificate using Hexnode MDM,
Navigate to Policies tab in Hexnode MDM console.
Continue with an existing policy or create a new one by clicking on New Policy.
From the macOS Settings, choose Certificates.
Click on Configure button if you do not have a policy consisting of Certificates settings.
Press the Add Certificate button to import a new credential certificate profile from your device.
To remove a certificate, click on the 'x' button provided at the top-right corner of each certificate listing.
Credential Name
The Credential Name field becomes visible once you upload a certificate by clicking Add Certificate. Even though this field will be already filled, you can change it if necessary.
Credential Details
You can click on '+' button adjacent to Credential Details to view the subject, issuer name and the expiry date. Click on '–' to collapse the details section.
How to associate Certificate settings to your Mac Device?
If you've not saved the policy yet, you can
Go to tab named Policy Targets.
Click on + Add Devices.
Choose the devices with which the policy needs to be associated.
Click OK when you are done adding the devices.
Want to add more devices? Click on + Add Devices again. After selecting the required devices, click OK to save the policy. Don't worry! This is not going to affect your previous selection.
You can also associate policies to device groups, users or user groups from the left pane underneath the Policy Targets tab.
If you are on a page that lists the policies,
Check a policy.
From Manage, select Associate Targets.
Select the required devices and click Associate.
Successfully pushed the policy to your Mac device(s)? Now, you can go to System Preferences > Profiles to find all the certificates collectively at the same place in the device.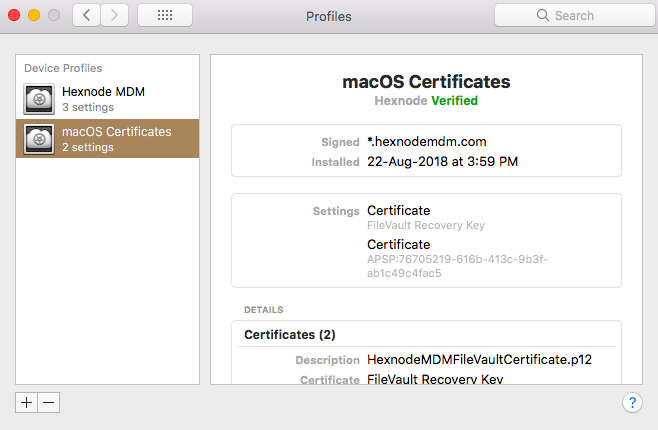 Why do you need to add Certificates for Mac devices with Hexnode MDM?
Once the certificates are added to your device(s) by policy pushing or even after uploading the certificates in the policy, you can find these certificates in every other macOS settings whenever you're asked to select a certificate. Please have a look below.