How to Add Certificates for Mac devices with Hexnode MDM?
It would be of great use if all the certificates required for various purposes (such as VPN credentials and identity certificates for Wi-Fi and ActiveSync) can be added in one location. Hexnode allows the admin to accomplish the same through the MDM console.
Add Certificates via Policy
To add the certificates on your Mac via policy,


Login to your Hexnode MDM portal.
Navigate to Policies > New Policy. Assign a suitable name and description (optional) for the policy. You can also choose to continue with an existing policy.
Go to macOS > Security > Certificates. Click Configure.
Tap on the Add Certificate button to import a new credential certificate profile from your device.
To remove a certificate, click on the 'x' button at the top-right corner of each certificate listing.
Credential Name– The Credential Name field becomes visible once you upload a certificate by clicking Add Certificate. Even though this field will be already filled, you can change it if necessary.
Credential Details– You can click on '+' button adjacent to Credential Details to view the subject, issuer name, and the expiry date. Click on '–' to collapse the details section.
Associate policy to devices/groups
If the policy has not been saved,
Navigate to Policy Targets > +Add Devices.
Choose the target devices and click Ok. Click Save
You can also associate the policy to device groups, users, user groups or domains from the left pane of Policy Targets tab.
If the policy has been saved,
Go to Policies tab and choose the desired policy.
Click on Manage drop-down and select Associate Targets.
Choose the target entities and click Associate.
After associating the policy to target entities, on your Mac, go to System Preferences > Profiles to find all the certificates on the device.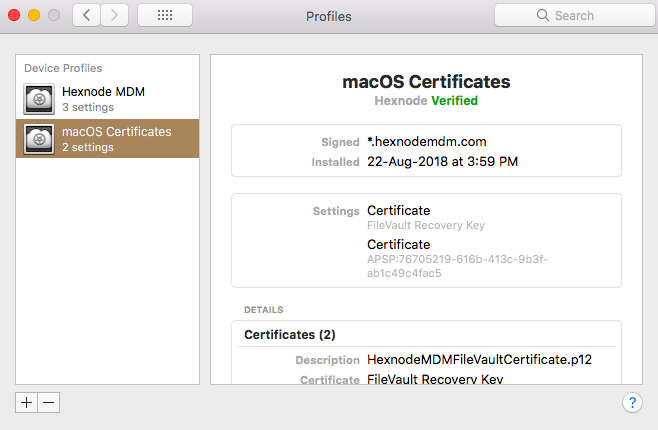 Why do you need to add certificates for Mac devices via Hexnode
Once the certificates are added to your device(s) via policy or by uploading the certificates in the policy, you can make use of these certificates in every other macOS functionality in Hexnode that requires a certificate.