Hexnode MDM Email server configuration allows admin to configure an outgoing email server for sending email notifications to the end user.
For configuring Hexnode MDM Email server
Go to Admin tab > Email.
Enter the following mandatory fields.

| Field | Description |
| --- | --- |
| Server Name | The host name of the outgoing mail server, such as smtp.example.com. |
| Port | Port number used by the outgoing mail server. |
| Sender Email | The email address from which mails are to be send. |
| Enable TLS | Check this field if the outgoing mail server support TLS. |
| Enable SSL | Check this field if the mail server support SSL. |
| Enable Authentication | Check this field if authentication is required by the email server. |

If Authentication is enabled,

User name – Enter the full email address.

Password – Provide the password of the email account.

Save the settings.
Test mail
Click on test mail to test whether the configuration is successful.
Enter the email address to which the test mail is to be send against To Email field.
Enter the subject against Subject field. However, a subject is already written by default.
Enter a message to be displayed against Message field. There is a default message already set in the portal.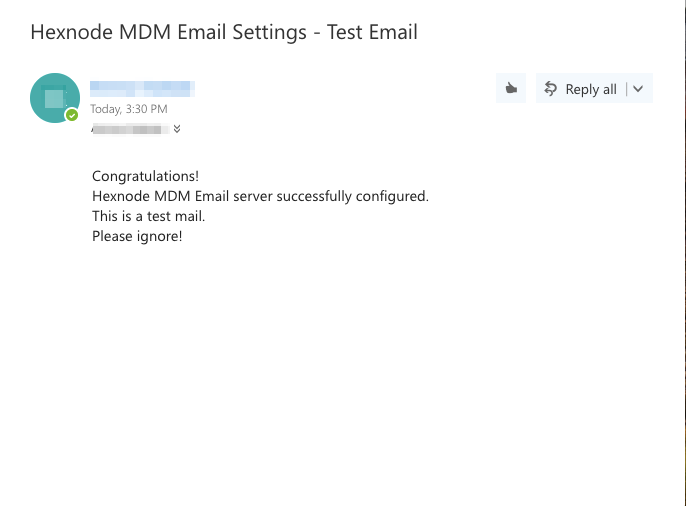 Reset Email Configurations
Reset option can be used to reset the configurations.
Sending Enrollment Mails
Once all the configurations are done enrollment mails can be send using the configured email server.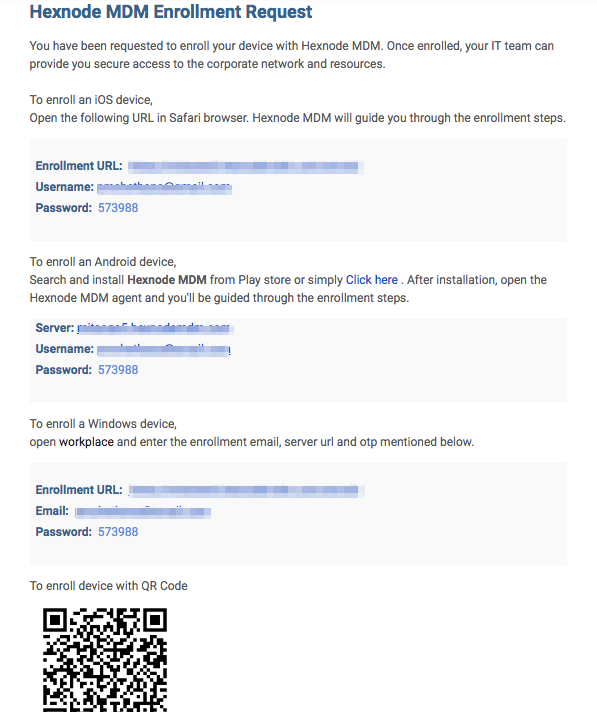 For configuring Hexnode MDM gmail server
Given below are the configurations required to setup a Gmail server with Hexnode MDM:

Server name : smtp.gmail.com
Port : 587 or 465
Sender Email : example@gmail.com
Enable TLS : Use port 587
Enable SSL : Use port 465

Enable Authentication and enter the log-in details of Sender Email.