How to configure AirPrint on iOS devices
Hexnode MDM enables you to print full quality output from your iOS devices using AirPrint. It enables you to print photos as well as documents, provided both the AirPrint-enabled printer and the iOS device should be connected to the same network.
To connect an iOS device to AirPrint
Login to your Hexnode MDM portal.
Navigate to Policies.
Select an existing policy or create a new one by clicking on New Policy.
From iOS>Configurations select AirPrint and click on Configure.
Click on +Add AirPrint device.
You will have the following options to be configured.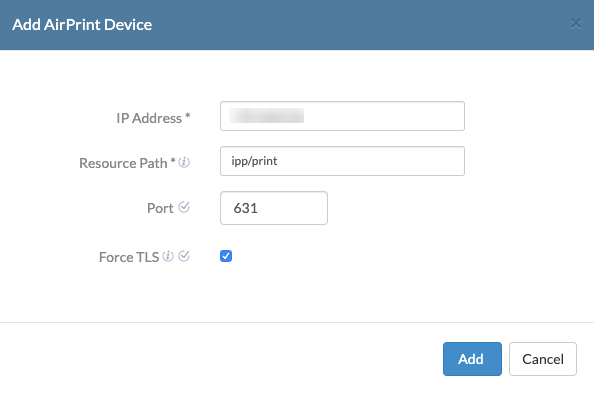 IP Address: Provide the IP address of the AirPrint-enabled printer.
Resource Path: Provide the resource path of the AirPrint-enabled printer. It will generally be of the following form,

printers/Canon_MG5300_series
printers/Xerox_Phaser_7600
ipp/print
Epson_IPP_Printer

Port: Provide the port number of the AirPrint destination. If not provided, it uses the default port number. This feature is available only in iOS 11 and later.
Force TLS: Check this option to enable the trusted certificate for TLS to initiate printing. This feature is available only in iOS 11 and later.
Once these options are configured, you need to associate these policies to devices.
To Associate Policies to Devices / Groups.
If the policy has not yet been saved.
Navigate to Policy Targets.
Click on +Add Devices.
Select the devices and click OK.
Click on Save to apply the policies to devices.
Apart from devices, you can also associate the policies with device groups, user and user groups from Policy Targets.
If the policy has been saved, you can associate it with another method.
From Policies, check the policies to be associated.
Click on Manage → Associate Targets and select the device.
Click on Associate to apply the policy to the devices.
Here, once the policies have been applied, the AirPrint-enabled printer is ready to print the full quality output from the iOS device.
Select the application that you want to print from.
Tap on the print option available on your device. If you can't find one, refer to the app's user guide. (All applications don't support AirPrint).

Select printer and you could see the AirPrint-enabled printer's name over there. Tap to select the printer.

Provide the number of copies you need. If you have selected a document, also provide the range of pages to be printed.

Tap on print to print the selected image or document.