Dynamic Device Groups
Dynamic groups automatically keep changing their member devices based on certain specified conditions. In dynamic grouping, devices move in and out of the group during the periodic group sync, whereas custom groups maintain devices as a fixed list. The sufficiency of minimal manual effort makes dynamic grouping more desirable than manual grouping.
Create Dynamic Device Groups
To create a new Dynamic Device Group,

Login to your Hexnode MDM portal
Go to Manage tab > Device Groups > New Dynamic Group
Add the Group Name and Description.
From the Condition filters, you can add one or more criteria while selecting either All of the below conditions or Any of the below conditions.
From the Location Filters, choose one or more locations while selecting either Include or Exclude to group devices to a specific region.
Click on the Preview button to view the list of devices that matches the criteria.
Click Save group to save the group details.
Use Cases
Listed below are some of the use cases of dynamic device groups.
1. Grouping based on Compliance info



Here, all the inactive devices located within San Francisco and Brisbane get grouped. Remedial actions like Disenroll can then be performed on the group to remove all such devices in one go.

2. Grouping based on the device Operating System



Imagine a scenario in which you want to send a broadcast message or lock all the devices except the ones running Android 8. These condition filters groups all the Android devices not running Android 8, located on all regions excluding Wyoming. A kiosk policy can then be assigned to the group to make sure all such devices remain locked down. Also, you can notify users by sending a broadcast message to the group.

3. Grouping based on the Device Ownership



Some organizations allow users to bring their own devices (BYOD). In such cases, less-restrictive policies are typically applied to personal devices. Hexnode makes it pretty simple to create a dynamic group with device ownership set to personal, eliminating the need for manually identifying personal devices and then grouping them.
Automate Device Management using Dynamic Device Groups
Hexnode MDM allows you to automate device management by applying auto-sync to the dynamic device groups at regular time intervals.
The auto-sync interval depends upon the pricing plan you have subscribed for:
Pro: auto-syncs every 4 hours.
Enterprise: auto-syncs every 1 hour.
Ultimate: auto-syncs every 15 minutes.
Ultra: auto-syncs every 5 minutes.
Apart from the auto-sync, Hexnode provides options for manual synchronization also.
1. Sync Dynamic Groups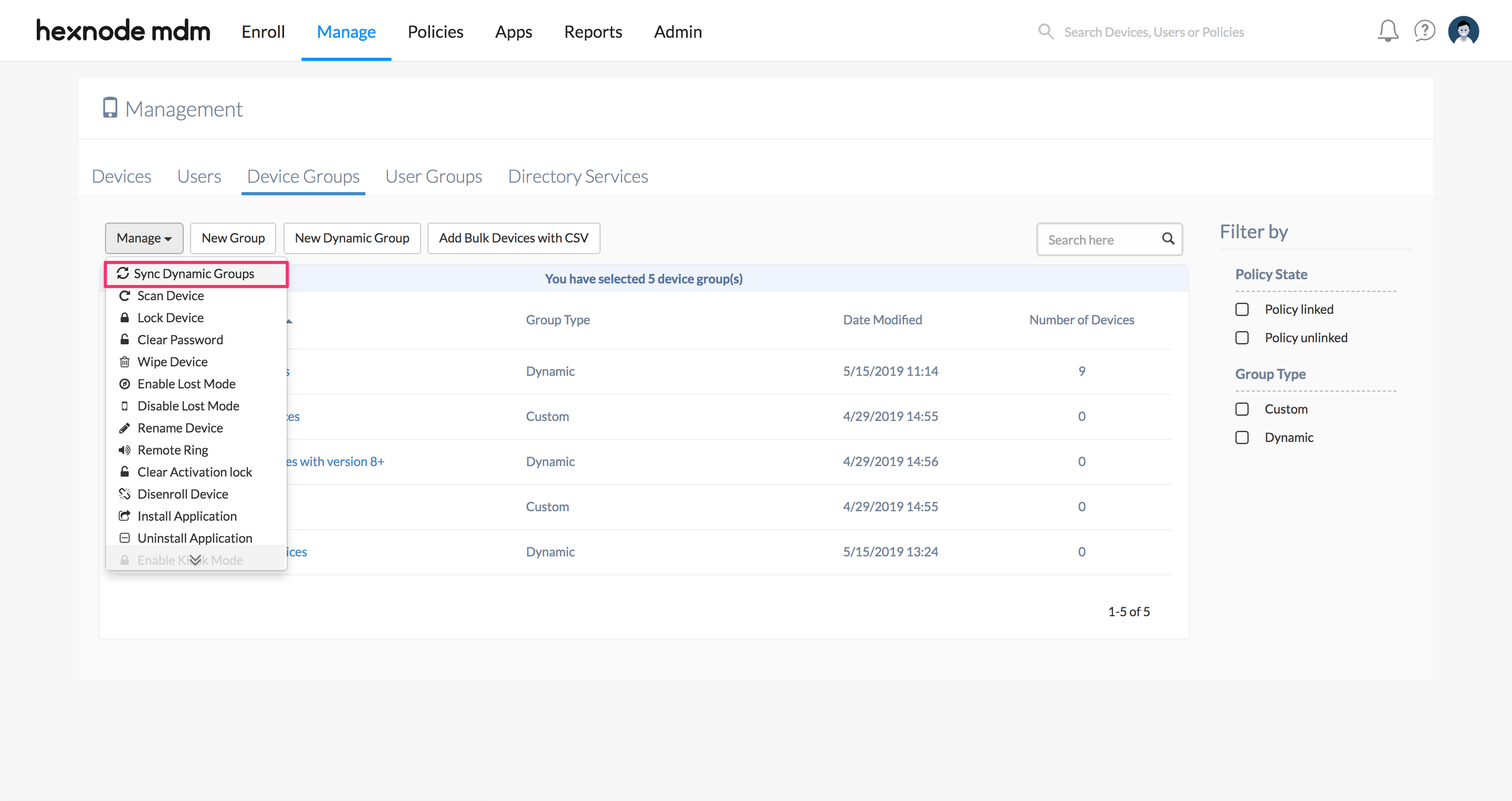 Go to Manage tab > Device Groups
Click the Manage button
Click on Sync Dynamic Groups to manually sync all the dynamic groups.
2. Sync Now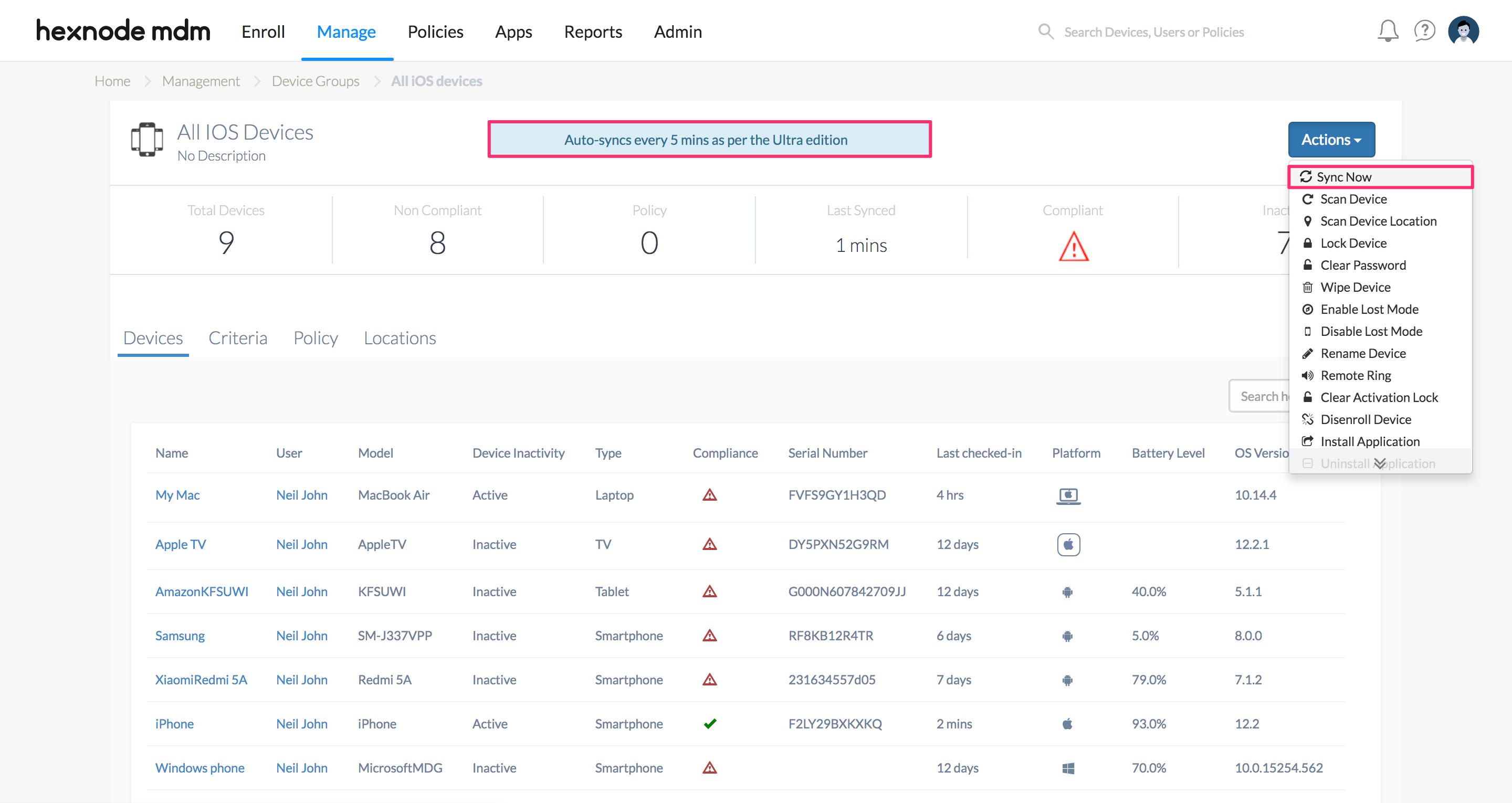 Go to Manage tab > Device Groups > Select the required Device Group
Click the Actions button
Click on Sync Now to manually sync the selected device group.