Android Kiosk Mode – Steps to enable it
Kiosk Mode
Kiosk mode is a lockdown mechanism to limit your Android smartphone or tablet to a single app or a handful of applications of your choice. With Kiosk mode turned on, the Android device gets restricted to just the chosen applications. Other apps, device settings or even the notifications bar won't be accessible to the user.
How Android Kiosks work?
On Android devices, Kiosk mode works by replacing the default Launcher with a password protected custom launcher/app drawer. On the Kiosk Launcher, the home button, back button and recent apps tray would no longer work. Neither would the notifications shade. However, the volume keys and power/lock button may be configured to work. Unlocking the device directly opens up the Kiosk launcher, bypassing the Android lock screen.
Turn Android devices into Kiosks with Hexnode MDM
Here is how you can turn on Hexnode MDM Kiosk mode on your Android devices.
Send Enrollment request

Create a new user.

Click on "Enrollment Tab > New Enrollment > Select User > Add new user".
Type in email and user details

Check 'Send enrollment request'
Choose Ownership type.
Hit Save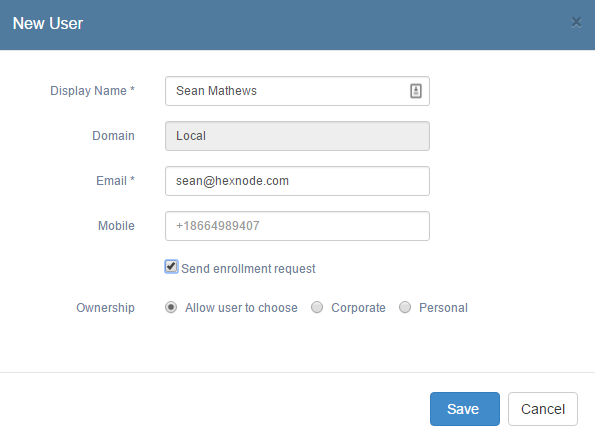 On the Android device

Download and install the Hexnode MDM Kiosk app from Play Store. Hexnode MDM 
Open the App and fill the following details in the app and enroll.

Enter the " <CompanyName>.hexnodemdm.com " for Server Name.
Enter email address (where you sent the invite) as the User Name.
Enter the OTP that he received over the email as password.

Tap "Enroll".
Choose device ownership 
Activate Device Administration

Continue and Tap Activate
Continue
Enroll device. Tap continue. After authenticating, the device will be enrolled with Hexnode MDM.
Configure Kiosk Mode policy on Hexnode MDM (Desktop)

Go to Policies > New Policy >Android Settings
Click Kiosk mode > Configure
Search for any app installed on the device and click Enter
Type backspace to delete the previously added app
Click Policy target

Select a target – User, device, user group, device group or domain and click save
Kiosk policy has been assigned to the target devices with the selected apps. Now you have got to turn on Kiosk mode on the devices. 
On Android Marshmallow and up (Android 6 +), you need to enable 'draw over apps' permission. You can skip this on lower versions

Head to Settings > App Settings > Configure apps
Select Draw over apps

Select Hexnode MDM and turn on "Permit drawing over other apps"
Launch Hexnode MDM App 
Tap Kiosk Mode
Enable Usage access

Select Hexnode MDM and turn on "Enableusage access"
Tap Activate Kiosk

Complete action using Hexnode Kiosk – Select Always
You have successfully turned on Kiosk mode
To exit Kiosk mode

Tap the screen 10 times within 5 seconds
Enter the password
You can set your own password from Admin > MDM settings > Kiosk settings