How to Configure Access Point Name for Android Devices?
Access Point Names (APN) is the network configuration that a device requires to access the internet and send/retrieve multimedia messages (MMS).
How to get APN Configured?
Configure APN from Hexnode MDM by following the instructions below.
Login to your Hexnode portal.
Go to Policies.
Select an existing policy or add a new one. To create a new policy, click on the New Policy button.
From Android > Networks, select APN to manage subscribed calendars.
| APN Settings | Description |
| --- | --- |
| Username | The username used for authentication. |
| Password | The password associated with the username. Applicable only if the username field is filled up. |
| APN name | A name for the APN settings which you can use to identify among other saved APN settings. |
| APN | The access point name for a specific network operator. |
| APN server | Provide the server name of the Access Point Name. |
| MMSC | The URL of the Multimedia Messaging Service Center (MMSC) which forwards the multimedia messages to the receiver. |
| MMS proxy | The domain or IP address of the multimedia messaging proxy server. |
| MMS port | The port number for the MMS proxy server. |
| Mobile country code (MCC) | An MCC is a three-digit code as recommended by International Telecommunication Union (ITU) that is used to identify a country or a group of networks that share the same MCC. MCC is used with MNC (Mobile Network Code) to uniquely identify a network. |
| MNC | Mobile Network Code (MNC) is a two or three-digit code that is assigned to a network. Use it with MCC to uniquely identify the home network. MNC is assigned by ITU. |
| Authentication type | Select an authentication protocol from None, PAP, CHAP, PAP or CHAP. |
| Protocol | Select the protocol to be used: IPV4, IPV6 or IPV4/V6. |
| Proxy address | Specify the IP or domain address of the internet proxy server. |
| Roaming protocol | From IPV4, IPV6 and IPV4/V6, select an internet protocol to be used while the users are outside their home network. |
| Type | The values are Default, MMS and SUPL. Select Default to use this APN configuration for internet access, MMS to be used for multimedia messaging or SUPL (Secure User Plane Location) to detect the geographical location from the service provider. |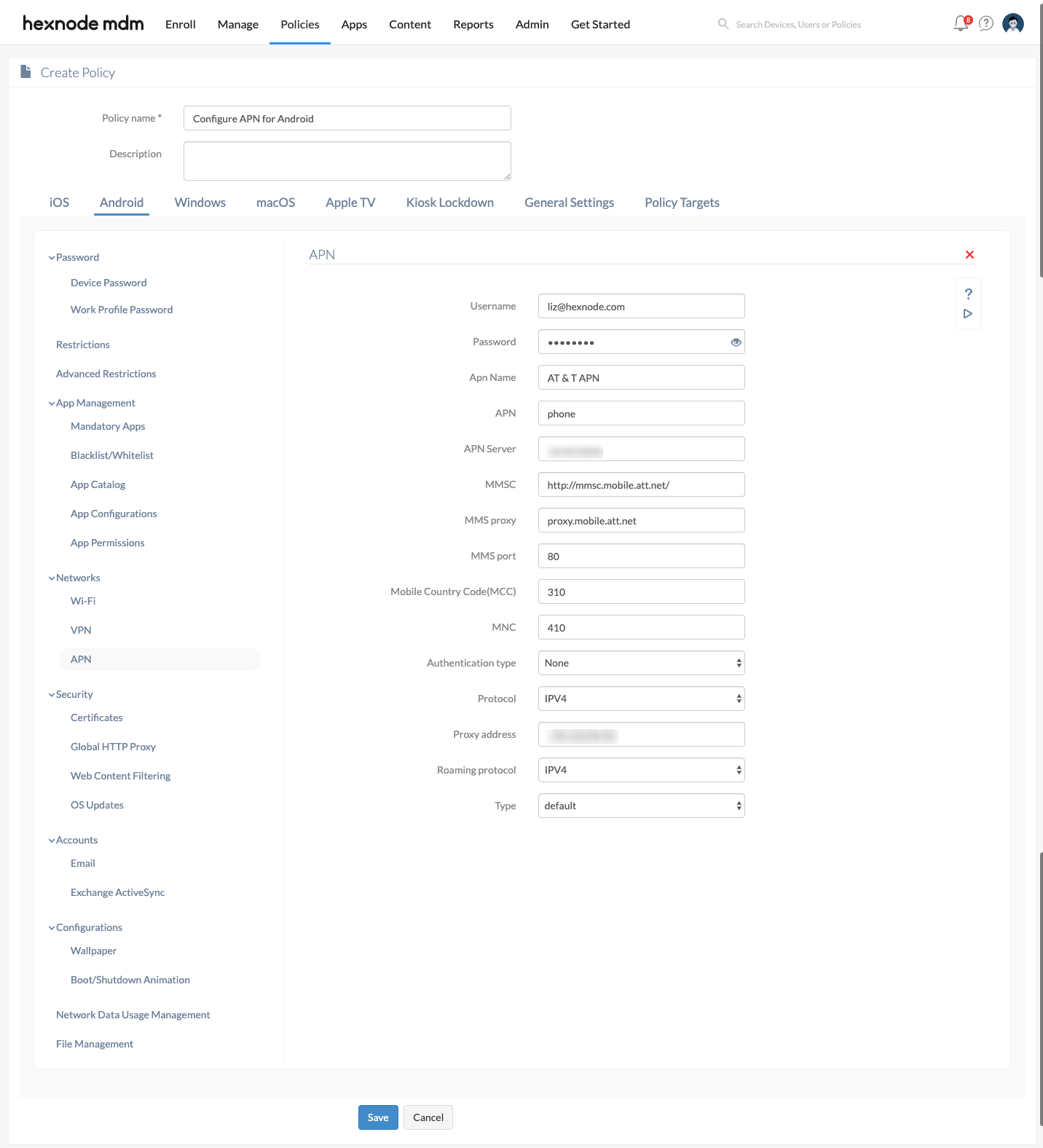 How to Associate a Policy to a Device/User or Groups?
Method 1: From Policy Targets tab inside while a policy is being set up
Go to Policy Targets and select Devices, Device Groups, Users or User Groups from the left pane underneath.
Select the devices, users or groups to which the policy needs to be applied.
Method 2: From policies list screen
From Policies, select the required policies.
Select Associate Targets from Manage drop-down.
Select the devices to apply policies.