How to set up iOS Global HTTP Proxy?
Global HTTP Proxy settings are configured to ensure that all HTTP network traffic passes only through the configured proxy server. This, in turn, ensures data security as all personal and corporate data are filtered through the Global HTTP Proxy. Only Supervised iOS devices support this feature. This functionality is available on Enterprise, Ultimate, and Ultra pricing plans.
Configure Global HTTP Proxy via policy
To set up Global HTTP Proxy settings via policy,
Login to your Hexnode MDM portal.
Navigate to Policies > New Policy. Assign a suitable name and description (optional) for the policy. You can also choose to continue with an existing policy.
Go to iOS > Security > Global HTTP Proxy. Click Configure.
Global HTTP Proxy Specifications
Proxy type: Select how you are going to set up the proxy. Choose manual or automatic setup and proceed to the section below to know more about the options displayed on the MDM console.
Allow bypassing proxy to access captive networks: Check this option to disable proxy while accessing a captive portal. By default, this option is unchecked.
Provide the below details to set up the proxy manually: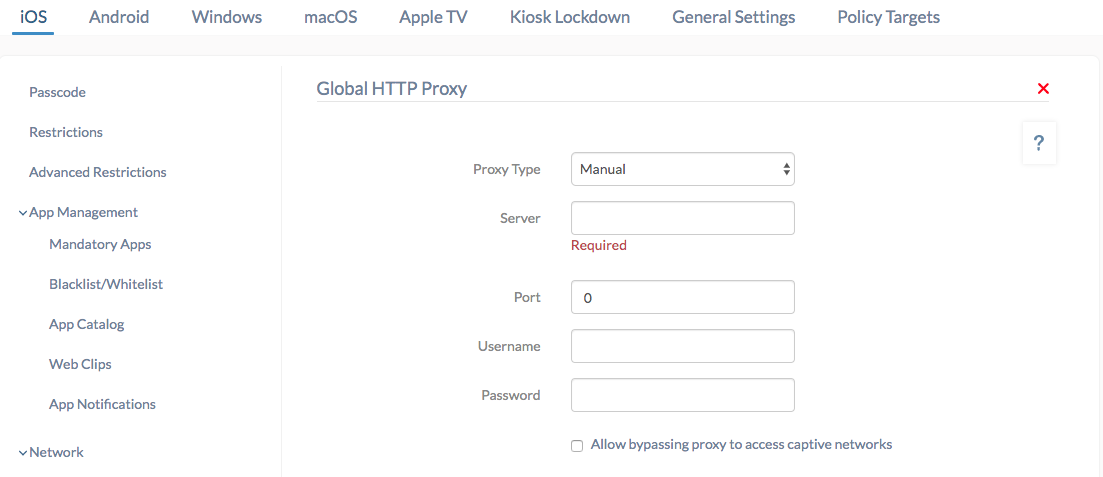 | Manual Proxy Settings | Description |
| --- | --- |
| Server | Server name or IP address of the proxy server. |
| Port | Port number of the proxy server. |
| Username | Username to get authenticated with the proxy server. |
| Password | Password associated with the username. |
Or else if you go for the automatic proxy server set up,

| Automatic Proxy Settings | Description | Default |
| --- | --- | --- |
| Proxy PAC URL | URL of the PAC file where the proxy configuration is saved. | |
| Allow direct connection if PAC is unreachable | If disallowed, the device is restricted from connecting to the destination address when PAC file is unreachable. | Disallowed |
Associating the policy to devices/groups
Method 1: If the policy has not been saved,
Navigate to Policy Targets > +Add Devices.
Choose the target devices and click OK. Click Save.
You can also associate the policy to device groups, users, user groups or domains from the left pane of the Policy Targets tab.
Method 2: If the policy has been saved,
Go to Policies tab and choose the desired policy.
Click on Manage drop-down and select Associate Targets.
Choose the target entities and click Associate.