What is Supervision?
Supervision is a procedure designed for institutionally-owned iOS devices. Supervising a device lets you have more control over it. You can set additional restrictions, automate actions and more.
By default, all iOS devices are not supervised. Devices can be set up as supervised only prior to activation, that is, before the Set-up Assistant first appears on the device, a brand-new device or fully erased one.
Why do you need to Supervise your iOS devices?
Supervision unlocks the extra features intended for corporate-owned devices. If you want the apps you provision for the devices to install silently, you need to supervise the device.
If you want to blacklist applications, set a global proxy, lock device in single-app mode, force web content filtering or set wallpapers, you need supervision.
Ok, so, how do you supervise a device?
iOS devices can be supervised by using
Apple Configurator OR
Device Enrollment Program (DEP)
Supervision using Apple Configurator involves hooking up the devices to a Mac whereas Supervision via DEP is entirely over-the-air. Then again, using Apple Configurator is quite handy but the DEP registration and approval may take around 5-10 business days.
Supervising using Apple Configurator 2
Download and install Apple Configurator 2 from the Mac App Store. You will require a Mac with OS X 10.6.6 or later. The iOS device should have OS version 6 or above to supervise using Apple Configurator 2. Once these pre-requisites are met, follow the steps to supervise your device.
Step 1: Create a Wi-Fi profile
Step 2: Create Blueprint and add Wi-Fi profile
Step 3: Prepare the device
The next step is to establish a connection between your unsupervised iOS device and Mac with a USB. After connecting, you can see your device in the Apple Configurator window.
Step 4: Apply Blueprint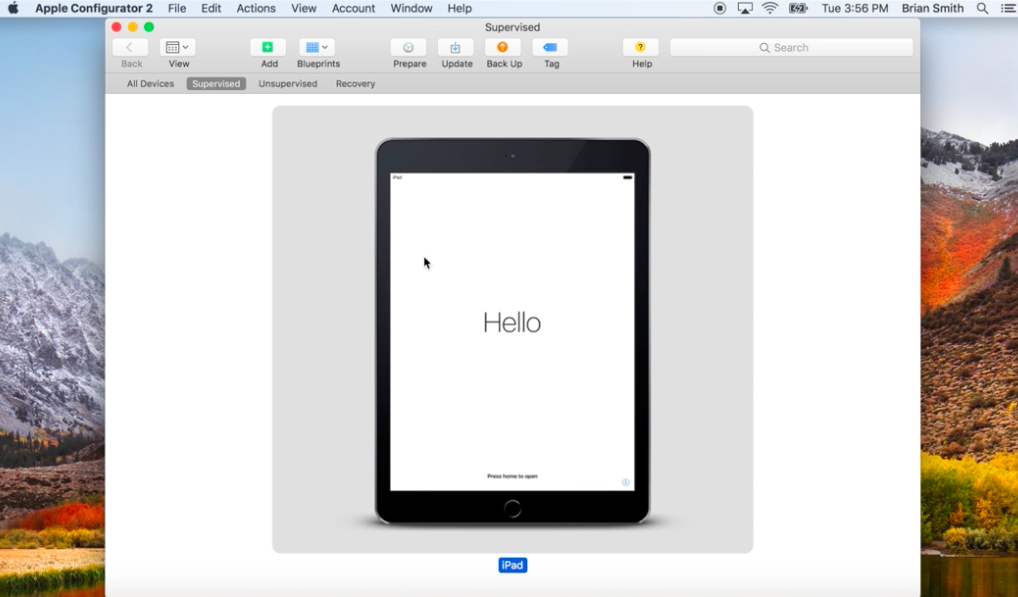 Supervising using Apple Device Enrollment Program (DEP)
The Device Enrollment Program (DEP) is one of the deployment programs by Apple. DEP helps deploying devices in bulk by automatically applying settings and configurations upon the initial device start up, making it ready to be used right out of the box . Over-the-air supervision of iOS devices is possible only if these devices are enrolled in DEP. DEP requires an MDM to Supervise it remotely.
You will have to enroll your organization in DEP to access the program.
Configuring DEP in Hexnode MDM
Add devices to DEP
Now that you have configured DEP, you can add devices to your account. Only devices purchased from Apple or an authorized dealer, on or after 1st March 2011 can be added to DEP. Also, the devices should be running at least iOS 7.0.4 or OS X 10.10.
Step 1: Add Devices to Apple DEP
Step 2: Supervise
Once the devices are enrolled with DEP, DEP settings needs to be pushed to the device from the MDM server. To do this, reset the device. The device will restart and starts the activation process. During this process, iOS activation servers provide the device with the link of MDM server. This link is that provided by the organization through MDM server DEP portal.
Renew DEP Server Token
The DEP server token is valid for a period of one year. Apple stores the public key permanently, so there is no need to upload a new public key to Apple DEP website. Just click on Generate New Token, and a new server token is created with the same public key.
Troubleshooting Tips