Troubleshoot issues with Hexnode Agent app on Windows
When you enroll a Windows device in Hexnode UEM, the Hexnode Agent app gets installed on the device along with the Hexnode UEM app. It is the Hexnode Agent app that sets up device configurations, performs remote actions, streamlines app management, imposes security controls, and locks down devices in kiosk modes based on instructions from the Hexnode portal.
This document deals with the various possible errors/issues that you might encounter in relation to the Hexnode Agent app on Windows devices.
1. "Hexnode Agent app is inactive on the device. Restart the Agent app to manage the device seamlessly." error message is displayed.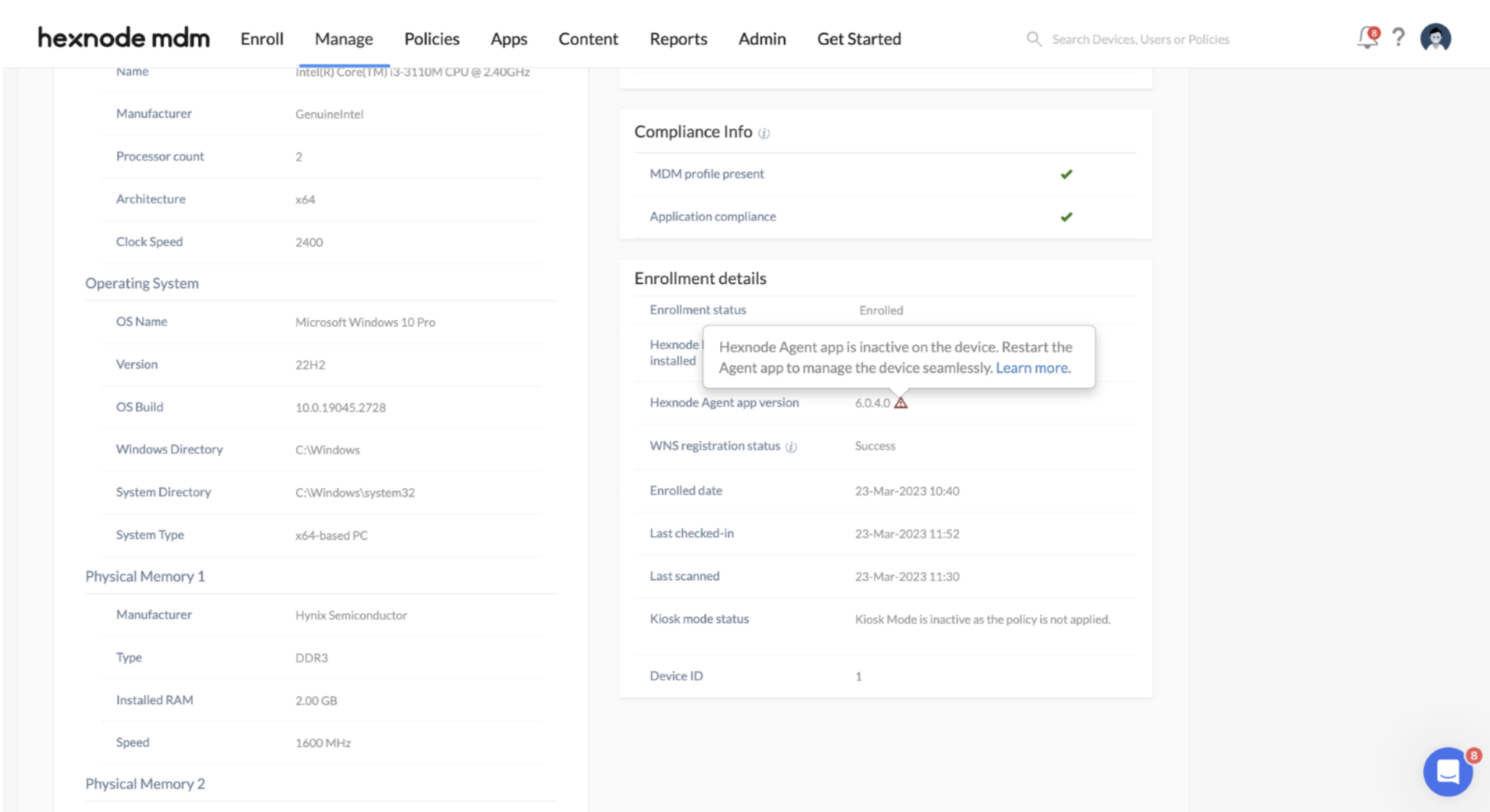 Description
The Hexnode Agent app is indicated as inactive under Device Summary > Enrollment details > Hexnode Agent app version on the device details page. Remote actions like Execute Custom Script, Join AD Domain, Power off Device, etc. that require an agent app no longer get executed but remain under the Pending state in the Action History. However, Scan Device and Scan Device Location actions will continue to work on the device. And, policies, including all the restrictions, can be successfully deployed.
Probable Causes
The device is facing network connection issues.
Both Hexnode Agent and Hexnode Updater/Hexnode Update Helper services have been stopped (under Task Manager > Services).
Hexnode Agent has been removed from the device, i.e., if the Hexnode Agent folder (Local Disk (C:) > Hexnode > Hexnode Agent) has been accidentally deleted from the device.
Solution
Re-activate the agent app by using the following methods:
Re-establish the network connection.
Navigate to Task Manager > Services or the Services app and restart both the Hexnode Agent and Hexnode Updater/Hexnode Update Helper services.
Re-install the agent by running the Hexnode installer again:

Launch the Hexnode Installer Setup app you had previously downloaded and follow the on-screen instructions.
When the EULA policy is displayed, read the EULA and click on Agree and Enroll.
The Hexnode Agent app gets downloaded and installed on the device with the previous configurations applied again.