How to Restrict User Login Time on Mac devices using Hexnode MDM
Hexnode MDM facilitates the admin to restrict users from logging in to their Mac devices for the specified time period. With the Time Limit policy for Mac, the device usage time can be restricted over the weekdays and weekends, as well as prevent access to the device for the set time.
Creating Time Limit Policy
Specify the duration for which you wish to allow or prevent user access to the Mac via the policy.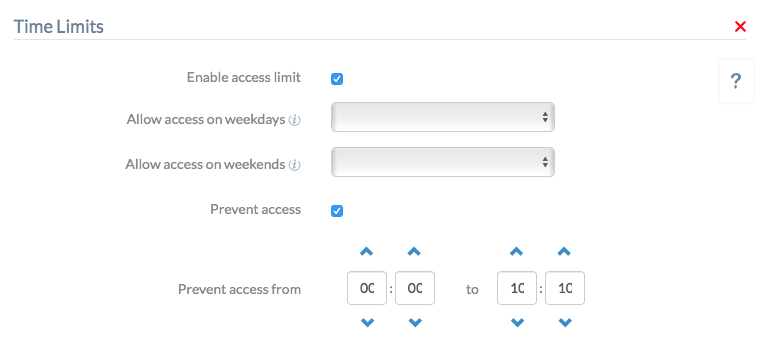 From your Hexnode MDM dashboard, navigate to Policies > New Policy. Assign a suitable name and description (optional) for the policy. You can also choose to continue with an already existing policy.
Go to macOS > Security > Time Limits. Click Configure.
Enable access limit option is enabled by default. Choose from the other available options based on your requirement:

Allow access on weekdays– Allows access to the device from Monday to Friday for the specified duration.
Allow access on weekends– Allows access to the device on weekends (Saturday and Sunday) for the specified duration.



The Prevent access option, enabled by default, allows the admin to set the time duration (based on 24-hour clock) for which user access is to be restricted.





Next, associate the policy to the target device. Go to Policy Targets, choose the target entity- can be a device, device groups, user, user groups or domains, click +Add and choose the targets. Click Ok.
Click Save to associate the policy to the target entity.
Associating policies to target devices
If you are editing an existing policy and wish to associate it to more targets,
Navigate to Policies and choose the policy.
From Manage drop-down, select Associate Targets.
Choose the target entities and click Associate.
You can also associate the policy from the Manage tab.
From your Hexnode MDM dashboard, go to Manage > Devices.
Choose the target devices or device group.
Click on Manage drop-down and select Associate Policy.
Choose the desired policy and click Associate.