How to Restrict User Login Time on Mac devices
To keep the data and resources in your work managed macOS devices secure, the IT admins must employ stringent access control mechanisms. The Time Limits policy for macOS restricts the users from logging into the machine for the specified time period. This policy can also be used to control or block the users' access to devices for the set time over the week.
Creating Time Limit Policy
Specify the duration for which you wish to allow or prevent user access to the Mac via the policy.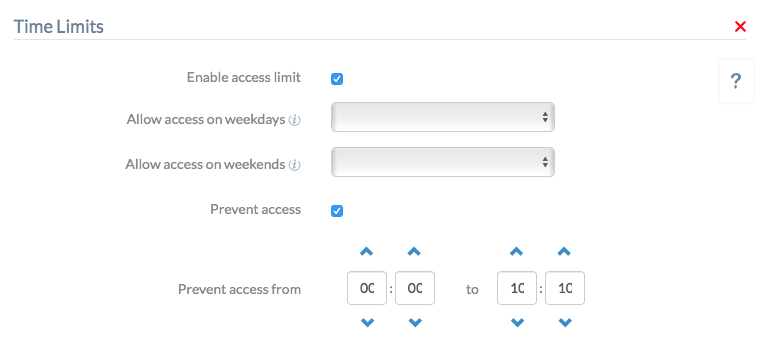 From your Hexnode MDM dashboard, navigate to Policies > New Policy. Assign a suitable name and description (optional) for the policy. You can also choose to continue with an already existing policy.
Go to macOS > Security > Time Limits. Click Configure.
Check the option Enable access limit to enforce time limit restrictions on the Mac device. Choose from the other available options based on your requirement:

Allow access on weekdays– Allows access to the device from Monday to Friday for the specified duration.
Allow access on weekends– Allows access to the device on weekends (Saturday and Sunday) for the specified duration.






Check the option Prevent access to set the time duration for which user should be restricted from logging in to the device. Specify the time limit at which access has to be blocked at Prevent access from _ to _ (based on 24-hour clock).





Click Save.
Associating policies with target devices
If you are editing an existing policy,
Navigate to Policy Targets.
Go to Devices / Device Groups / Users / User Groups / Domains.
Select the target entities and click OK.
Click on Save.
If you have already saved the policy,
Navigate to Policies and choose the policy.
From Manage drop-down, select Associate Targets.
Choose the target entities and click Associate.
You can also associate the policy from the Manage tab.
Navigate to Manage > Devices.
Choose the target devices or device group.
Click on Manage drop-down and select Associate Policy.
Choose the desired policy and click Associate.