How to enable Remote View for Windows devices?
Organizations might face many technical issues while remotely managing Windows devices. These include device malfunctioning, app crashes, corrupted drivers, etc. Conventional troubleshooting methods require administrators to perform onsite visits to diagnose the problems on the entire fleet of devices manually. However, such processes are tedious and time-consuming. Often, specific issues need instant diagnosis and rectification. If such problems are not fixed at once, it might deter device performance.
The Remote View feature allows administrators to remotely view and monitor devices from the Hexnode UEM console. It enables rapid real-time diagnosis of Windows devices. This helps them identify the problems and assist users in resolving the issues.
Configuring Remote View Settings in Hexnode Console
To start remote view, first enable the Remote View settings from the Hexnode console.
Enabling Remote View Settings
Login to your Hexnode portal.
Navigate to Admin > General Settings > Remote View & Control Settings.
Check the option Enable Remote View. It adds the 'Remote View' section on the device summary page of the Hexnode UEM portal.
Click Save.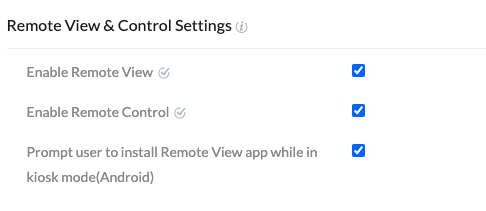 Enabling Hexnode Update Helper Settings
Login to your Hexnode portal.
Navigate to Admin > General Settings > Hexnode Update Helper.
Check the Install/Update Hexnode Remote Assist app on Windows devices option. Enabling the option helps to automatically install or update the Hexnode Remote Assist app on the devices.
Click on Save.

To start a remote view session on Windows devices
Follow the steps mentioned below to enable remote view on Windows devices using Hexnode UEM.
Login to your Hexnode portal.
Navigate to Manage > Devices.
Identify and select the device from the list of enrolled devices.
On the Device Summary page, click on Start Session under 'Remote View'.


The remote view session starts on the portal once the permission is granted.
Click on the Stop/Restart button to end/resume the remote view session, respectively. Click on the Maximize button to fit the remote view session to full screen.