Configuring Access Point Names
Access Point Names or APN is a gateway between the device and the internet and is a mandatory setting for the phone to connect to the cellular network. This, in turn provides access to the internet and the capability to send multimedia messages. Usually, the APN configurations are set up by the carrier service provider. However, many organizations prefer to have a distinct private network for devices to connect to, thus segregating it from public internet traffic. A network connection model of this type provides improved security and establishes a direct connection to the company's internal network. This can be achieved by using Hexnode UEM, which allows the IT administrator to configure APN settings from the MDM console.

Configure APN settings via Policy
To configure APN settings via policy,
Login to your Hexnode MDM portal.
Navigate to Policies > New Policy. Assign a suitable name and description (optional) for the policy. You can also choose to continue with an existing policy.
Go to iOS > Network > APN. Click Configure.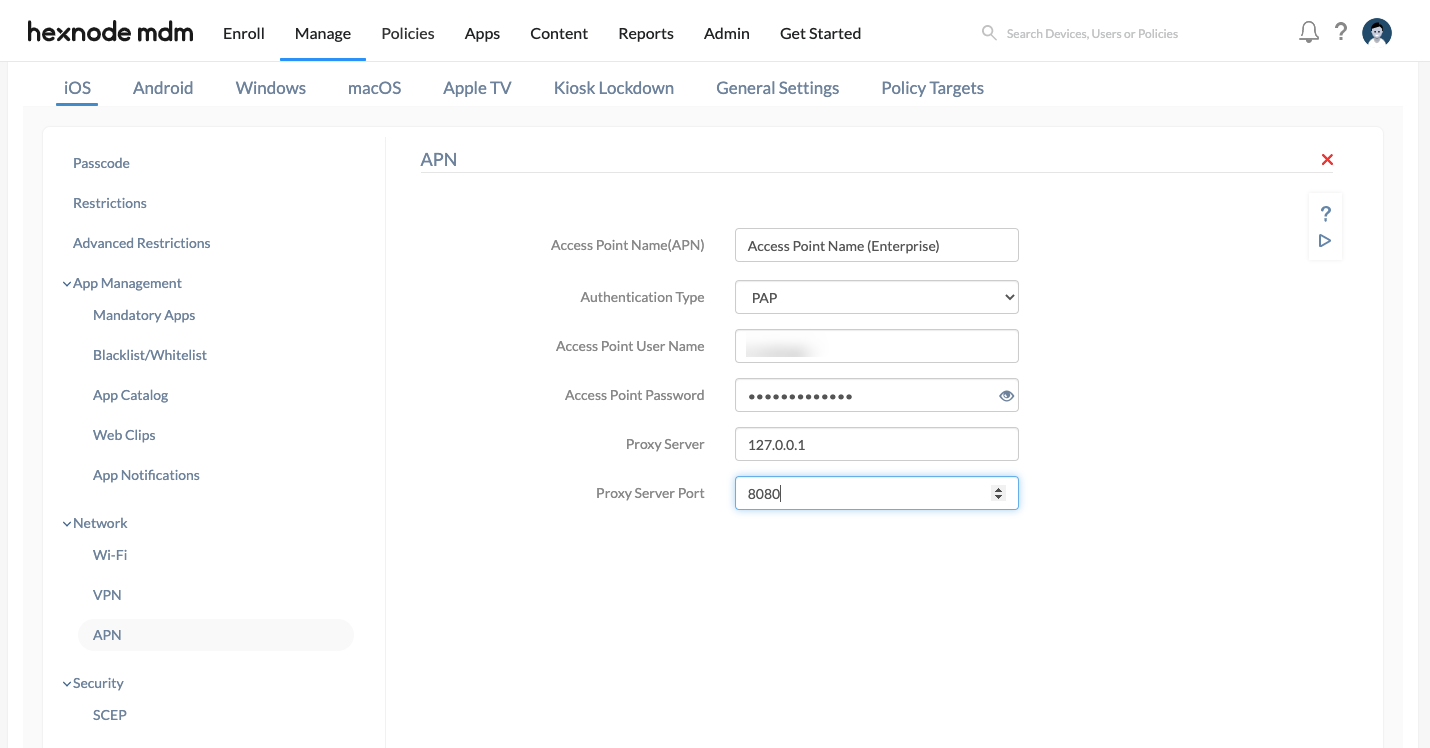 Settings
Description
Access Point Name (APN)
Enter the name of the network's access point. APN differs from network to network. Mandatory field.
Authentication Type
It specifies the security protocol used to send username and password to the server for establishing a network connection. The available values are PAP and CHAP.
PAP (Password Authentication Protocol) is an authentication protocol based on a password. PAP is set by default.
CHAP (Challenge Handshake Authentication Protocol) authenticates users or networks by using a 3-way handshaking protocol. It is stronger and more secure than PAP.
Access Point User Name
It is the username required to authenticate the access point. This field is optional.
Access Point Password
It is the password associated with the access point username.
Proxy Server
To set up a proxy server between the devices and the internet, enter the server name or IP address of the proxy server.
Proxy Server Port
Port number of the proxy server port.
Associate policy with iOS devices/groups
There are multiple ways to associate the policy to target entities.
Method 1: If the policy has not been saved,
Navigate to Policy Targets> +Add Devices.
Choose the target devices and click OK. Click Save.
You can also choose to associate the policy to device groups, users, user groups or domains from the left pane of the Policy Targets tab.
Method 2: If the policy has been saved,
Go to Policies tab. Choose the desired policy.
Click on Manage drop-down and select Associate Targets.
Choose the target entities and click Associate.
What happens at the device end?
The Access Point Name (APN) settings configured in the portal are set up on the device. This configuration pushed from the Hexnode MDM portal will be set as default. Only the IT admin will be able to change it.