How to schedule OS updates on macOS devices?
Apple releases major new OS versions annually and several minor OS updates for macOS devices throughout the year. Before deploying a macOS update, it is necessary to determine whether your organization's workflow is compatible with the new macOS version. Hence, a systematic approach to OS upgrading is essential to ensure macOS security. Hexnode helps IT administrators schedule macOS updates on the devices using policy or via remote action. You can easily restrict or reschedule the available OS updates on the managed devices.



We highly advise you to update the devices to the latest OS version to receive access to all the new UEM features.
Automate software updates for macOS users

To schedule macOS software updates on your managed devices via policy,
Log in to the Hexnode UEM portal.
Go to Policies > New Policy. Assign a suitable name and description (optional) for the policy. You can also choose to continue with an already existing policy.
Navigate to macOS > Security > OS Updates and click Configure.
When a system update is available, any of the following actions can be scheduled. The action specifies how the update is to be handled on macOS devices.


| Actions | Description |
| --- | --- |
| Notify Only | Notify the user of a software update via App Store. |
| Download Only | Download the software update without installing it. |
| Download and Install | Selecting this option downloads the updated version and starts installation immediately. If the software update is already downloaded on the device, installation begins. |
| Install | Installs an already downloaded software update. |
| Install later | Choose this option to download the software update and install it later when the device is most likely to be idle. Once the update is scheduled, the user will be notified to keep the device connected to power during that time. |

Save the policy.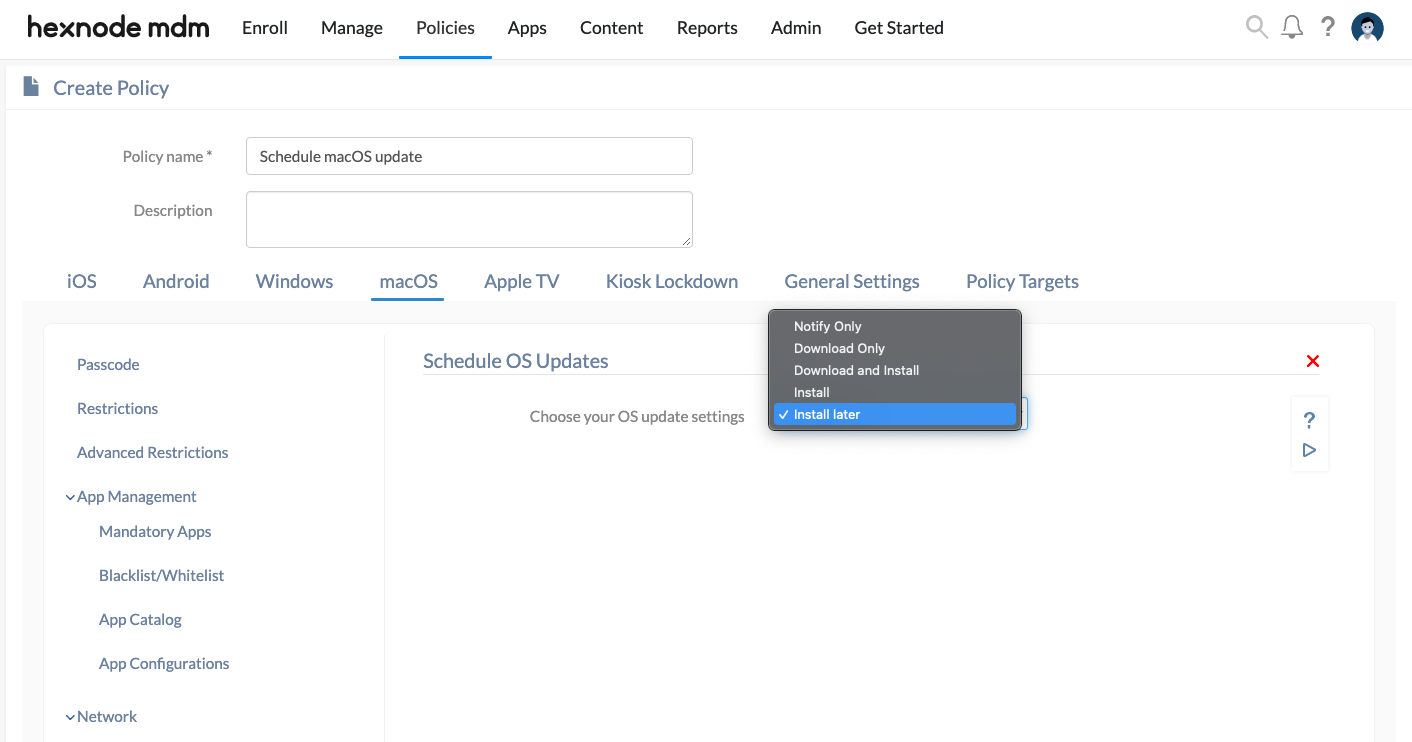 Associate the OS upgrade policy with macOS devices
To deploy the scheduled updates to macOS devices, you will have to attach the policy to the target entities like users, devices, groups or domains.
If the policy has not been saved,
Navigate to Policy Targets > Devices > + Add Devices.
Choose the target entities and click OK then Save.
If the policy has been saved,
Go to Policies tab. Choose the desired policy.
Click on the Manage drop-down and select Associate Targets.
Choose the target entities and associate the policy.