How to move, copy or delete files and folders on Android devices using File Explorer
File Explorer in Hexnode's MDM solution allows you to access and manage your files and folders present on your Android devices. Here, you can move, copy, or permanently delete files and folders on your devices using remote actions.
Using File Explorer, you can check your storage and see how much free space is left on your phone. The Hexnode's File Explorer also has the ability to add new folders while moving or copying files. With this File Explorer's crisp and intuitive interface, file management becomes more seamless than ever before.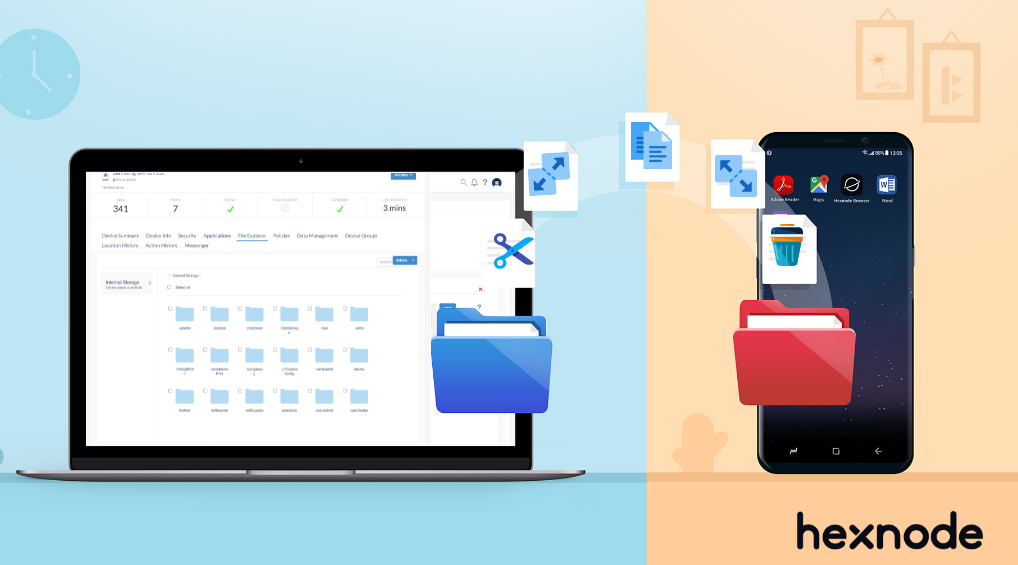 Move, Copy or Delete Files using File Explorer
To execute remote actions such as move, copy, and delete files on your Android devices, follow the steps mentioned below:
Navigate to the Manage tab.
Select the Android device in which you wish to manage and access the files and folders.
Go to the File Explorer sub-tab and click on Open File Explorer.
You can see a list of folders and files present on your Android device. Select the checkbox corresponding to the files you wish to execute remote actions.
Click on Actions > Move/Copy/Delete option, whichever action you want to perform.
If the Move or Copy option is chosen, a popup will arise to show the available folders and sub-folders. You can also create a new folder by clicking on the Add New Folder option. If the Delete option is chosen, a confirmation popup arises. Select Yes to confirm your action.