Firewall – General FAQs
1. Why enable Firewall via Hexnode?
A Firewall can be set up via Hexnode UEM, thereby allowing you to configure the connections between the Mac network port and applications. These can be either blocked or allowed. When the Firewall is enabled, it prevents third parties from accessing or exploiting the apps on the device, thereby increasing the overall device security. Especially in the workplace, making Firewall mandatory is highly preferred and Hexnode helps in doing so.
2. What is stealth mode? Should it be enabled?
Hexnode UEM helps you in securing the device from attackers via stealth mode. Enabling the stealth mode prevents hackers from discovering your MacBook. When stealth mode is enabled, only the requests for authorized apps are acknowledged.
3. If I enable "Block all incoming connections", then can my device access anything? Is this related to the app specific connections?
Block all incoming connections is a highly restrictive Hexnode feature that blocks all the incoming connections except the basic internet services. This is not related to the app specific connections and enabling this feature will block all the incoming connections irrespective of the apps chosen.
4. How can I configure app specific connections?
With the Allow/block incoming connections to the following apps feature, the admin can configure the specific applications to which the connections can be allowed or blocked. The specific apps can be added by clicking on the +Add app button and can be set to either allow or block incoming connections to these apps.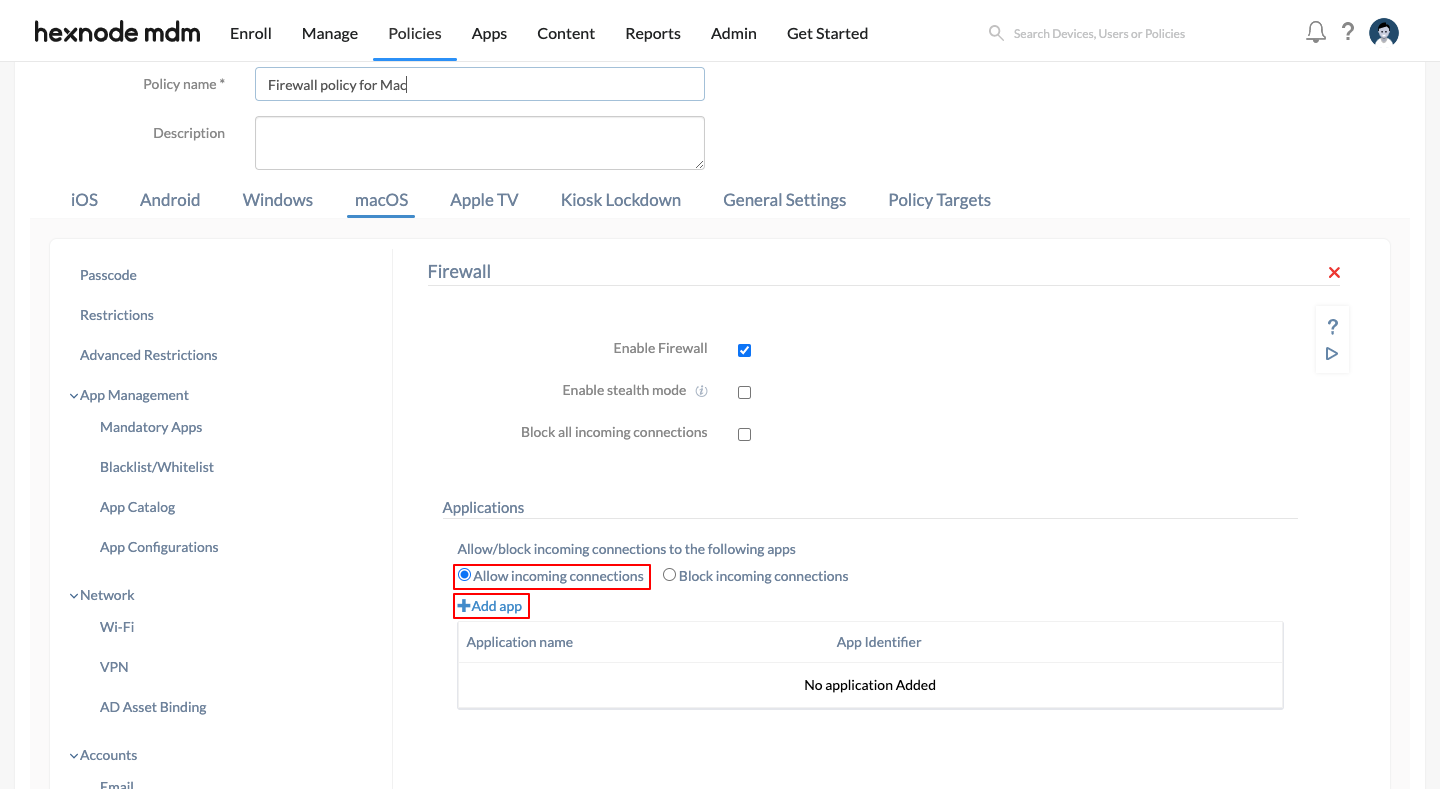 5. What category of applications can be added to "Allow/block incoming connections"?
In-house apps, store apps, VPP apps, and public store applications can be added to "Allow/block incoming connections".
6. Can I turn off the Firewall by deleting the policy?
No, Firewall won't be turned off by deleting or disassociating the policy. It must be turned off manually by going to System Preferences on the device and navigating to Security & Privacy > Firewall where the user can click the Turn Off Firewall button.
However, if either Enable stealth mode or the Block all incoming connections feature is enabled in the Hexnode portal, Firewall cannot be manually turned off, unless the policy is first deleted or disassociated.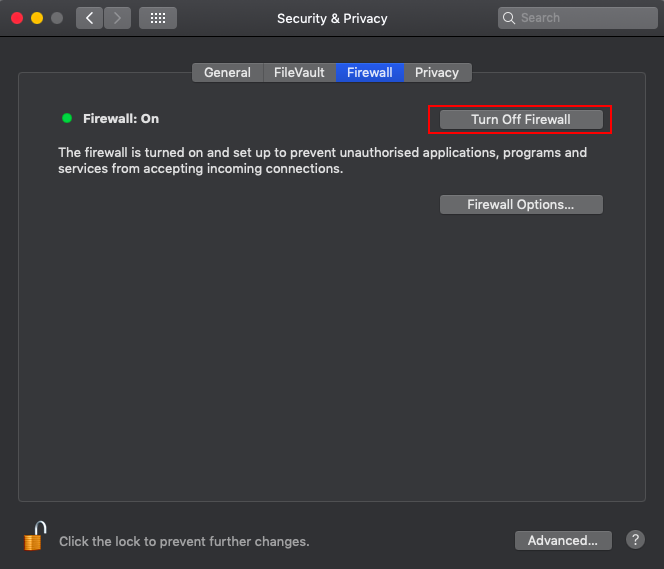 7. I deleted the Firewall policy, but some apps have internet connectivity issues. Why is that so?
Even if the Firewall policy is deleted or disassociated, the blocked applications won't be removed from your device. To remove the apps, navigate to System Preferences on your device, and open Security & Privacy > Firewall > Firewall Options. Now, choose the apps that are to be unblocked and click the '–' button. Finally, click Ok.