How to Add Apps using Bundle ID
A Bundle Identifier(Bundle ID), commonly referred to as Package Name in Android is used to identify Android apps on your device and on Google Play Store. Bundle ID should be unique, i.e. ,if two applications have the same Package name, Google Play Store will not allow you to upload the APK file in it. If you want to upload a new version of your app, then you should use the same ID as the original APK. Apps with different IDs will be treated as separate apps in Google Play Store.
A Bundle ID will be of the form,
Domain name.Company/Publisher's name.Application Name
For example,
com.hexnode.hexnodemdm
Search for Android Apps using Package name ID
The simplest method to look up an app's package ID is to find the app in Google Play Store using a web browser. The app package ID will be listed at the end of the url after 'id='.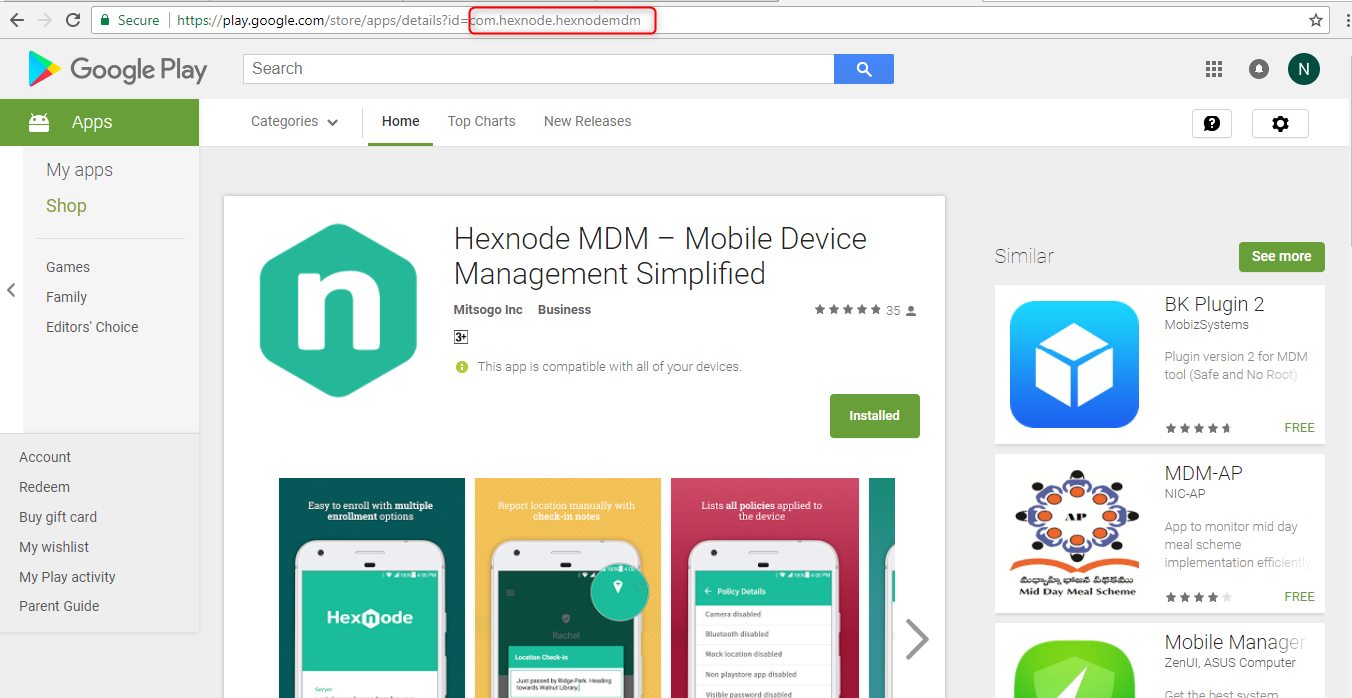 There are several Android apps available in Play Store that lets you find Package name IDs for apps published in Play Store.
Add Apps using Bundle ID
To add apps to devices in kiosk mode, you must first add the apps to the app inventory in Hexnode MDM. Here's how it's done.

Login to your Hexnode MDM portal and navigate to Apps tab.
Click on +Add Apps.
Choose the option 'With Bundle ID' from the drop-down list. This launches a prompt to add apps using Bundle ID. Enter the following details and click on Add button to complete.
App Name– Provide a suitable name for the app.
Bundle ID– Enter the Bundle ID for the app.
Category– Select the category to which the app belongs to.
You have now successfully added the app to the repository. The next step is to add the apps to the Android Kiosk Mode.
Whitelist Blocked Packages
Kiosk Mode is the perfect solution to restrict your devices to perform selective tasks. Hexnode MDM allows only whitelisted apps and packages to be used in Kiosk Mode. Packages may be dependent on other packages to run. Suppose that a whitelisted package in kiosk mode is dependent on a non-whitelisted package. In such a case, the device in kiosk mode will display a message "Blocked Package Package name" and admin has to whitelist such dependent packages in order to ensure smooth functioning of apps and packages.
Troubleshooting Tips