How to lock Android Devices to a Single App Kiosk Mode
Single app kiosk mode is a lockdown mechanism that restricts device access to a single application. A device running in the kiosk is dedicated to serving a single purpose – run the specialized application with minimal device functionalities. The app launches itself, runs in the foreground, and relaunches even after the device is shut down or rebooted. Thus, kiosk mode ensures proper device usage while eliminating unnecessary user distractions. This article describes how to lock Android devices to a single app kiosk mode from the Hexnode MDM console.

Create a single app kiosk policy for Android
Login to your Hexnode portal.
Navigate to Policies.
Select an existing policy or create a new one by clicking on New Policy.
Go to Kiosk Lockdown > Android Kiosk Lockdown > Single App and click Configure.
Click on the + icon. Select either of the options:

Select app: To add the app you wish to set in single-app kiosk mode.
Select file shortcut: Add PDFs and video files as file shortcuts to access them from devices in kiosk mode. To add file shortcut to the Kiosk lockdown policy, first add them in Apps > File Shortcuts.
Go to Launcher and provide the App auto-launch delay in seconds.
Save the policy.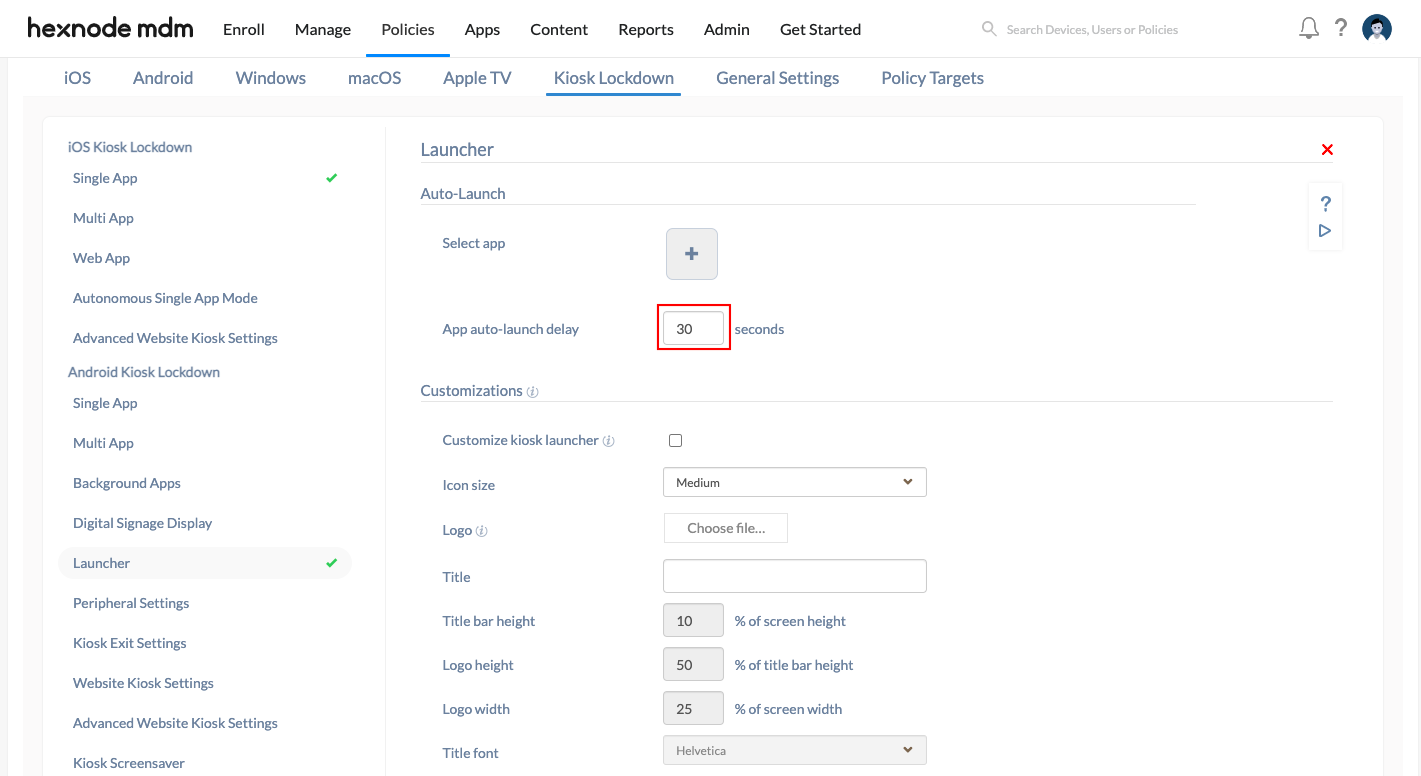 Associate Policies with Devices / Groups.
If the policy has not yet been saved.
Navigate to Policy Targets.
Click on +Add Devices.
Select the devices and click OK.
Click on Save to apply the policies to devices.
Apart from devices, you can also associate the policies with device groups, user and user groups from Policy Targets.
If the policy has been saved, you can associate it by another method.
From Policies, check the policies to be associated.
Click on Manage → Associate Targets and select the device.
Click on Associate to apply policy to the devices.
Troubleshooting Tips