How to set up an Apple TV Conference Room Display
Apple TV can be used as a Conference room display to easily share the screen of an Airplay-supported device without granting the user access to any other function of the AppleTV. When the conference room display is turned on, it displays network details along with instructions on how to connect to AppleTV using Airplay.
Setting up Conference Room Display
Navigate to Policies from your Hexnode portal and create a New Policy > New Blank Policy or update an existing one.
From AppleTV, select Conference Room Display
Navigate to Policy Targets and click on Add Devices to select the target devices.
Click Save.
The conference display will be applied to the device.
On the Apple TV it would look like this: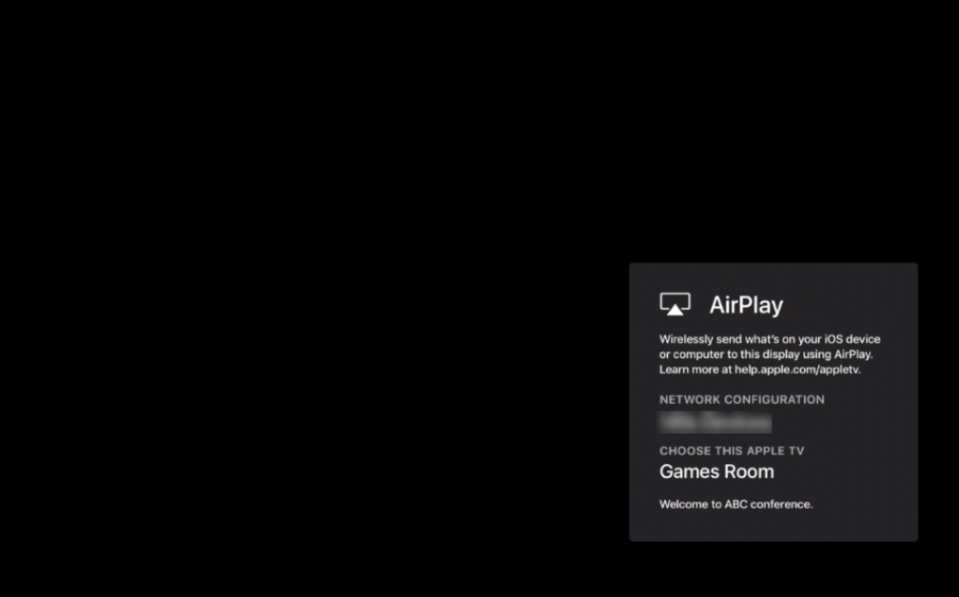 Exiting from Conference Room Display
To exit from conference room display mode you need to remove the policy from the device and restart the device.
To remove a policy from the device,
Log in to your Hexnode UEM portal.
Go to Manage > Devices.
Click on the device from which the policy is to be removed.
Click on the Policies subtab and remove the policy by clicking on the trash icon.





To remove a device from the policy,
Login to your Hexnode UEM portal.
Go to Policies and select the policy.
From Policy Targets, click on remove to detach the device from the policy.
Save the policy.