How to Remotely Scan Devices?
Devices added in Hexnode unified endpoint management solution has to be scanned to fetch the device details. Battery percentage, list of installed apps, and other device details are updated in the Hexnode MDM portal by scanning the device. A remote scan action can be initiated manually or automatically from the management portal. A manual scan may come in handy when you want to check if the device is reachable or to get the updated device details instantaneously. You can also schedule an automatic device scan to fetch the device details at specified intervals.
A remote scan action initiated from the portal may fail if the Hexnode app fails to communicate with the MDM portal. In such cases, users can force sync from the Hexnode app by clicking on the sync button. This will initiate a new connection to the management portal through which all the pending actions can be sent to the device. Manual sync can be initiated on iOS, Android, Windows, macOS and Android TV OS devices enrolled in the MDM solution.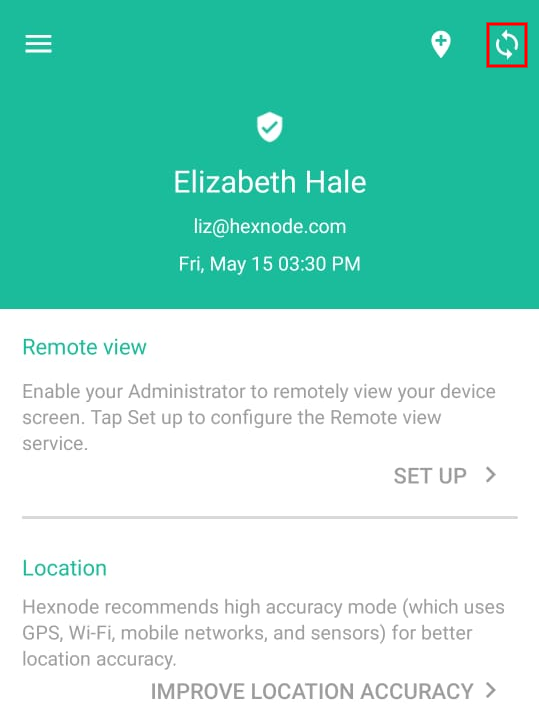 Scanning Devices Manually
To remotely scan devices manually,
Login to your Hexnode portal.
Navigate to Manage > Devices.
Click on a device.
From Actions, select Scan Device.
You can check whether the scan is successful from the Action History.
Upon successful scan, reload the page to view the changes.


To scan devices in bulk,
Go to Manage tab.
Check the required devices and select Scan Device from Actions.
Scanning Devices Automatically
Hexnode UEM software automatically scans a device when it is enrolled in the MDM. A device scan can be scheduled daily or weekly, as per requirement. To schedule a remote device scan,
Navigate to Admin > General Settings.
Under Scheduled device scan, set the values accordingly.

Time settings – Let you choose whether a device scan should be initiated on a daily or weekly basis.

Select Daily if you want to automatically initiate a device scan from the Hexnode MDM portal every day and specify the scan initiation time.
Set to Weekly if you want to initiate the scan device command in specific days of a week. Specify the scan initiation time and day/days in a week when you want to scan the devices.

Save the settings.