macOS Mojave features
We are excited to announce that we have added brand new features in support of macOS Mojave (10.14+). This includes the options to Autofill Passwords, Request passwords from nearby devices and Share passwords via Airdrop Passwords feature under Advanced Restrictions. Apply with one click right from the console!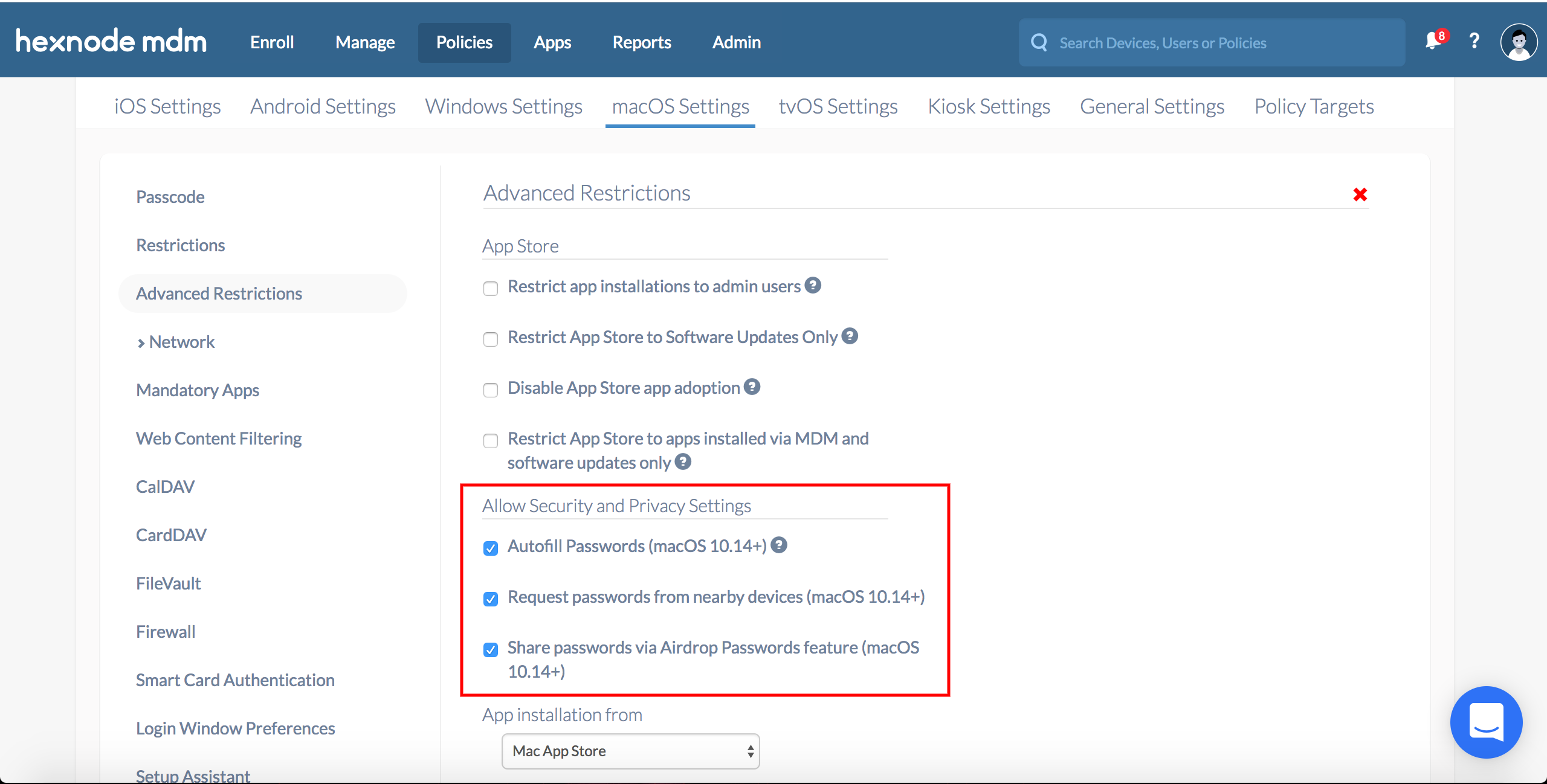 Here is how it can be configured!
Login to your Hexnode MDM portal.
Go to Policies > macOS Settings > Advanced Restrictions > Allow Security and Privacy Settings > Autofill Passwords / Request passwords from nearby devices / Share passwords via Airdrop Passwords feature.
Check the option and associate the policy to target devices.
Other Enhancements
Battery Level Alert.
We have added a new option Battery Level Alert under Admin > General Settings to alert the admin / users regarding the battery level in the devices.

Hexnode MDM notifies the admin / users via email once the notification option is enabled under Admin > Notifications > Notify the Administrators on / Notify the associated users on > Device battery level.

Dynamic group syncing.
An option Sync Dynamic Groups is included under Manage button & an option Sync Now under Actions in Dynamic Device Groups.

This enables Auto-Sync at regular intervals as per the pricing plan you have subscribed for.

Pro: Auto-syncs every 4 hours.
Enterprise: Auto-syncs every 1 hour.
Ultimate: Auto-syncs every 15 minutes.
Ultra: Auto-syncs every 5 minutes.

OAuth for macOS ActiveSync.

With Hexnode MDM you can now enforce OAuth authentication for the Exchange ActiveSync Configuration for macOS devices. It allows you to specify the URL to load for authentication when auto-discovery is not used.

iOS Web App Kiosk.
An option Hexnode Browser Lite has been included under iOS Web App Kiosk mode which gives access to whitelisted web apps and websites.

With this you can now lock down your devices to access either a single website / multiple website.

Ultra Subscription Plan.

Hexnode MDM now provides you with a complete UEM solution. An additional subscription plan Ultra with great new features has been introduced in our latest release.

Check out our Pricing plan to know about the features in the Ultra subscription plan.
Cheers!
Michelle Hendricks
Hexnode MDM