July 24, 2020 at 3:47 pm
#7631
Thomas Specter
Hi __,
Thank you for reaching out to us.
You will be able to set the default ownership to corporate through the Hexnode console.
Please navigate to Admin -> Enrollment -> Scroll Down -> "Enrollment Ownership". Here you can set it to "Corporate", and save it.
Please have a look at the below image for reference.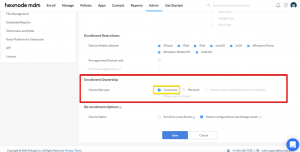 You can have a look at the help document of Hexnode for this topic.
https://www.hexnode.com/mobile-device-management/help/mdm-device-enrollment/
Cheers!
Thomas Specter
Hexnode MDM