January 5, 2022 at 7:38 am
#14342
Ethan Miller
Hey @KeiR!
We definitely have a solution that suits your requirement. Hexnode supports downgrading OS versions on Zebra devices via the OEMConfig app. An OEMConfig app provides zero-day support for new features before EMMs integrate them. Follow these steps to deploy the OEMConfig app to your devices and downgrade the OS:
Add the Zebra OEMConfig app to the Hexnode App Inventory by approving it as a Managed Google App in the Apps tab.
Push the Zebra OEMConfig app to your devices using Install Application action under Device Actions or associate the app to your devices as a Mandatory App with a policy.
Navigate to App Configurations under App Management in Android in the Policies tab.
Click Add new configuration and select Zebra OEMConfig app.

Scroll down to the section Firmware over the Air Configuration.
In OS Update/Upgrade/Downgrade File, specify the file (ZIP, UPL, XML, etc.) to be used if either of the options OS Update, OS Upgrade, or OS Downgrade is chosen for Mode Manual Action.
Ensure that the file is already contained on the device file system at the specified location.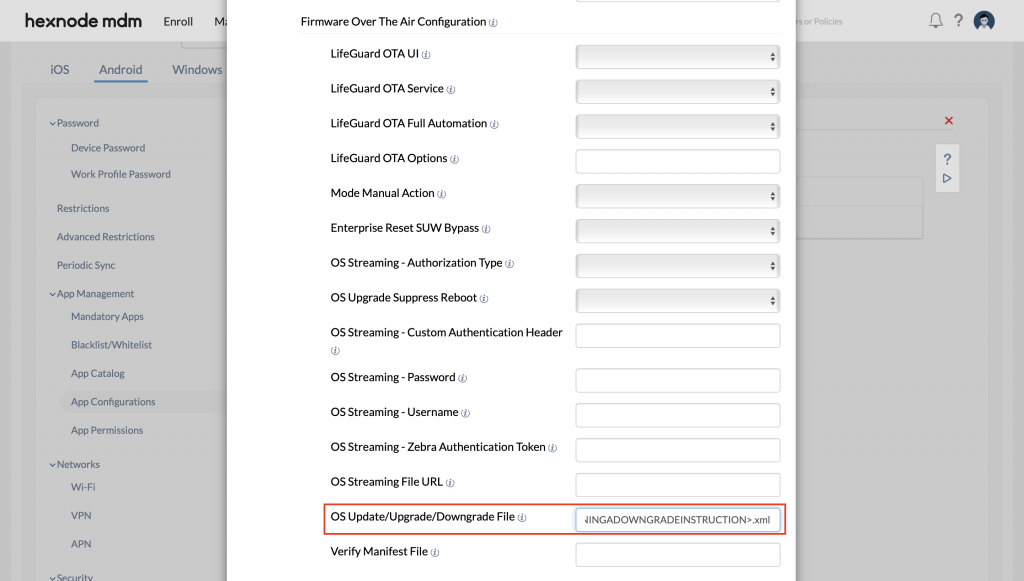 In the future, if you wish to update your OS, you can schedule OS updates on your devices enrolled in Android Enterprise as 'Device Owner'. You can choose to postpone updates or update while the device is not in use.
Hope this answer helps you.
Thank you!
Ethan Miller
Hexnode UEM