July 7, 2021 at 4:31 pm
#11181
Chris Coleman
Hey Bryson,
Thank you for reaching out to us!
Hexnode lets you perform location check-in from devices that are in kiosk mode, and you will also be able to monitor the check-ins directly from the Hexnode portal. You can follow the steps given below to enable users from performing a location check-in from their device:
Navigate to Policies > New Policy to create a new policy or click on the existing kiosk policy that is associated with your device to edit the policy.
Go to Kiosk Lockdown > Android Kiosk Lockdown > Peripheral Settings and click on Configure.
From Location, check the option Users can add location notes.
If you have created a new policy, navigate to Policy Targets and associate the policy to your required devices. Click on Save.
If the policy is already associated with your device, you can just click on Save to save the new configurations.
Once the policy has been associated with your device, you can tap on the Settings app on the Kiosk homepage and select Location check-in. Add a note in the Location Check-in popup and click on Send to send the location of the device along with the note. You can view the location check-ins from the Hexnode portal by navigating to Reports > Location Reports > Location History.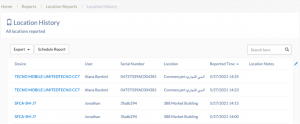 In the Location Notes column, you will be able to see the corresponding notes that have been sent along with the location check-ins.
Hope I was able to answer your query.
Cheers!
Chris Coleman
Hexnode UEM