1. Adjust the remote view video quality for Android
With Hexnode's latest update, you can adjust the quality of the remote view video from the MDM console.
Here is how you can do this!
Navigate to Manage > Devices > click on the device name.
This will take you to the Device Summary page.
Click on Start Session under Remote View.
Once the remote view is initiated, click on the gear icon to choose the quality of the video.
You can choose the video quality to be either Low (180p), Medium (360p) or High (720p).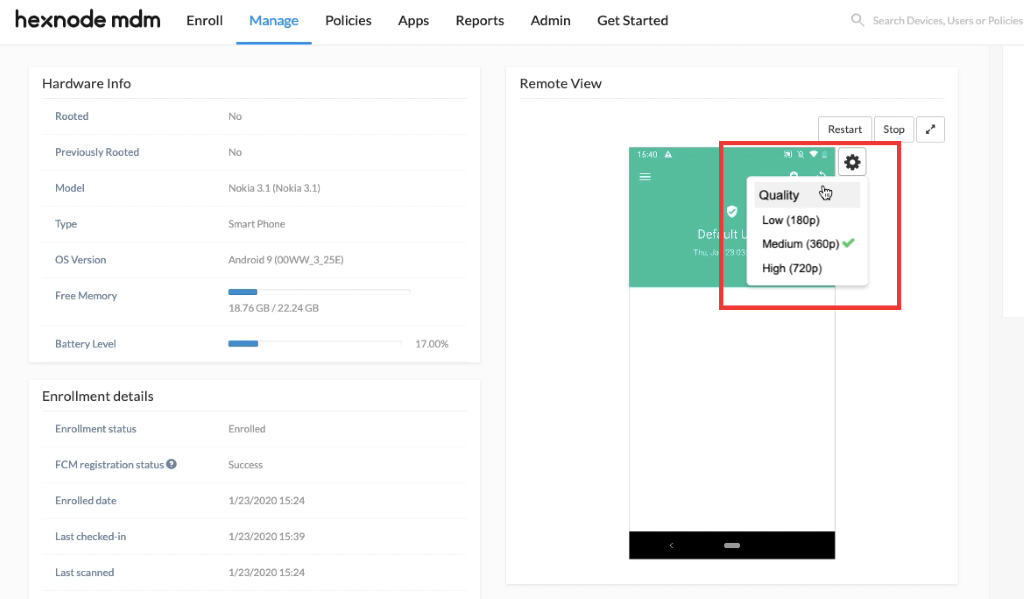 2. What's new in Android Restrictions?
New restrictions to prevent several types of USBs from connecting to Android devices have been included under Policies > Android > Advanced Restrictions > Allow Device Functionality.
USB Host Storage – Unchecking this option prevents the users from connecting an external USB device to their Android devices.
USB Exception List – You can choose from the available options, the type of USB storage devices that can connect to your Android devices. This would block all other USB device types from being connecting to the device. The available USB device types include:

Audio
CDC Data
Communication
Human Interface Device
Mass Storage
Miscellaneous
Still Image
Vendor Specific
Wireless Controller
Cheers!
Michelle Hendricks
Hexnode MDM