January 11, 2021 at 3:05 pm
#8167
Thomas Specter
Hi Khai,
Thank you for reaching out to us.
This can be achieved with the current Hexnode configurations.
Initially, please set the Hexnode sync service on the device to foreground via Android policy. This shall ensure that the devices are always connected to the Hexnode services.
Subsequently, you can configure the inactivity settings in the Admin tab, under Admin -> General Settings, to set inactivity from 15-45 minutes:

You can then on the same page, scroll down to enable the option to mark the device as non compliant, if inactive: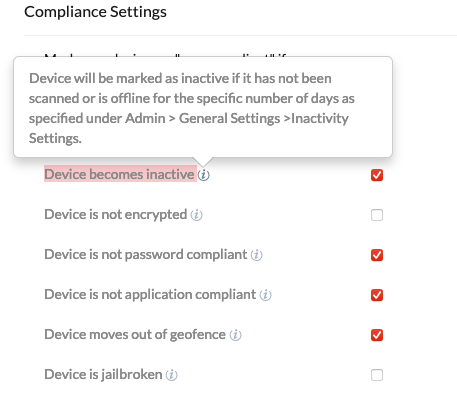 Finally, you can configure notifications to notify you to inform you when the device runs out of compliance.
Hence, let's say if a device is powered off, you shall be notified within a few minutes that it is inactive. But please note that the same applies when there might be potential network outages in the device's internet.
Cheers!
Thomas Specter
Hexnode MDM