September 2, 2020 at 10:00 pm
#7768
Eva Tyler
Hi Chaim,
Thanks for reaching out to us.
Sincere apologies for the confusion caused. Seems like a slight mistake from our end.
The screen time out settings would be listed under the 'Restrictions' section within Android.
Kindly navigate to Policies tab > Click on the policy name > Android > Restrictions > Allow device functionality > Screen Time out settings.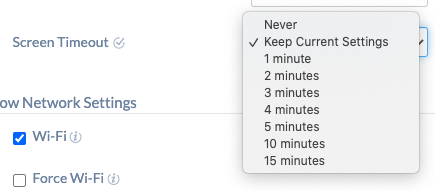 Check out the help link for your assistance: https://www.hexnode.com/mobile-device-management/help/set-up-android-mdm-restrictions-using-hexnode-mdm/ 
To allow the auto-lock of the device after the required period of inactivity, you can configure the Passcode policy from Android > Device Password > Auto-lock.
Here is a help link for the same: https://www.hexnode.com/mobile-device-management/help/password-policy-for-android/ 
Cheers!
Eva Tyler
Hexnode MDM