July 31, 2020 at 4:36 pm
#7675
Thomas Specter
Hi Keanu,
Thank you for reaching out to us.
There is a condition which can wipe devices automatically, once a preconfigured threshold is breached. This condition is present in the Password policy of mobile devices, like Android and iOS, and computers which run on the Windows platform.
Upon opening a policy and navigating to the "Device Password" section of Android/ iOS/ Windows -> you will find an option named "Failed attempts (After the specified number of failed attempts, the device data will be wiped automatically)". Configuring this, shall wipe your devices after the set number of incorrect passwords are entered on the device.
You can have a look at the image of this policy below: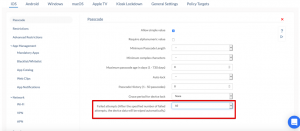 Apart from this, we do have an option to wipe the devices using individual actions. This is performed by navigating to Manage -> Opening a device -> Actions -> Wipe Device. You can have a look at the image below.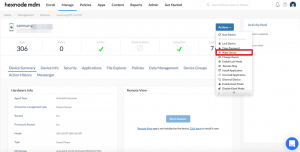 Cheers!
Thomas Specter
Hexnode MDM