July 7, 2020 at 9:04 am
#7525
Thomas Specter
Hello there,
Thank you for reaching out to us.
We do have a 2FA in place to authenticate technicians who login to their Hexnode accounts. This can be enabled when the corresponding option is enabled inside the portal.
You can find this by navigating to Admin -> Technicians and Roles. Please click on "Add Technician" (or) you can also edit an already configured technician.
Here, you shall have the option to enable 2 Factor Authentication.
Please do have a look at the below image if that could help.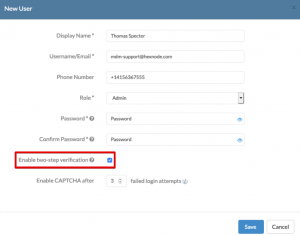 Cheers!
Thomas Specter