Time is flying by, and 2023 is already knocking at your front door. It's the time of the year when you reminisce about everything that happened to you over the last year and decide how you want your 2023 to be. Time to pick up a new hobby, create a new business plan, or even start the exercise routine you have been planning to start for a long time.
With all the changes you plan to implement in your personal and work life, this might also be an excellent time to rethink your device management strategy. You might think you don't necessarily need a device management solution or your current solution is good enough. However, that opinion might change once I elucidate Hexnode's management features and why it is the best remote device management software for you in 2023. So, stick around a bit more😉.
Explore Hexnode's remote management prowess
Things to consider while selecting a remote device management software
There is plenty of software out there that can help you with managing your devices over the air. However, determining which one checks off all your requirements will be the pivotal step in determining how efficient your device management strategy would be. So, let's consider some key factors while selecting your ideal remote device management software.
Device fleet
Device management options vary with the platforms on which your devices run. There is specialized device management software for each platform such as Windows, macOS, iOS, Android, etc. However, it is always better to choose software that lets you manage multiple platforms simultaneously, like Hexnode. Hexnode supports all the above mentioned platforms, including tvOS, iPadOS, and Fire OS. Another aspect to consider here is your fleet's total number of devices. Be sure to check whether the device management software you are planning to choose can accommodate your entire device fleet.
Device applications
What is the primary use case of your devices? For example, is it for the employees to fulfill their work-related activities? Or is it for any other dedicated cause- such as kiosks or digital signages? Whatever the purpose, the rule of thumb is to test it out with various device management software and find the alternative for your enterprise.
Security requirements
Your corporate data falling into the wrong hands can put you in serious trouble. Some of the significant security requirements that enterprises look for are device encryption, restricting user privileges, managing device apps, and system wipe in case of theft.
About Hexnode
As I have already mentioned, Hexnode would be the exact tool you need if you are looking for robust remote device management software. Apart from having comprehensive platform support, Hexnode also boasts of its advanced kiosk capabilities and security management.
Ease of use and setup
The wide range of enrollment options lets you set up your devices with Hexnode in a breeze. The key highlight is the Zero-touch enrollment options that let you onboard your devices hands-free, even in bulk numbers. For instance, Hexnode supports Apple's Automated Device Enrollment, Android Zero-touch enrollment, Samsung Knox Mobile Enrollment, and ROM-based enrollment.
As far as ease of use is concerned, Hexnode comes with a clean interface that is easy for users to navigate. In addition, the Get started assistant gives you a complete product walkthrough as soon as you log in. So, even if you are a new MDM user, you'll feel right at home.
Features
Security management
In a corporate environment, security is essential in multiple domains. Hexnode's multi-faceted security management solution is designed just for that. It can help you secure your devices, data and applications. You can remotely secure your devices with multiple lines of defense, from enforcing passwords to encryption. Even in cases of theft, you can remotely wipe and lock down your devices to prevent your data from falling into the wrong hands.
Network management
Configuring network settings in your devices is a task that might take quite some time if done manually. Hexnode lets you remotely connect the devices to your enterprise Wi-Fi and VPN in seconds. It also includes provisions such as VPN On Demand (automatically connecting to VPN when on specific networks) and Per-App VPN (establishing a VPN connection only for specific apps) to customize the network settings further.
Content management
Enterprise content management enables you to utilize an organization's content efficiently. Along with providing uncompromised security against breaches, it also gives you a fluid content distribution system. With this, you can ensure the right people get access to the right content on time.
Application management
Hexnode lets you have complete control over all aspects of application management. Starting from remote app installation and uninstallation, you can also control in-app configurations and permissions. In addition, the Volume Purchase Program (VPP) integration with Hexnode lets you purchase, deploy and manage applications in bulk too.
Accounts management
Configuring user accounts on devices is a nightmare for all IT admins. However, it won't be tedious if the devices are enrolled in Hexnode. Be it 10s or 100s of devices, it can be configured with respective user accounts with a single click, using wildcards. Hexnode supports accounts management for email, calendar, google accounts, Exchange ActiveSync, etc.
Remote actions
Remote actions are extremely useful when you want to execute some actions remotely for multiple devices. Some of the remote actions available with Hexnode are;
Locking the device
Wipe device
Remote ring
Enabling and disabling personal hotspot
Broadcast messaging
Power off device
Restart device
Customizations
Hexnode can let you customize your device screens. For example, it lets you change wallpapers, screensavers, the layout of your home screen, and so on. There is also a provision to install extra fonts on iOS devices.
Remote troubleshooting
Remote troubleshooting is a beneficial tool for providing real-time assistance to your employees. You can view the problems happening at the device end remotely, assume control, and solve them using the remote troubleshooting feature.
I run a manufacturing industry; do I still need a remote device management solution?
Yes! If you are running a manufacturing industry, you would be aware of the revolution of ruggedized devices, substituting most consumer-grade devices. Although rugged devices are 'rugged' physically, consideration should be given to ensure they are well managed. Starting from data and network security to remotely configuring settings, a remote management tool like Hexnode can help boost your industry's productivity further.
I have a business setup; do I still need a remote device management solution?
Of course! Technologies such as digital signage and kiosk screens have taken over the business sector in recent years. Equipping your business with these two is guaranteed to reap the benefits of increased customer interaction and sales. Hexnode's capabilities will help you remotely set up your screens to show customized dynamic content with style.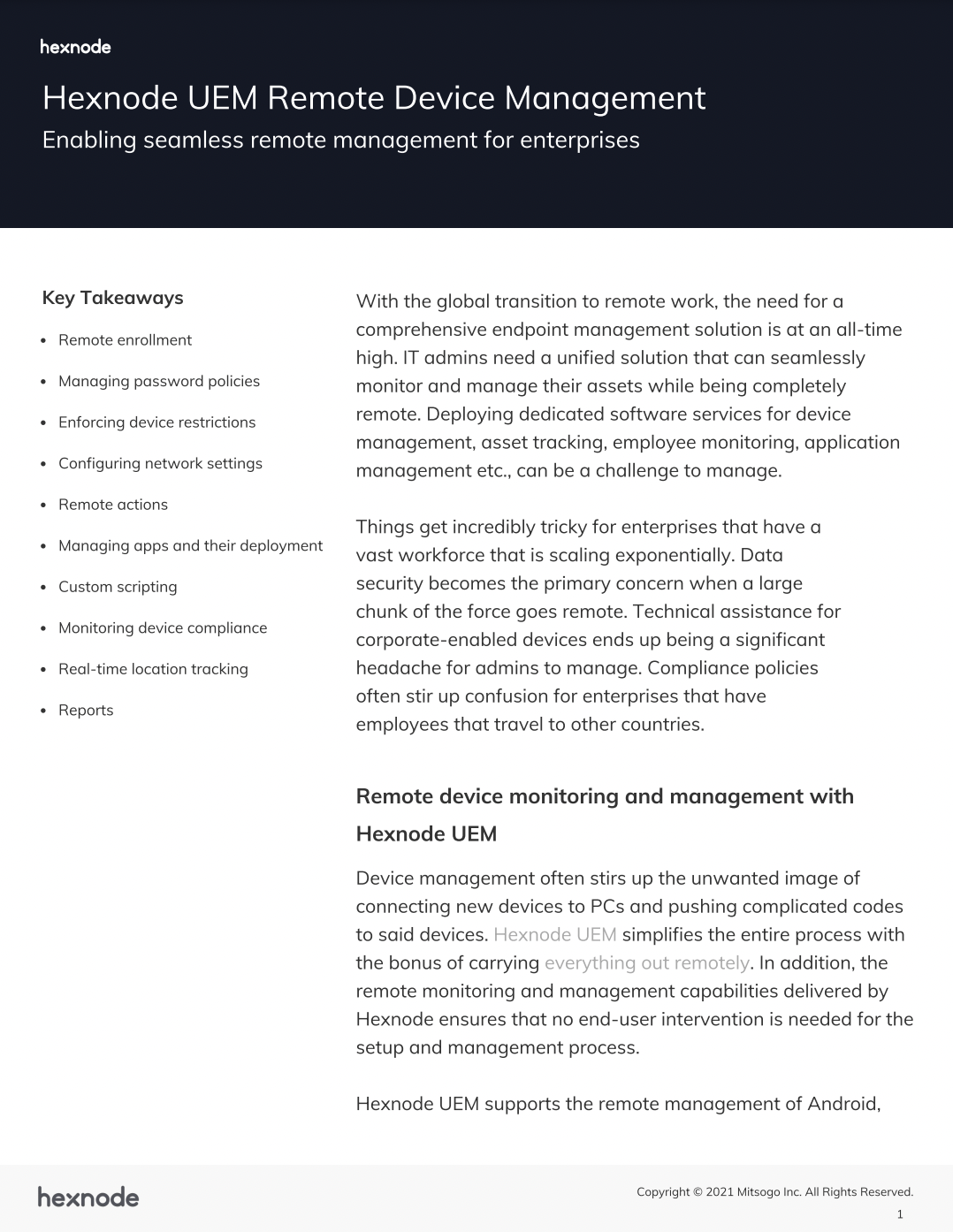 Featured resource
Hexnode UEM Remote Device Management Datasheet
Get started with Hexnode's Unified Endpoint Management solution know more about Hexnode's core endpoint management features.

DOWNLOAD PDF
Hear what our customers have to say
…Hexnode have shown a unique passion to be the best at what they do, regardless of my needs they strive to deliver more to make their solution better

Mark Guest
Head of IT at bathstore
I've had a great experience with the Hexnode support team. I have had to call them many times, but they've been good.

Matthew Plassmann
IT Systems Specialist at Donaldson Company
It just makes life so much easier. Okay, if we need to reset an Android tablet what we will have to do is to link it to Hexnode…
…all the apps for each department just get automatically installed.

Ryan Boundy
ITC at Sir John Hunt CSC
Pricing plan
Hexnode's pricing plan ranges from $1.08 to $5.4 per device per month for a minimum of 15 devices. Also, there are custom pricing plans and packages for enterprises looking to deploy a significant number of devices with Hexnode. Take a detailed look at the pricing structure here.
The final word
Device management is a very dynamic field, as the requirement of each enterprise is different. Hence, selecting a solution that offers you a wide range of capabilities at a reasonable price can always put you on the safe side. This is why Hexnode is the remote management software you need in 2023. One more step left- make the most out of the 14-day free trial of Hexnode and experience the feature-richness by yourself.

Start your free trial today!
Start you 14-day free trial to experience remote device management with Hexnode.
SIGN UP NOW