In today's digital age, mobile applications have become an essential part of our daily lives. From communication to entertainment, shopping to banking, we use mobile apps for almost everything. According to Statista, there are around 3.5 million mobile apps available in the Google Play Store and around 2.2 million apps in the Apple App Store as of Q3 2022. However, managing these apps can be challenging for both individuals and organizations. This is where app management comes into the picture.
What is app management?

App management refers to the process of managing, monitoring, and securing mobile applications used by individuals or organizations. It involves a set of policies, guidelines, and tools to ensure the smooth functioning of apps, their data, and their users. App management aims to streamline the app lifecycle management process, from deployment to retirement.

Click to explore Hexnode's App management features

Effective app management is crucial for IT admins to ensure the security, productivity, and efficiency of their organization. IT admins can improve security by managing apps and ensuring that only authorized apps are installed on the company's devices. They can also increase productivity by ensuring employees have access to the necessary apps and reduce costs by avoiding unnecessary software purchases.

Additionally, app management can enhance the user experience by keeping apps up-to-date and functioning properly. By managing apps centrally, IT admins can simplify their administration tasks, save time, and reduce the workload on IT staff.
Benefits of app management
Improved security: Managing apps effectively can help improve security by allowing administrators to control and monitor access to sensitive data and ensure that users are using up-to-date and secure versions of apps.
Increased efficiency: With automated app deployment and updating processes, app management can reduce the time and effort required for manual app management, thereby increasing overall efficiency.
Cost savings: By optimizing app licenses and controlling app usage, app management can help reduce unnecessary expenses, resulting in cost savings.
Better user experience: By ensuring timely updates and proper functionality, app management improves the overall user experience and guarantees access to necessary apps.
Enhanced productivity: Seamless access to necessary apps and uninterrupted app functionality are essential to increase productivity and enable users to perform their tasks efficiently.
Simplified management: By providing a centralized platform to manage and monitor all apps, it can reduce the complexity of app management and streamline processes, resulting in simplified management.
Improved compliance: App management can help improve compliance by enabling organizations to enforce policies and regulations related to app usage and data access, ensuring that sensitive data is protected, and compliance requirements are met.
App management best practices
Establish app management policies and guidelines: It is important to have policies and guidelines in place for the management of apps. The policies should define the standards for app usage, including specifying which apps are permitted and which apps are prohibited. The policies should also cover the security requirements for apps, such as data encryption and password protection
Educate users on app usage and security: Organizations should provide training to their employees on how to use apps securely. This training should include instructions on how to download and install apps, how to set up app permissions, and how to recognize and avoid potentially harmful apps.
Regularly update apps: App updates are important to fix bugs and address security vulnerabilities. Organizations should make sure that their employees update their apps regularly, either manually or through an automated system.
Monitor app usage and analytics: Monitoring app usage can help organizations understand how their employees are using apps and identify potential security risks. Analytics can provide insights into which apps are most popular, which apps are used the most, and which apps are causing the most problems.
Back up app data: It is important to back up app data regularly to protect against data loss. This can be done through cloud storage, backup software, or other methods.
Key features to simplify app management
Simplified zero-touch app onboarding
Zero-touch app onboarding is a process that allows apps to be installed on mobile devices without the need for user intervention. This can be accomplished through application device management (MAM) software that automatically installs apps on the devices.
Customized configurations
Customized app configurations allow organizations to tailor the app settings to their specific needs. This can include setting up custom branding, configuring app permissions, and pre-configuring app settings.
Kiosk lockdown
Kiosk lockdown is a feature that allows mobile devices to be set up as kiosks for specific tasks, such as point-of-sale transactions or customer surveys. This feature can help prevent unauthorized app installations and usage. App kiosk mode is a useful feature for businesses and organizations that need a high degree of control over device usage and security. Multi app kiosk on an iOS device
BYOD and containerization
Bring Your Own Device (BYOD) policies allow employees to use their personal devices for work purposes. Containerization is a technique that separates work-related apps and data from personal apps and data on the device, providing an additional layer of security. Additionally, containerization provides benefits such as enhanced security, improved compliance, and simplified device management for organizations. Furthermore, it allows IT administrators to manage work-related apps and data without interfering with personal apps and data, ensuring employee privacy and increasing productivity.
App restrictions and permissions
Configuring app restrictions and permissions allow organizations to control which apps are installed on their employees' devices and which apps have access to specific device features, such as the camera or microphone.
Monitor compliance
Compliance monitoring helps organizations ensure that their employees are following the app usage policies and guidelines. Additionally, it can include tracking app usage, enforcing security policies, and conducting regular security audits.
Manage app updates
Managing app updates is crucial to ensure that apps are regularly updated to address security vulnerabilities and fix bugs. Companies can achieve this through manual updates or through an automated system.
Control app data expenses
App data expenses can be a significant cost for organizations, especially if employees are using data-intensive apps. Furthermore, app management solutions can help organizations control data expenses by providing features such as data usage tracking and app data usage restrictions.
Schedule and generate reports
The app management solutions can generate reports on app usage, app data usage, and compliance. Users can use these reports to identify potential security risks and monitor compliance with app usage policies.
Streamline app retirement
App retirement is also an important component of app management. To free up storage space and reduce security risks, IT admins can remove apps that are no longer necessary or are outdated from devices. Furthermore, app management solutions can help organizations streamline the app retirement process. App management solutions achieve this by providing features such as app usage tracking, app removal notifications, and automated app removal.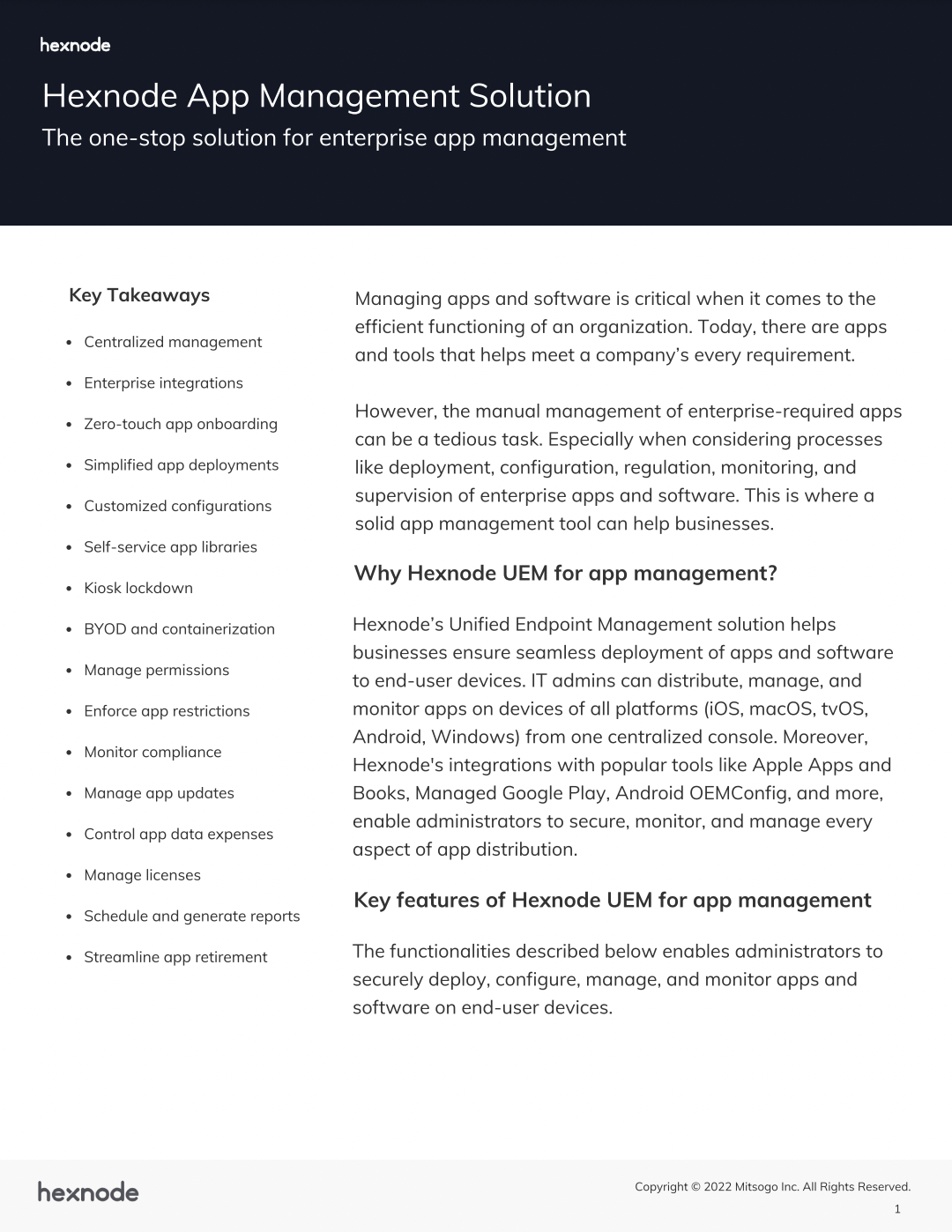 Featured resource
Hexnode App Management solution
Learn how Hexnode's App Management solution helps businesses ensure seamless deployment, configuration, regulation, monitoring, and supervision of enterprise apps and software on end-user devices.

Download the datasheet
MAM solutions: The perfect app management tool
A Mobile Application Management (MAM) solution is a software platform that helps organizations manage and secure the mobile apps used by their employees. MAM solutions provide a centralized platform for managing app onboarding, app configuration, app updates, app usage monitoring, and app retirement. Companies can use MAM solutions in conjunction with mobile device management (MDM) solutions or as a standalone solution.
How can MAM be beneficial?
Single platform for management:
A single platform is essential for managing all mobile apps, regardless of the platform they are running on. This allows organizations to manage apps for multiple platforms, including iOS, Android, and Windows.
Application lifecycle management:
Application Lifecycle Management (ALM) is a set of practices and tools that enable software development teams to manage the entire lifecycle of an application, from initial planning to retirement. Additionally, ALM helps teams to identify and mitigate risks early in the development cycle, resulting in fewer defects and greater customer satisfaction. The MAM solutions provide a complete solution for managing the lifecycle of mobile apps. This includes app onboarding, app configuration, app updates, app usage monitoring, and app retirement.
Mandatory apps:
An application management solution allows organizations to make certain apps mandatory for their employees. This ensures that all employees have the necessary apps to perform their jobs.
App catalogs:
A centralized app catalog that allows employees to easily discover and install apps. Furthermore, organizations can customize app catalogs to include only the apps that are relevant to their needs.
Managing third-party apps:
The MAM solutions also provide a way to manage third-party apps that are used by employees. This allows organizations to ensure that these apps meet their security and usage requirements.
Configuring app policies:
Organizations use application management solutions to configure policies for each app, including security policies and usage policies. These policies can be customized to meet the specific needs of the organization.
Single, multi and web app kiosk:
Kiosk mode locks down the device in a specific set of app or apps, known as single or multi-app kiosk. Web applications, also known as web apps, enable you to access a specific URL directly by opening the application. You can add these apps with a designated icon to the home screen of your device in kiosk mode, similar to any other app.
Enforcing restrictions:
The solutions provide a way to enforce restrictions on app usage, such as disabling certain features or blocking access to certain apps. This helps organizations ensure that their employees are using apps in a secure and compliant manner.
Use cases of companies benefitting from app management
With the increasing demand for mobile devices and applications, companies are adopting app management solutions. The aim is to streamline their app deployment, updates, and security. App management solutions have helped companies enhance their mobile device management and improve customer service. Additionally, they have enabled organizations to achieve greater efficiency and control over their mobile applications.
Seamless app management raising enterprise productivity at Kellpro
Kellpro, a leading provider of professional services and software solutions, was facing challenges in managing their mobile devices across multiple locations. They needed a centralized solution to manage their devices and applications. Hexnode Unified Endpoint Management (UEM) solution helped Kellpro to streamline their mobile device management process.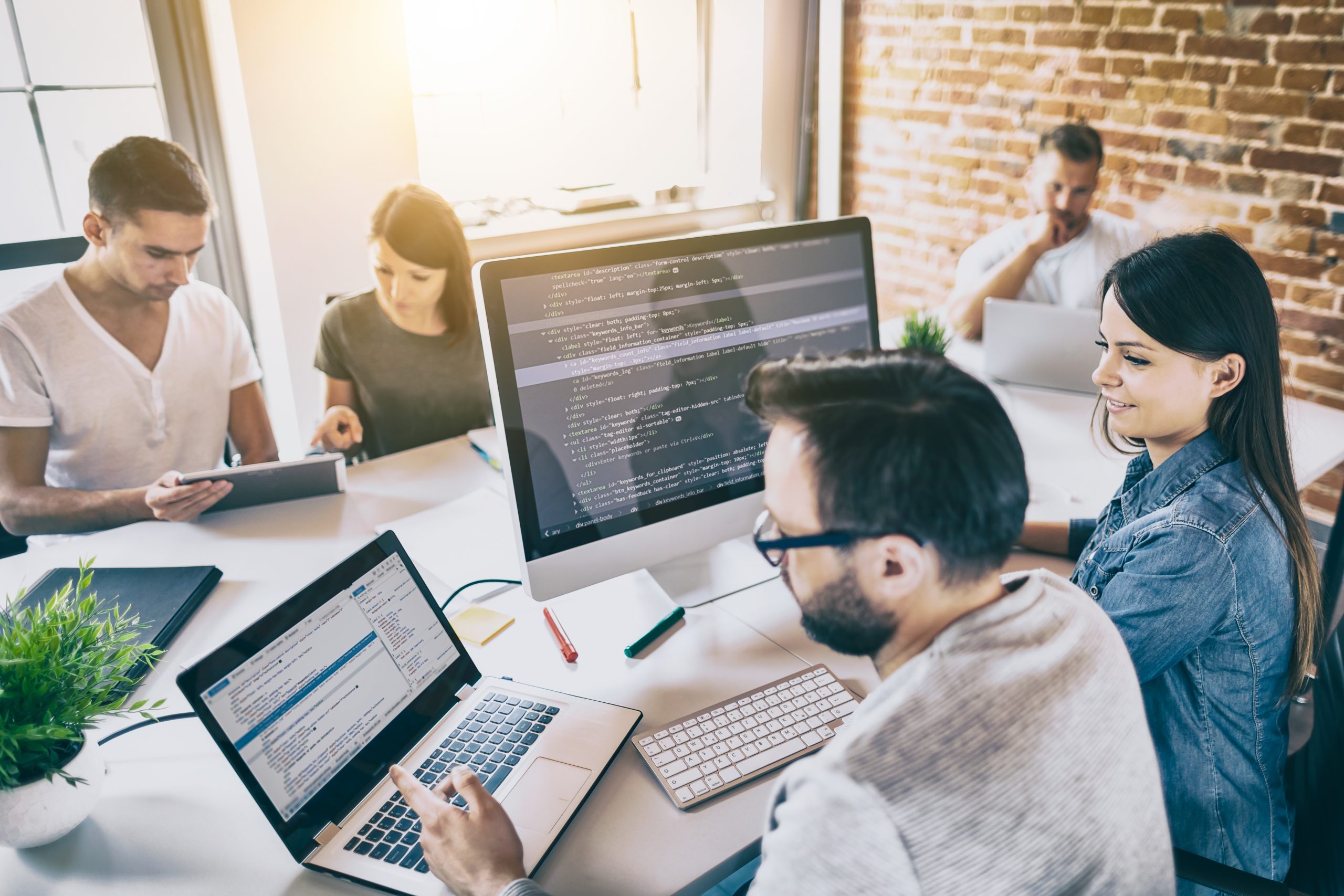 A professional service provider company managing their applications.
With Hexnode, Kellpro was able to deploy apps, update policies, and manage devices remotely. Hexnode's app management solution enabled Kellpro to restrict app usage, control app updates, and whitelist/blacklist apps. This helped Kellpro to ensure that only authorized apps were being used on their devices. Additionally, Hexnode's solution provided Kellpro with detailed reports and analytics on device and app usage, enabling them to make informed decisions about their mobile device management strategy. Overall, Hexnode's app management features helped Kellpro to achieve greater efficiency, security, and control over their mobile devices and applications.
Improving customer service with coherent app management for AudiçãoActiva
AudiçãoActiva, a Colombian company that provides audiology services, was facing difficulties managing and securing their growing fleet of mobile devices used by their employees in the field. They needed a solution that could streamline app management, ensure data security, and remotely troubleshoot device issues.
Improving customer experience with seamless app management
Hexnode UEM provided AudiçãoActiva with the necessary tools to manage and secure their mobile devices. Hexnode's app management feature allowed AudiçãoActiva to distribute and update business-critical apps across all devices simultaneously. The solution also enabled AudiçãoActiva to remotely troubleshoot device issues, saving valuable time and resources. With Hexnode's UEM solution, AudioçãActiva was able to streamline device management, enhance security, and improve the overall efficiency of their operations.
Conclusion
In today's mobile-driven workplace, app management has become an important aspect of IT management. Organizations must establish policies and guidelines for app usage and educate their employees on app security. Additionally, they need to monitor app usage and analytics and backup app data. App management solutions provide a centralized platform for managing all aspects of app management. This includes app onboarding, app configuration, app updates, app usage monitoring, and app retirement.
Organizations can manage their mobile apps effectively with Mobile Application Management (MAM) solutions. These solutions provide a single platform for managing all apps, including third-party apps, and enforcing restrictions on app usage. By implementing app management best practices and using a MAM solution, organizations can ensure that their employees are using apps securely and efficiently, while reducing security risks and controlling costs.

Looking for an MAM solution?
Try out Hexnode UEM for your organization to manage apps easily.
Sign up now