It is 2022 and Hexnode is welcoming the new year with all the pomp and splendor it is due. That doesn't mean we are forgetting 2021. In fact, it was a really eventful year for us. I wouldn't presume to say it was a great year, for we were deeply concerned by the never-ending stream of new COVID-19 variants. However, we got through it stronger and better. We are looking forward to take a big step into the future now that 2022 is here.
In 2021, we introduced a whole host of new features, hosted two successful events and successfully adopted hybrid work. We also had Frosty, our own little Hexnode elf, who went around the globe to solve the issues of IT admins for a secure and safe Hexmas.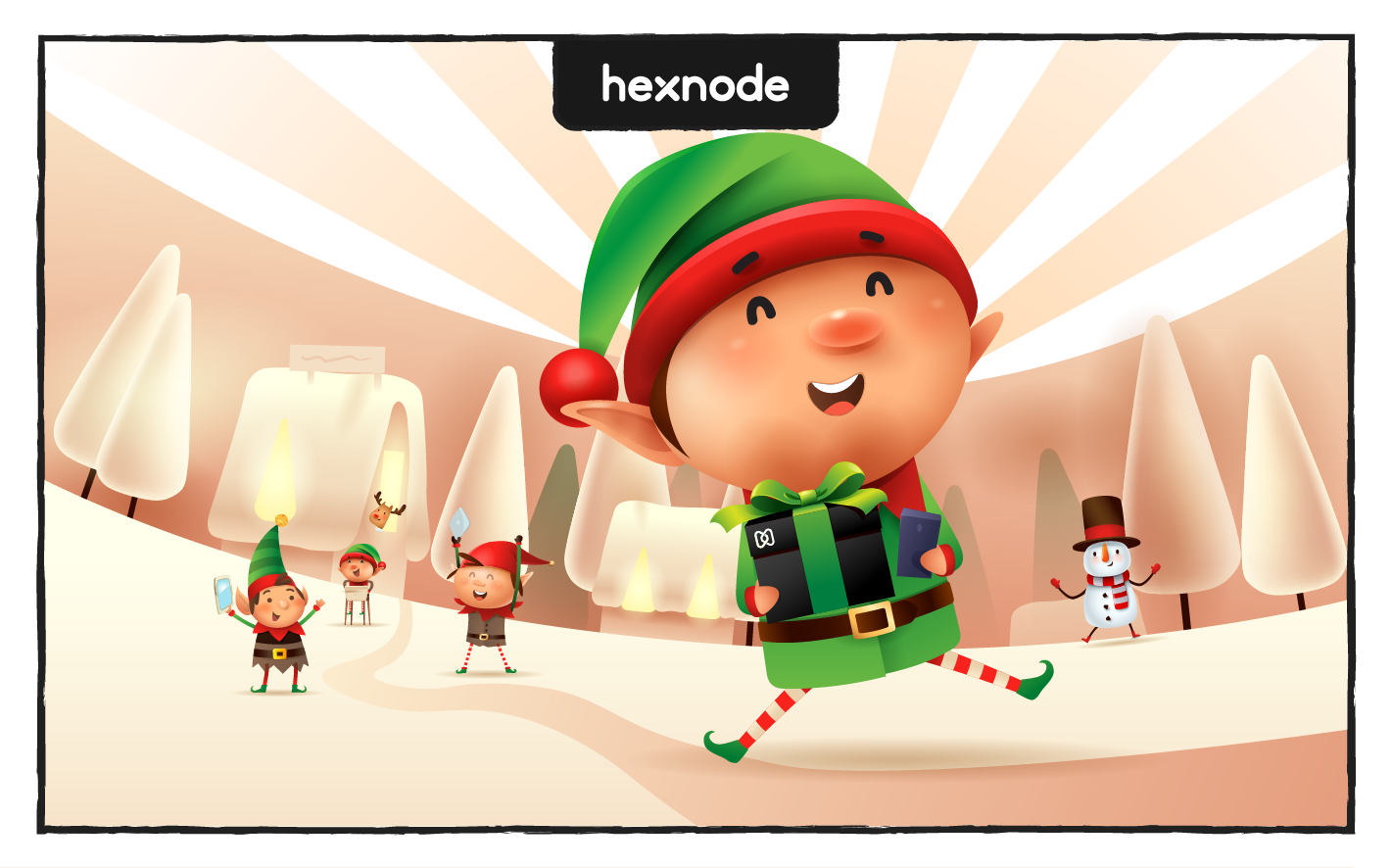 Frosty, the Hexnode elf
The result?
There was a direct increase of 40 percent in the number of customers in 2021 as compared to 2020.
The number of devices managed by Hexnode increased by a whopping 37.5 percent.
It is really humbling to see how more and more customers around the world are trusting Hexnode to secure and manage their endpoints.
An Event-ful year
Hexnode followers had a lot to look forward to in 2021. There were two grand worldwide events – Hexnode Partner Summit 2021 and HexCon 2021 – conducted entirely virtually.
Hexnode Partner Summit 2021
Hexnode loves its partners. As part of the Hexnode family, we have continually brainstormed on what we could do more for partner enablement. In April 2021, Hexnode hosted its first-ever Partner Summit. It was conducted in three time zones and was undoubtedly a global success. The event kicked off with the mandatory keynote from Apu Pavithran, Founder and CEO at Hexnode. There were breakout sessions from industry leaders like Sean Ginevan, Kirsty Traill, Michael Brito and more. We also had training sessions from Hexnode experts, networking sessions and games. The highlight of the event was the announcement of Partner Awards.
We have the Hexnode Partner Summit 2022 coming on April 21st. I would recommend you to register now to avoid any last-minute rush.
HexCon 2021
HexCon21 – Hexnode's annual user conference – is the biggest event that Hexnode has in its cap so far. There were a record number of speakers, attendees and sessions. The theme was cybersecurity and it is no exaggeration to say that the event was graced by almost all the leading cybersecurity experts from around the world. The sessions were really interactive with all the lively discussions by our brilliant attendees. Spanning three days, HexCon21 was a testament to how Hexnode community has grown. All the participation did not go unrewarded. Hexnode surprised the leaders on the leaderboard with exciting prizes like iPhone 13, iPad Mini and Apple Airpods Pro.
We are hoping that HexCon22 will be even bigger and better and hopefully a full-fledged in-person event.
Awards and recognitions
Hexnode has always prioritized providing the customers with the best value possible. Leading analysts and research firms recognized the efforts and achievements of Hexnode. We have listed a few here:
The UEM solution earned an honorable mention in Gartner's Magic Quadrant for Unified Endpoint Management 2021. Gartner had also mentioned Hexnode as a "Notable Vendor" in its Midmarket Context: Magic Quadrant for Unified Endpoint management.
Forrester, the leading global market research company, included Hexnode as a Mobility Specialist in Now Tech: Unified Endpoint Management report for Q2.
KuppingerCole Leadership Compass listed Hexnode as a vendor to watch.
G2 recognized Hexnode as a High Performer in the latest G2 Grid for Unified Endpoint Management. G2 also crowned Hexnode as a High Performer in the MDM category in its 2021 winter, spring and summer grid reports. Hexnode made to the top of the MDM list in summer, earning itself a Leader badge too.
Hexnode won a 2021 Tech Cares award from TrustRadius.
Feature highlights
Products like Unified Endpoint Management (UEM) solutions stay relevant only if new features are regularly released. The updates have to be smart and pertinent. They should be something that is in demand and appropriate to the changing times. It is definitely a challenge – one that Hexnode had no problem in undertaking. At Hexnode, we recognized the need for features that focuses on remote management and remote work. Many of the new updates reflect this goal. Let's take a quick look through the major feature releases in 2021.
Co-management for Windows
Co-management means managing the Windows devices in more than one UEM solution. It means that you can manage the Windows devices that are already managed in another UEM with Hexnode – without disenrolling the devices from the other UEM. This allows you to avail the features of both UEM solutions. Best of both worlds!
Shifting gears from managing to co-managing your Windows devices
VPN for Windows
Windows remains one of the most popular operating systems for work. Work from home and hybrid work initiatives have ensured that a bulk number of employees are working remotely. The safety and security of the office network are not afforded to these employees. That's where VPN plays its role.
VPN provides online privacy by encrypting internet traffic. It also helps in providing secure remote access to the company network. Hexnode already lets its admins configure and deploy VPN remotely to Android, iOS and Mac devices. In 2021, Hexnode also introduced a feature to allow admins to configure VPN in their managed Windows devices too.
Lost mode for Windows
If any of the managed Windows devices are misplaced or stolen, enable lost mode to prevent corporate data leakage. You can display a custom message, the phone number to be contacted and a footnote on the lost device screen.
Remote view for Mac and Windows
Troubleshooting is always easier with the Remote View feature. Now, Hexnode supports Remote View in Mac and Windows. This helps the IT admins to view and monitor the managed devices in real-time without physically accessing the devices.
How to view your Mac screen remotely for real-time troubleshooting
Privacy Preferences for Mac
Control the privacy settings for Mac devices using Hexnode policies. You may wonder – why not just go to the Privacy tab in System Preferences and configure the settings manually? That would work for one or two devices but not when you have to manage hundreds or even thousands of devices. Configure the Privacy Preferences in Hexnode and push the policy in bulk to all the required devices.
Ensuring data privacy in Macs using the Privacy Preferences Policy Control
Secure token for Mac
A secure token is used to perform cryptographic operations on your Mac, and the operations include enabling FileVault disk encryption and more. The secure token will be automatically generated for certain types of user accounts, such as the local admins created via Setup Assistant or Automated Device Enrollment. With Hexnode, you can grant secure tokens to each of the users within a Mac. However, you must enable the secure token for the admin user account.
What is secure token and why is it important for macOS security?
System Extensions for Mac
Apple introduced System Extensions instead of KEXTs. System Extensions provide the same capabilities as KEXTs but in the user space rather than kernel space – providing more security to the devices. Hexnode lets the admins configure System Extensions settings such as network extensions, driver extensions and endpoint security extensions in a policy and push it to the devices over the air.
Why Mac system extensions are the modern replacement to kernel extensions (KEXTs)
Live terminal for Mac
How often have you wished that you could access the terminal in the managed Mac to get something done quickly? Terminals certainly make the lives of IT admins easier. However, the need to physically access the device each time takes away from its convenience. Hexnode came up with a solution with its Live Terminal feature. The IT admins who use Hexnode to manage their Macs can now simply login to the administrative portal and remotely launch the terminal. The admins can execute all the desired commands remotely. It was one of the most popular features last year.
How to use macOS live terminal to enhance your IT operations
Per-App VPN for iOS
Hexnode has introduced support for Per-App VPN in iOS devices. This helps you to configure VPN for the corporate apps and app groups without interfering with the personal apps.
Restart and wipe Apple TV
Remote actions like Restart and Wipe device have been added to the Hexnode roster for Apple TVs. The admins can now restart or wipe the managed Apple TVs with just one click.
Remotely enforce OS updates on Apple TVs
For supervised Apple TVs, Hexnode now lets you enforce the OS updates remotely from the admin web console. The admin can deploy the OS updates in bulk to all the Apple TVs enrolled in Hexnode with a single click.
Track and view application feedbacks from Managed Google Apps
The first step towards troubleshooting even the smallest issue is knowing what exactly went wrong. In other words, it means identifying the errors so that you can fix them. Hexnode lets you request application feedback logs from Managed Google Apps on Android devices. On sending the feedback request, Hexnode syncs the feedback from every supported application on the device. The admin can peruse these feedback logs for troubleshooting purposes from the Hexnode portal.
Multiple domain support for Google Workspace integration
Earlier, Hexnode admins could only sync a single domain from the Google Workspace console to Hexnode. Now, you can sync all the domains from your Google Workspace account to your Hexnode web portal.
While we have discussed some of the major feature updates, there are plenty more minor updates and fixes that went through. Quite a busy year for the Hexnode team! For those interested in learning more, I would suggest you march right to the Release Notes section on the website.
Steps into the future
We have had a superfast journey through the past and now all that is left is looking forward to the future. Hexnode is growing. All the customers, partners, employees and the whole Hexnode community directly influenced this growth by constantly taking huge steps into a glowing future despite all the adversities. We expect great things out of 2022 – for Hexnode, for the world and for the one reading this blog.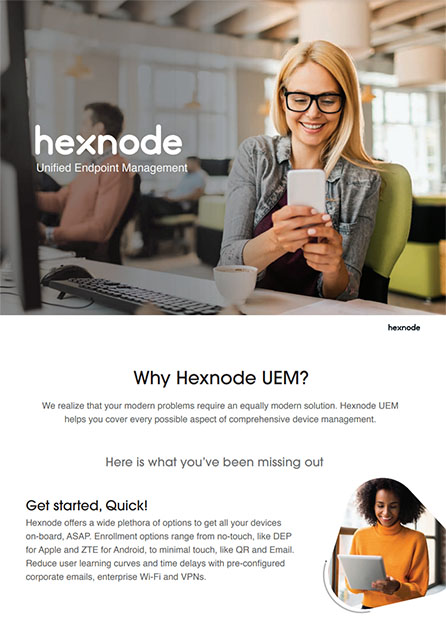 Featured resource
Why Hexnode UEM
We realize that your modern problems require an equally modern solution. Hexnode UEM helps you cover every possible aspect of comprehensive device management. Refer to the brochure to know more about UEM features.
Download brochure