Well, it has been a long and incredible journey for all of us, but now, Hexcon21 has officially come under wraps. But, you know what, we don't think we're ready to say goodbye just yet. So let's spare some time to appreciate all that has happened so far, and have a look at the fantastic moments and memories, along with the fun and insightful discussions we had with our customers, partners, and attendees.
HexCon21 was an exciting opportunity for everyone in the Hexnode community to come forward and share their experiences, insights, and opinions.
Packed with some great talks, inspiring sessions and interactions, learning opportunities, and more, we have all been in for a rollercoaster of a ride for the last three days. Although I'm not a betting guy, I'm pretty confident when I say that we all have learned a thing or two in the span of these past three days, and we've become a tad bit wiser regarding the happenings and affairs of the cyber world.
It was by no means an easy feat to prepare such a grand event for our customers and attendees. The long and formidable journey proved to be a challenging experience for all of us at Hexnode. But it was worth it. Because what gave us gratifying redemption for the effort we put in, was the tremendous amount of support our customers and partners gave us along the way. It is no exaggeration to say that HexCon21 would not have been half the event it turned out to be, if not for the phenomenal amount of support we received from our community.
We were thoroughly impressed with the way our customers actively participated in the information-packed sessions, contests, and virtual events. With this opportunity, we would like to thank all our customers and partners, for their amazing support in making HexCon21 a grand success.
Well, without further ado, let's have a short recap on all the happenings (along with some inside scoop!) on what transpired in HexCon21.
Thoughts and musings on HexCon21
HexCon21 marked the second iteration of Hexnode's global user conference, and boy, have we grown a lot since the first. We learned a lot from our experiences during our first user conference (HexCon20), and we have built upon them to showcase an even more spectacular event this time around. In the past event, while we were able to bring together 20 of the leading cybersecurity speakers from across the world, the turnout this year has been far greater. HexCon21 was graced by a staggering 100+ speakers, hailing from all walks of the cyber domain. All of our distinguished speakers have graced us with high-quality content, ranging from walkthroughs and demos of prominent security software to awe-inspiring sessions highlighting the best practices to secure yourself from threats, both in the corporate and personal world.
But that's not all that HexCon21 had to offer. We hosted product training sessions on a wide variety of in-demand topics, including iOS, Android, Windows, Mac, and IoT management, along with sessions on scripting, ROM enrollment, Windows Defender configuration, and more. We also hosted exclusive sales training sessions for our Hexnode partners, equipping them with the knowledge to sell more and retain more customers. There were also many inspiring and thought-provoking sessions on social issues, including mental wellness in the pandemic, building a positive and healthy workplace, being a successful leader in a natural way, and more. Our customers also had a lot to say about Hexnode. Hexnode customers like Kent Lin, Chad Farkas, Kerry Klein, Felipe Barragan and Liam Darling shared their fascinating experiences and moments with Hexnode, on our customer Hexperience sessions.
All in all, I am thrilled to say that the customer engagement at HexCon21 was over the roof! It's delightful to realize that our customers are trying to get to know Hexnode better and make use of the multitude of benefits it has to offer.
Events, participation, and prizes!
What, did you think Hexnode was all business and no fun? Booooriing. Our team arranged an exciting selection of fun and entertaining events and sessions with attractive goodies and prizes, which in turn, shaped HexCon21 into the memorable experience it turned out to be.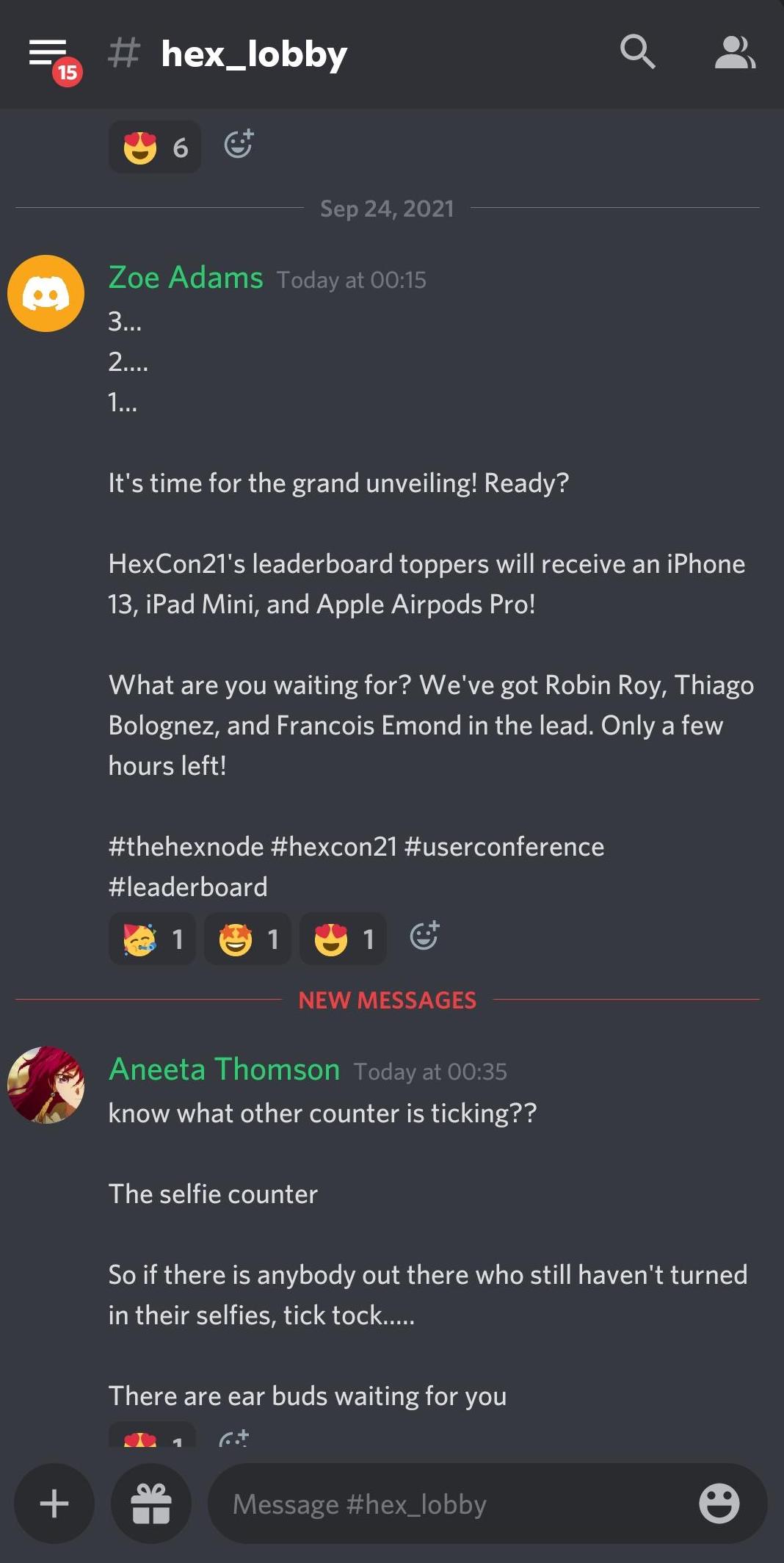 Selfie @hexcon21
Short bursts of gamification added a bit of fun to the day. We hosted a selfie contest where participants uploaded their selfies on social media along with the hashtags #Hexnode and #HexCon21. And you know what the prize was? The best selfie was awarded a pair of AirPods! That's right, Christian Matt is now the proud owner of a pair of Apple AirPods.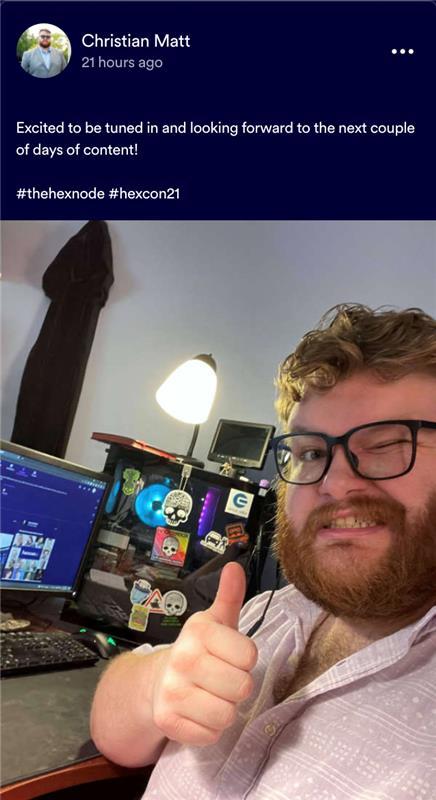 Leaderboard
But Mr. Christian Matt wasn't the only one to take prizes home. Our leaderboard ranked our attendees based on their engagement and the events & contests they attended. At the end of the three days, the top three personalities on our leaderboard were proud owners of – drumroll please – An iPhone 13, iPad mini, and a pair of Apple AirPods! Yaayy!! Congratulations to all the winners. You guys truly deserved it.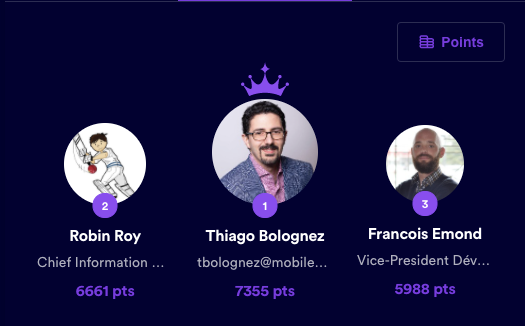 Well, that was HexCon21 in a nutshell. We're officially concluded for the year. And so, we'd like to take this occasion to say a big thank you to all our dear customers! We couldn't have done this without you. And we sincerely hope to see you at HexCon22. But until then, stay safe!