When we launched our first-ever user conference, HexCon20, we were all overwhelmed by the support and encouragement we got from you guys. The thrill and excitement in hosting an event made us go, 'Let's go bigger next time!'.
Almost a year later, HexCon21 concluded on an even higher note, inspiring us to go even further next year. So now that the curtains have come to a close let me take you on a quick ride to see how HexCon21 became…well, HexCon21!
Building from HexCon20
Planning for HexCon21 started as soon as its predecessor concluded. The event coordinators had a gist of the areas to improve for the next event. While some of these improvements were implemented at our Partner's Summit, a vast majority of them remained as ideas, drifting through space.
After our annual events had concluded, everyone went back to their everyday tasks. Without the buzzing and busy vibes at our office, things seemed a little quiet. A few whispers of HexCon21 could be heard here and there.
There certainly were a lot of ideas, but we can't be working on HexCon throughout the year. Besides, we all needed a few days off.
– Ajith R, Marketing Lead
The website development started as early as mid-March. The rest of us went to work right as soon as the website went live. By May, almost all the teams were involved. Our managers were pretty open to ideas, so there were a lot of unofficial meetings. It was a common sight to witness discussions in front of the coffee machine, the pantry, and even in the restro- You get it, right?
With every brainstorming session, HexCon21 became a little clearer, and eventually, we had enough to get going.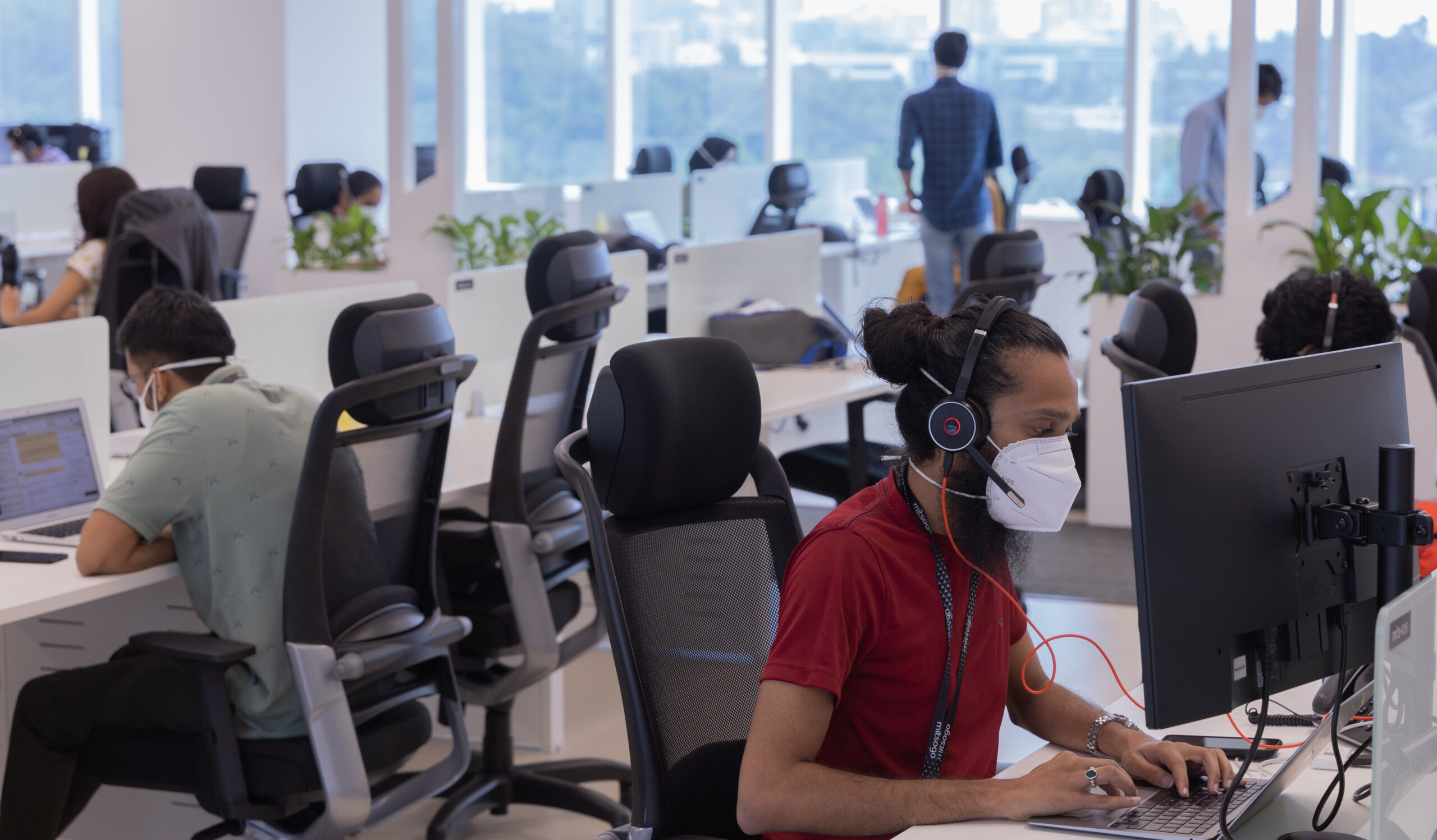 Everyone handling their everyday tasks
Phase 1: Development
Have you checked out our HexCon21 website? Its launch spurred the rest of us towards HexCon. The website also established our theme for the event.
Checklist: Conjuring a theme
If you attended our event (yay!) or happened upon our social media posts, it would be pretty obvious that we have a design theme. It was only after HexCon; I set out to find who established the theme, only to figure out it was a combined effort from the whole designs team.
'The team was super enthusiastic when we were brainstorming for an apt theme. Everyone gave their input, and eventually, we got what you see now'
– Mithun R B, Designs lead
Checklist: Building the website
Before we started the event promotion, we needed a website. Something attractive, informative and easy to navigate. After collecting the requirements from both the marketing and design sides, the website team got to work.
'The website went live around May, and more ideas were flooding in from various teams even a week before HexCon21. Certainly, nothing our team couldn't handle.'
– Riyas Abdul Salam, Web Development lead
These guys are usually in high spirits, even in between a ton of work. When the atmosphere around them gets tense, somebody cracks a joke or two. Then, after a minute of stifled laughter, they'd get back to work.
Checklist: A stage for the event
HexCon20 faced some obstacles while being aired. It was our first virtual event, so mistakes were bound to happen. The events platform was set up and configured quite a while before the event, and trial runs were also simulated often to keep the team's heart at peace.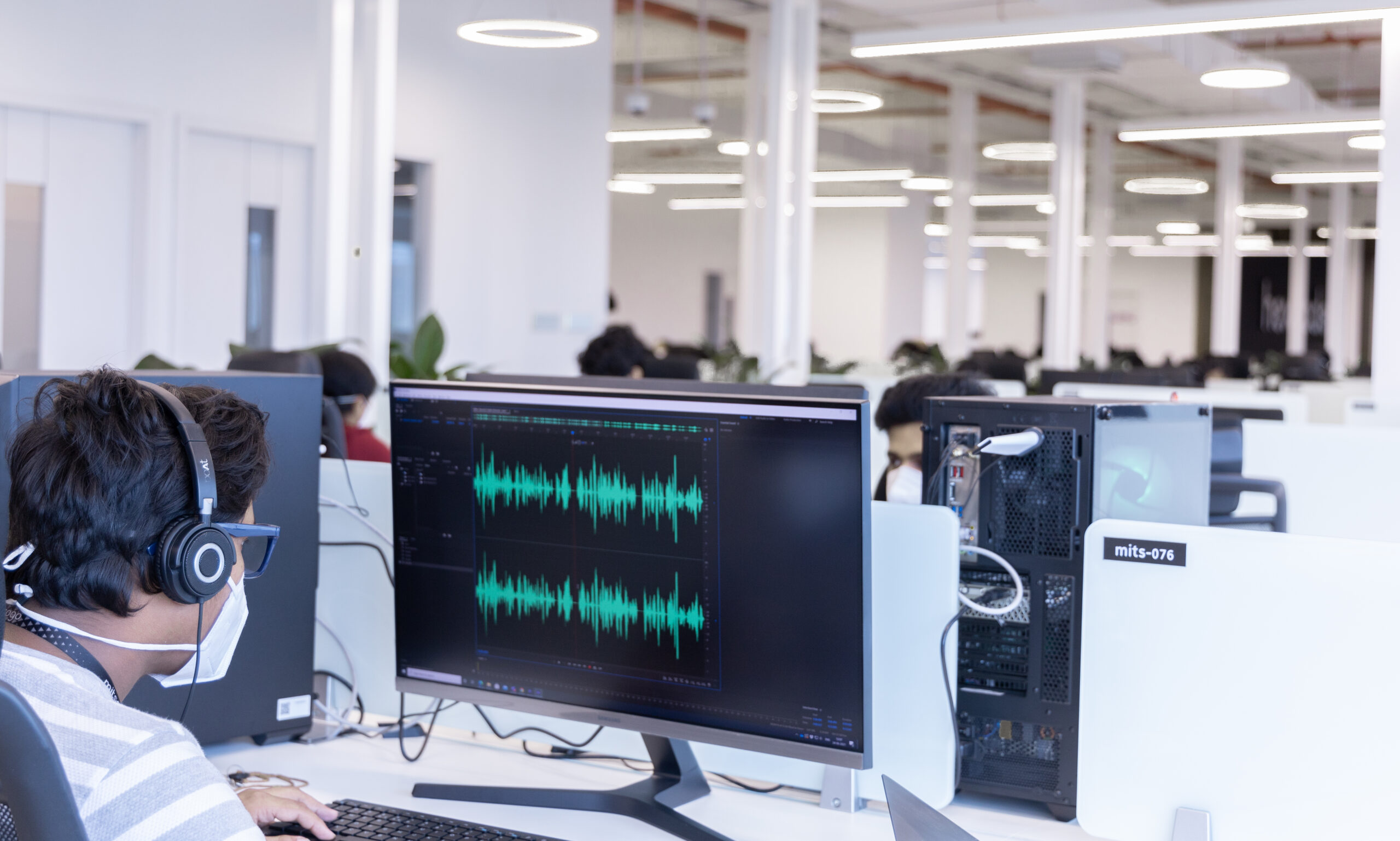 HexCon21 office buzz
With the design team's help, the stage for HexCon21 was set.
'Last time we ran into an issue during the stream. We took all necessary precautions to make sure we could provide an uninterrupted experience this time'
– Akshay Kiran, Product Evangelist
Phase 2: Getting it out there!
People need to be aware of an event to show up. HexCon20 was a closed event for our customers, so we were a little lacking on the awareness part when it came to the general public.
Checklist: Get a ton of registrations
Campaigning started as soon as the website went live. Teams were assigned for promotions on various channels. Social media, website banners and other channels were regularly posted with updates on the events.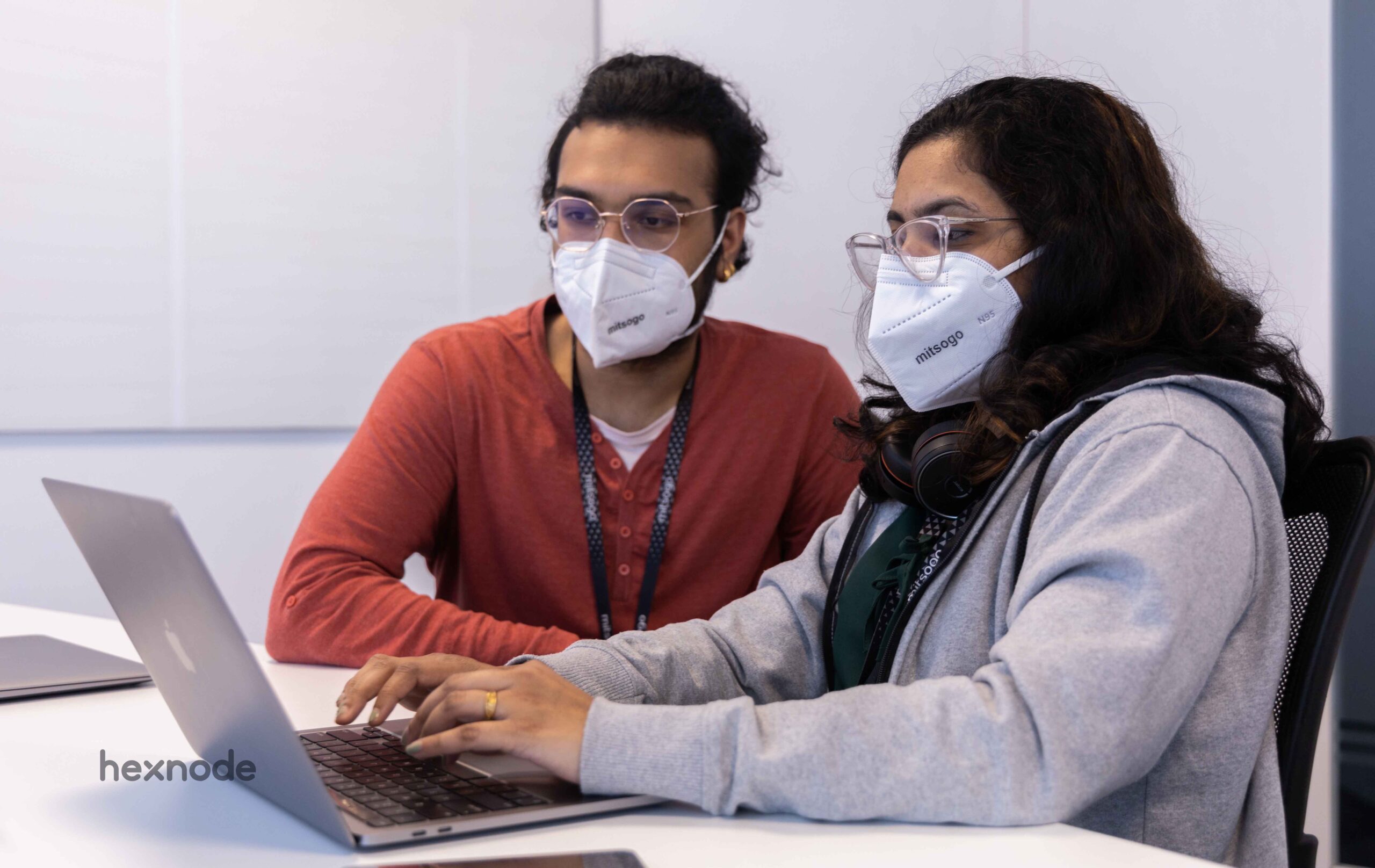 HexCon21 discussion – A common sight
The designs team had to create templates based on the theme for all promotional posts. Then, after adding the perfect caption, the media team would post them on various platforms. Their efforts certainly didn't go in vain and we got around 2391 unique registrations.
Checklist: Onboard awesome speakers
Speaker outreach started around the same time as event promotion. We formed a team to handle calls with speakers based on various time zones.
'This time, it was bigger… five times bigger than the last time. We had 101 speakers and a large audience since we made the event open. We got a great response this time, and I'm sure HexCon is going to be a sought-out event in the future.'
– Sarika Abraham, Marketing lead
The cure to workplace burnout isn't self-care. Workplace burnout forms because companies aren't doing enough actions to support their employees.

Learn more about burnout and why it matters by catching my talk at #HexCon21! Details: https://t.co/IgwZJBWd3E pic.twitter.com/puXsSkOGxg

— Chloé Messdaghi (@ChloeMessdaghi) August 18, 2021

HexCon21 had a fantastic panel of speakers who spoke on a wide variety of topics. Couldn't make it? No worries. All the sessions will be up on the HexCon21 main website soon.
Phase 3: Behind the scenes
Finally, the day of the event had arrived. Compared to HexCon20, everybody seemed alright. Were they anxious? Honestly, I don't know.
Checklist: CEO's motivating speech
Right before the event, our CEO, Apu Pavithran and CMO, Rachana Vijayan, wanted to talk with us.
'Be bold.'
– Apu Pavithran, CEO
You know that feeling? When the huge event you've been working on for months starts in a few minutes, and you are super tensed? We didn't have that feeling, especially after Apu's speech. Rather than a speech, it was more of a reassurance, telling us that everything would go the way we planned it to.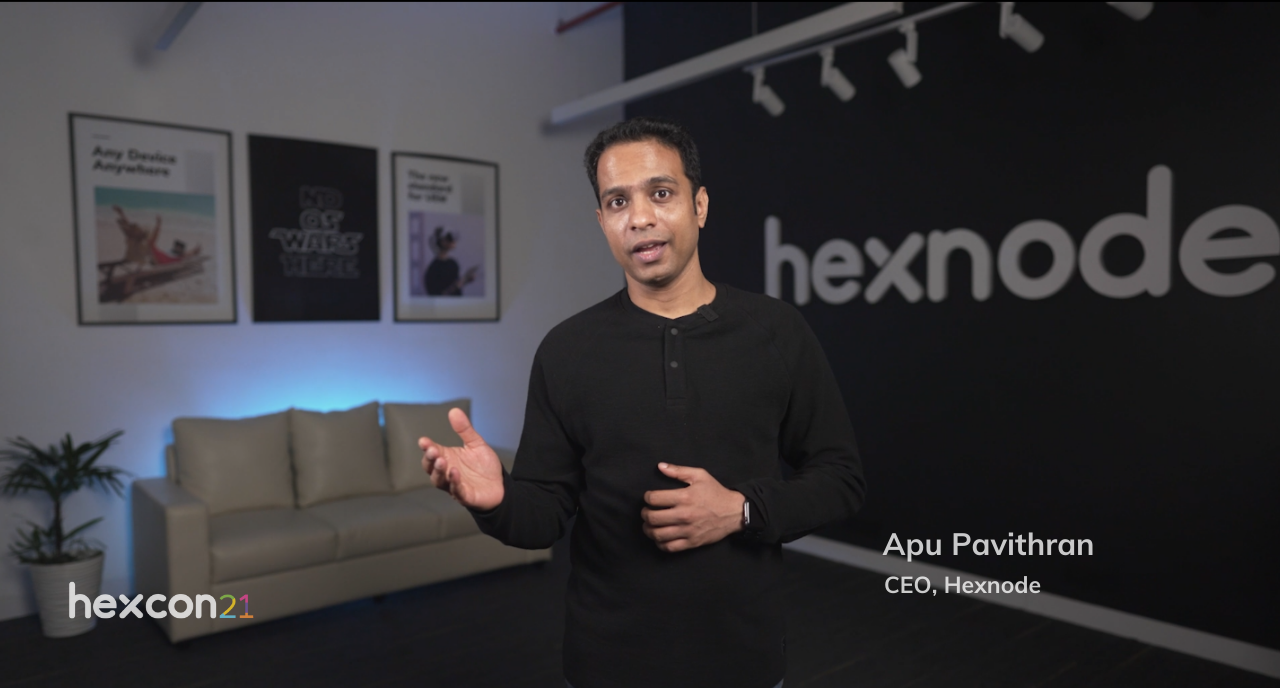 The opening keynote by Apu Pavithran, CEO of Hexnode
Checklist: Sit back and relax
The thing about well-executed events, you really don't have much to do during the event. Everyone stood alert for the first few sessions, ready to act if anything seemed out of place. A few hours later, you could see some of the guys sipping on their Hersheys and watching the sessions. A few others were trying to increase their rank on the leaderboard. It was a pretty cool sight, not a bit of tension in the air.
Everyone was pretty happy with the turnout, and that day one concluded without a single hick. After a few minutes, everyone dispersed. Day 1 was officially over.
Day 2 and 3 were more or less the same. On the final day, we didn't even realize the stream went live since we were having a pretty interesting discussion i.e, the prize we should give to the top 3 on our leaderboard. After that, we went back to moderating the chats and monitoring the stream. We thought things would be the same till the end of the event. We were wrong.
Checklist: A nail-biting finish
When all seemed to be going well, there was an unexpected development. The leaderboard was going crazy! Till the last two hours, the points were slowly trickling in, and the leaderboard stayed more or less the same, but after we announced the prizes for the top 3, I guess everyone got super motivated? A lot of us were refreshing the events page every minute to check who was on the top. Eventually, Thiago Bolognez from MobileXtra emerged as the winner.
We all gathered together to watch Apu's closing keynote, the last session. We had a final HexCon21 meeting right after that.
'I really consider this a great achievement!'
– Apu Pavithran, CEO

Everyone pitched in their opinion!
Most of us hung around for a while longer and wondered how HexCon22 would be like. Being the ambitious people we are, I'm assuming it'll be even bigger.
Adios HexCon21?
Things have become normal in the office again. You can see people working while sipping their Hersheys now (the company cooler is now permanently stocked with Hersheys). There is no doubt that most of us are reminiscing the 'running around for HexCon' days.
'This time, it was not so hectic. There was work, but fun work. Not a lot of scrambling about at the last moment, just watching the event we worked on unfold smoothly.'
– Amith Manoj, Senior Evangelist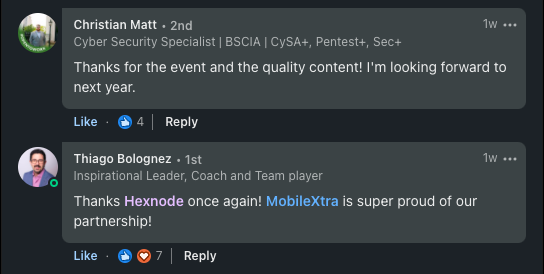 Appreciation from our winners!
The thing about hosting an event, it's a pretty fun job. We also got to watch some awesome sessions given by some really amazing people. If you missed it, I certainly recommend you check them out on our HexCon21 page.
"An event is not over until everyone is tired of talking about it."
– Mason Cooley