What is SCCM?
System Center Configuration Manager is a software management suite provided by Microsoft that allows you to manage a wide variety of devices. Amongst other potential uses, administrators will commonly use SCCM for endpoint protection, patch management, and software distribution. They offer support predominantly for Windows devices and include limited capabilities for macOS. It was a decent tool in the past but now it is time to look for an SCCM alternative.
What is happening to SCCM?
Microsoft is phasing out SCCM and is integrating it with another homegrown branch called Intune and rebranding the whole operation as Microsoft Endpoint Manager. This shift is a complicated process and everyone in the SCCM ecosystem is being pushed for the change but I'm going to tell you why you need to consider another SCCM alternative.
But first, let's look at the state of SCCM.
Hexnode vs Microsoft Endpoint Manager: A detailed evaluation
Move away from SCCM…….. now.
SCCM currently belongs to a branch of Microsoft, which is termed as 'Long-term servicing' branch and this branch does not receive any in-console updates that deliver new features or update existing capabilities.
LTSB supports critical security updates until October 2026, after which, support for this branch expires.
Don't be stuck in past
SCCM only offers support to the older versions of each operating system and that can often mean, you need your device to be running on an OS that was released 3-4 years ago. Besides the fact that this is a long stretch to use SCCM, it is also a security risk to use older software.
The latest OS supported on Windows devices to operate with SCCM is limited to Windows 10 Enterprise 2016 LTSB (x86, x64) and any updates after that point are not supported by SCCM.
LTSB can be used to manage macOS X devices with it offering support till the macOS X 10.9 (Mavericks).
Support for Active Directory domains
All LTSB site systems must be members of a supported Windows Active Directory domain. Support for Active Directory domains is limited to the following domain functional levels:
Supported levels:
Windows Server 2008
Windows Server 2008 R2
Windows Server 2012
Windows Server 2012 R2
Microsoft's cloud-based identity and access management service, Azure active directory is not integrated with SCCM.
No support for cloud
SCCM uses outdated on-premises server software and does not offer support to cloud management.
With Microsoft moving away from SCCM, you should also consider moving away from SCCM and we've got just the right thing to fill your needs, Hexnode.
What is Hexnode UEM?
Hexnode UEM is a Unified Endpoint Management system, to manage endpoints from a single console. It provides a comprehensive mobility management solution that works with Android, Windows, iOS, macOS, Fire OS, and Apple TVs.
Samsung, LG, Kyocera, Honeywell, and other companies are among Hexnode UEM's key partners. Hexnode is also known for its superior kiosk capabilities and complete platform support, which are sought after by companies of all sizes all around the world. With its straightforward UI and timely chat assistance, Hexnode strives to make endpoint maintenance as simple as possible.
Why Hexnode UEM?
Hexnode UEM is an award-winning unified endpoint management solution from Mitsogo Inc, a San-Fransisco-based IT service provider founded in 2013. Hexnode's list of accolades includes Gartner Peer Insights Customers Choice for Unified Endpoint management tools, high performer and momentum leader of fall 2019 according to G2, and the key innovator in the MarketsandMarkets global forecast (2018-2023) report for the MDM market.
While it is clear that SCCM has lost support to a lot of its management features, it is important to know some of the main features that it misses out on
While SCCM offers full-fledged support to Windows, Hexnode offers support to five mainstream OS including Windows.
Hexnode offers Multiple OS kiosk support which is a sought-out feature for many enterprises.
Hexnode is a cloud-based Unified Endpoint Management solution, unlike SCCM.
Hexnode updates its product to support the latest OSs, whereas SCCM does not.
Hexnode also has integration with Azure Active Directory integration while SCCM does not.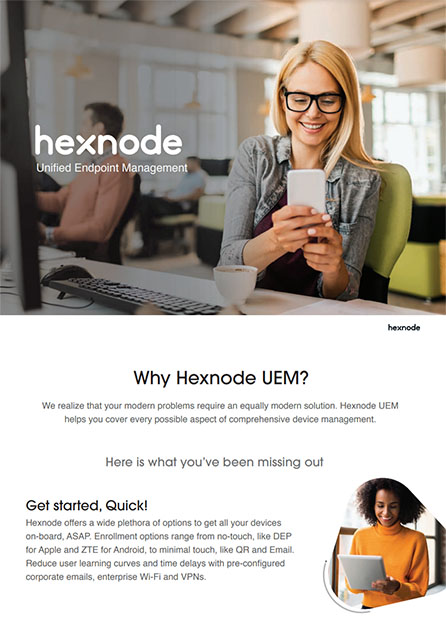 Featured resource
Why Hexnode UEM?
Hexnode's comprehensive set of features is the right fit for modern-day enterprise mobility needs. Download the brochure to learn more!
Download brochure
Intuitive dashboard
Hexnode's dashboard offers comprehensive statistics related to the enrolled devices like enrollment statistics, compliance reports, notifications, and alerts for the IT admins to monitor.
Policy management
Hexnode offers a wide range of policy settings through which IT admins can control various aspects of enrolled devices and apply different restrictions to help secure all the devices in their ecosystem.
Unified policies can be applied across all the different OS platforms making it a seamless and easy process.
Instead of manually associating a policy every time a device is added, the admin can automatically associate the policies to devices that satisfy pre-defined conditions.
Support for OEMConfig
OEMConfig is a device management feature introduced for Android Enterprise devices, where the OEMs and UEMs work together to provide the best management capabilities possible. Hexnode offers support to all the major OEMs in the market including various Rugged device manufacturers.
Now listing down all the features offered by Hexnode would require a blog for itself, but you can run down the feature list here.
Robust customer support
Hexnode is known for responding quickly to client inquiries. Hexnode provides live chat, email, and phone assistance to its clients across the world 24 x 5 days a week. In its early days, Hexnode's unrivaled customer service is one of the company's main selling factors. Hexnode also provides thorough publications such as tutorials, blogs, infographics, whitepapers, and other resources for users who want to learn more about the technical side of the UEM.
Plan pricing
Hexnode offers 5 different pricing schemes and enterprises can choose one of these plans based on their requirements. The plans start from 1$ per device per month and go up to 6$ per device per month for the complete UEM package. On the other hand, Microsoft's alternative, Microsoft Endpoint manager has only 2 pricing options at $10.60 per device per month for the Enterprise Mobility + Security E3 license and $16.40 per device per month for the Enterprise Mobility + Security E5 license, this is steep pricing for an upgrade from SCCM and can be especially hard for small to medium businesses.
Try Hexnode for free
Look at what customers had to say
It was so easy to start – simply create the portal, enroll a device, and it's online and operational. Associating policies was pretty easy as well. Compared to something like InTune where everything has to be 100% set up first, Hexnode allowed us to even do testing, and push out updates almost instantly to ensure our configurations were exactly what we wanted. 
The layout of the portal and the knowledge articles provided for enrolling and managing devices are clear, easy to navigate, and even easier to ask for support with their built-in live chat function.
This is a superb MDM frontend – I would recommend it over the competitors to my clients. Setup is super simple and the ability to create a secure multi-app kiosk was invaluable when setting up a device for clients to use in our reception area. The web client is very well refined and runs beautifully from a range of different devices – it is also easy to use from touchscreen devices – i.e., iPads or touch-based Windows machines.
Now if you are part of the SCCM ecosystem and are wondering about the shift, don't worry we've got you covered……
Hexnode has integrations with various software suites and migration from SCCM is one of them. If you have devices enrolled into the SCCM server, Hexnode's integration with SCCM helps you in migrating the devices from SCCM to Hexnode.
Hexnode also offers Co-management features for Windows 10 devices that are enrolled in other management solutions. A device enrolled in some other UEM/MDM software cannot be enrolled in Hexnode, yet it can be co-managed to obtain the device details or perform basic actions from Hexnode. Co-management is also one of the primary ways to streamline migration to Hexnode from other UEM vendors.
Takeaway
SCCM is an outdated management tool with limited support and updates, and sticking to it is like using an outdated keypad phone in times of smartphones. It is high time to consider other MDM's and Hexnode with its unified management solution is the perfect SCCM alternative.

Get started with Hexnode
Secure the devices in your enterprise with Hexnode.
Sign up now