With the rapid increase in dependency on mobile devices for work, organizations are left exposed. The high influx of technology in the workplace needs to be monitored and managed carefully.
Flexibility in working secured by UEM
Creating a BYOD workforce
Having a secure UEM in place allows you to entertain a Bring your own device culture in the workplace. The use of UEMs allows the separation of work and personal data on devices. It keeps the corporate data secure and under the company's management while the personal data is kept completely separate from corporate interference.
BYOD helps organizations save on initial device purchase, users will take better care of their personal devices and is likely to have them at all times. Incentivizing users for the use of personal devices will encourage them to get better devices and raise employee satisfaction.
Empowering the work from the home era
With the pandemic and the growing trend of companies provisioning remote work the need for a device management solution is at its peak. Employees are using corporate or personal devices for work from their homes on unsecured networks. This can cause a threat to sensitive corporate data on these devices.
A device management solution allows the monitoring and management of such devices, making it easier for companies to allow their employees to work remotely regardless of their location on the map. Cyber-attacks, rogue employees, device theft/loss etc are worries of the past now.
On-field security and everything else
The security of employees working in the field was always a concern. The corporate devices issued can get misplaced easily, causing a corporate panic in certain cases. The implementation of UEMs has mitigated such concerns as the devices can be dynamically managed by a separate set of restrictions and policies when they aren't within the office limits.
Even in areas where a reliable network is unavailable, the devices log the history and all the assigned data as soon as it comes online. Remote actions like remote wipe, remote view, and remote control also help in remote device management. High security offered by UEMs has allowed organizations to adopt a more flexible style of work which has yielded high efficiency and employee satisfaction.
Hexnode UEM
Hexnode UEM is an award-winning enterprise mobility and endpoint security provider from San Fransisco. The Hexnode UEM platform for unified desktop, mobile, and workplace IoT management has been used in over 105 countries–from SMBs to large corporations and governments. Hexnode always prioritizes the delivery of a user-centered solution for the management of endpoint.
Enterprises of all sizes have leveraged Hexnode's prowess in device management to drive business productivity and compliance. Hexnode's solutions adapt to the most complex of business environments. Hexnode sets the industry standards and always stays a step above the rest of the vendors who still follow the legacy device management approach. Zero-day support for the new OS updates and features is the cherry on the cake.
Sophos Mobile
Sophos Mobile is a unified endpoint management solution from the Sophos Group plc a British software and hardware company. The MDM solution initially called Sophos mobile control was rebranded to Sophos mobile which is their UEM offering.
Sophos has always been a reputable name in the cybersecurity industry, they have tried to translate that success into their device management product over the years. They have ventured into the creation of a deep-learning-based malware protection solution for device management.
Hexnode UEM vs Sophos Mobile: Why Hexnode UEM is the better choice
Meets Requirement
Hexnode UEM and Sophos Mobile supports the management of Android, iOS, iPadOS, macOS, Windows, and FireOS devices. Hexnode UEM supports the management of tvOS devices while ChromeOS devices are supported by Sophos. Hexnode has announced support for ChromeOS device management by the end of the year.
Sophos supports most of the major platforms but the extend of features supported on these platforms is inferior when compared to Hexnode. Some of the noticeable missing features are the ability to configure wallpapers on Android devices, the configuration of always-on VPN, VPN on demand, calendar, fonts, and more on iOS and ipadOS devices. The configuration of smart card authentication, screensaver, time limits, and more on macOS devices are also missing.
Kiosk configuration is something that differentiates Hexnode from its competitors. Sophos Mobile has one of the worst kiosk management capabilities. The level of kiosk management provided is just appalling for a company like Sophos.
Multi app kiosk mode, kiosk exit settings, background apps, digital signage display, peripheral kiosk settings, screensaver, and advanced kiosk settings for android devices are available on Hexnode and unavailable on Sophos. Multi app kiosk, web app kiosk, autonomous single app mode, and advanced website settings for iOS and iPadOS devices are missing on the Sophos Mobile platform. Windows multi-app kiosk mode is also available only on Hexnode UEM.
Ease of use and setup
SMS enrollment, pre-approved enrollment, and ROM/OEM enrollment are unavailable on the Sophos Mobile platform. This forfeits the ability to ensure complete control over a device by flashing a custom ROM. The lack of pre-approved enrollment can prove costly when you are faced with the bulk deployment of new devices.
Location tracking history and retention of the details are also impossible on Sophos mobile. This can be an issue if you are looking to check older data. The capability of dynamic grouping and custom grouping along with the manual and auto-sync present on the Hexnode UEM is a requirement for organizations that have a large device count. Sophos Mobile also lacks app management features like app catalog, app downgrade, and play store layout setting.
The negatives on Sophos are amplified by a fairly complex UI that will confuse migrating users and leave new users clueless. Hexnode UEM's UI adheres to all the commonly used UEM workflows and nomenclatures to ensure a seamless migration. Hexnode also provides a step by step setup guide to kicking start your device management easily.
Quality of Support
Hexnode UEM provides a completely free, round-the-clock customer support for all its users. Hexnode has been recognized for its impeccable customer support. Their team of customer success managers is the best in the business and there is no query too big or small for them.
Hexnode hosts an elaborate documentation, blog, and forums section so that users can get to know and use the product better. If you are still not finding the answers their support executives are just a buzz away. Unlike most products. Hexnode's service doesn't end at purchase they will be beside you throughout your journey with Hexnode.
Sophos Mobile also provides a decent customer support experience. But the major drawback is that it isn't free. They have 3 levels of support packages available enhanced, enhanced plus, and TAM. This leads to a below-par quality in the free service provided and most enterprises will have to get either the enhanced plus or TAM packages to support the product.
Hexnode and Sophos are fairly respectful of the user's privacy. You won't be bombarded with a barrage of marketing email and calls unlike the other vendors if you sign up with Hexnode or Sophos.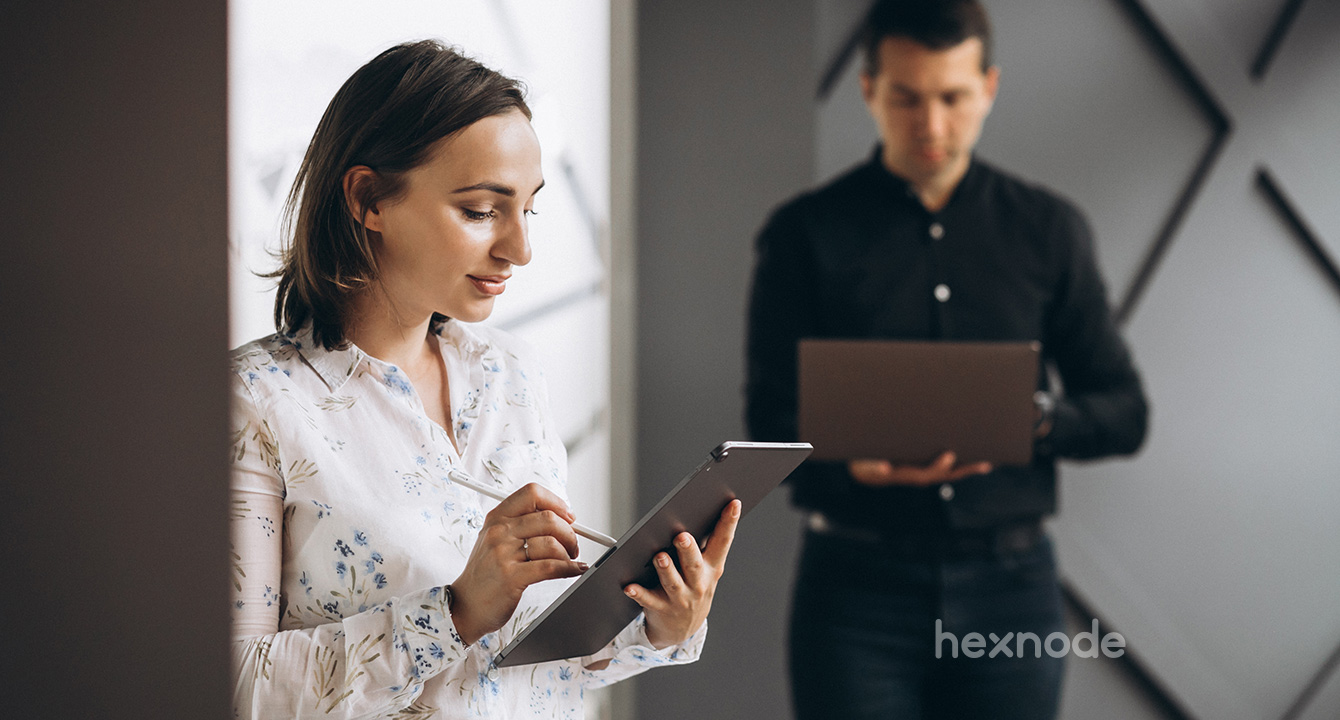 Product direction
Sophos as a brand has always been focused on the security side of things. While it is important that the devices are highly secure the necessary support for features, especially new ones are lacking from the vendor. The high level of competition in the MDM markets made them integrate their device security and other endpoint management capabilities into the product so that they could become a formidable force in the UEM market.
Hexnode, on the other hand, has been focused on delivering a complete and polished solution from day one. This persistence has allowed them to be better than their competitors. The introduction of zero-day support for new OS updates and releases, integration of IoT, ChromeOS, and many other features have helped them achieve rapid growth in users for the product in the past few years. This has translated into the quality it delivers with rapid product expansion.
Plan Pricing
Hexnode prices its plans from $1 to $5.8 per device per month with a 15-device minimum. The lower price with extensive platform support and a free chat support makes it ideal for small and medium businesses. Large scale companies love Hexnode for their bulk corporate discounts.
The pricing of Sophos Mobile is not publicly available. It is available on request from their website. Sophos mobile also has 3 levels of premium customer support. With the fairly complex UI and documentation you will need a support team to get things running smoothly.
| | | |
| --- | --- | --- |
| Feature | Hexnode UEM | Sophos Mobile |
| Advanced Kiosk Capabilities | ✅ | ❌ |
| Advanced App management capabilities | ✅ | ❌ |
| tvOS management | ✅ | ❌ |
| ChromeOS | ❌ * | ✅ |
| Custom and Dynamic grouping | ✅ | ❌ |
| Pre-approved and ROM/OEM enrollment | ✅ | ❌ |
*Releasing Soon
What our customers had to say about Hexnode
Don't just take my word for it here is what customers had to say:
Support is timely and very helpful. Portal is user friendly. Quick to set up what you want the way you want it.
We were using another MDM software before Hexnode and it has been a huge step forward in the control features and ease of use for the same price. The cherry on the cake is the super efficient support !
Great feature set for price point. It meets our tribal requirements without paying for features we don't need or won't use.
Sophos mobile may shine in the security department but as a well-rounded device management solution Hexnode takes the crown. Hexnode's extensive feature support and well-rounded enterprise management solution is definitely a cut above its competitors.
Disclaimer
All product and company names are trademarks™ or registered® trademarks of their respective holders. Use of them does not imply any affiliation with or endorsement by them.