Enterprises consider several choices to increase productivity and security. One of the most sought-after options is the implementation of a unified endpoint management solution.
Benefits and challenges of UEM
Mobile device management was enough for most enterprises but the evolution of technology didn't stop at mobile devices. The demand for wearables and IoT changed the scope of what device management included and created a demand for endpoint management solutions.
The benefits of implementing a UEM solution for your business include:
Unification of management
With organizations relying on several types of devices for accomplishing their daily tasks, it is important to make sure that they are all kept under supervision. The unification of mobile device management (MDM), mobile application management (MAM), mobile content management (MCM), mobile information management (MIM), bring your own device (BYOD), and the management of wearables and IoT eliminates the need for deploying multiple solutions for enterprise management.
Security
The security threats faced by an enterprise is directly proportional to the number of devices they have that are connected to the Internet. This includes device risk and data risk. For most enterprises, the device risk aspect may be ignorable but the data risk aspect can be critical. The use of endpoint management solutions locks the devices and data at risk, enables remote actions like data wipe, and alerts admins in cases of suspicious activities. The scope of MDMs is confined to mobile devices that leave wearables and similar connected devices susceptible to attack.
Automation
Zero-touch enrollment and bulk device provisioning, bulk app deployment, role management, network setup, compliance reports, and automatic app and OS updates are just some of the ways UEMs automate devices in enterprises. Grouping users and devices manually or dynamically with associated policy sets are the most commonly used automation features. Time-consuming, repetitive, and error-prone tasks can be completed seamlessly with the help of UEMs.
Productivity
The aforementioned automation of tasks directly leads to an increase in corporate productivity. Even a small percentage increase per user yields a high net outcome, especially for bigger corporations. Another driving aspect is the ability to use personal devices for work. Personal devices can be managed to avoid distractions during work hours. Studies have unveiled that the use of BYOD yields happier and productive employees.
The few challenges associated with implementing a UEM solution are:
Cost
The cost associated with deploying a UEM solution may be a dealbreaker, especially for smaller companies and startups that are working on a tight budget. UEMs is an investment that yields returns in the long-term. On the bright side, it empowers your enterprise to encourage BYOD saving a fortune on device purchase and maintenance costs.
Initial Setup
The initial deployment of a new endpoint management solution or the replacement of your existing solution can be a little time consuming and hectic. In an ideal scenario, everything would progress seamlessly but practically enterprises use several types of devices across their offices and it can be a hassle for the admins to get everything up and running quickly. The hardship is completely negligible when you look at the big picture and most UEMs have solutions in place to make the transition easier.
Hexnode UEM
Hexnode UEM is the device management offering from Mitsogo Inc, a San Francisco based IT service provider founded in 2013. Hexnode is famous for its kiosk lockdown capabilities and comprehensive platform support. Hexnode UEM's extensive vendor partnership supports integration with several manufacturers like Samsung Knox, LG GATE, Kyocera, Honeywell, etc.
Hexnode's complete UEM solution has received several accolades like the Gartner Peer Insights Customers' Choice for Unified Endpoint Management tools multiple times over the past years, G2 has recognized Hexnode as a high performer and Momentum leader of Fall 2019 in the EMM, MDM, MAM category. Hexnode is also the key innovator in the MarketsandMarkets global forecast (2018 – 2023) report for the MDM market.
Microsoft Endpoint Manager
Windows Intune founded in 2011 was rebranded to Microsoft Intune in 2014. The Microsoft product was later renamed to Microsoft Endpoint manager in 2019. It extends some of the "on-premise" functionality of Microsoft System Center Configuration Manager to the Windows Azure cloud.
Microsoft Endpoint Manager is more than just Intune, it is a combination of what Microsoft System Center Configuration Manager and Intune offers. The two Microsoft solutions work hand in hand to deliver a more comprehensive endpoint management solution. They strive to ensure high returns on investment via a highly secure and managed workplace.
Hexnode UEM vs Microsoft Endpoint Manager: The total solution
Meets Requirement
Platforms like Android, iOS, iPadOS, macOS, Windows are supported by both Hexnode UEM and Microsoft Endpoint Manager. The support for FireOS and tvOS devices are only available on Hexnode UEM. Hexnode has also announced the support for ChromeOS devices in the coming weeks.
The types of operating systems supported may look the same but the versions supported by Microsoft Endpoint Manager are limited to the most recent versions. Apple iOS 11.0 and later, iPadOS 13.0 and later, macOS X 10.12 and later are the ones supported while Hexnode UEM offers support for older versions too.
Besides the lack of tvOS and its kiosk functionalities Microsoft Endpoint Manager also fails to meet the kiosk management standards of Hexnode UEM. The support for Windows devices is well covered by Microsoft, but for organizations that rely heavily on devices with other operating systems, the Microsoft product may seem unfulfilling. On the other hand, Hexnode UEM's extensive platform support comes in handy for all corporate device management scenarios.
Ease of use and setup
The initial setup for both vendors is very similar as they provide similar deployment methods. Hexnode UEM provides a step by step setup guide to help new users get their management setup easier. The similarity in the user interface to other popular UEMs makes it a seamless transition for migrating users.
Microsoft Endpoint Manager's user interface is fairly complex. Several features are not where you would expect it to be and will require a fair bit of practice to conquer. The lack of a reliable support team makes the navigation through the console harder than it needs to be.
Quality of Support
Microsoft Endpoint Manager is further thwarted by their customer support. They have well-written articles, demo videos, and help documents to guide users but if you get in touch with their customer support, you will be disappointed. The lack of a rapid response can be frustrating, especially for new users.
Hexnode UEM outshines the competition with their customer success managers that are at your disposal round the clock. Hexnode has received multiple awards for its impeccable customer support. There is no query too big or small for them. Hexnode also hosts elaborate documentation, blog, and forums section so that users can get to know and use the product better.
Product direction
Intune has transitioned from a fairly straightforward MDM to a complex UEM. Microsoft has combined several of their products over the past few years. They are promoting a fully Microsoft powered enterprise which can be a problem for most. If you have other solutions in-place then you will end up paying exorbitant amounts for services that you won't use. The addition of services and products has and will drive up the licensing costs exponentially in the future.
Hexnode UEM is focused on providing a flexible and comprehensive solution. They add features requested by customers and new features available to the current software and aims to make it a polished service rather than a feature crammed service where you end up paying a lot more for features you don't need.
Several innovative concepts and their implementations over the past few years like the introduction of zero-day support for new OS updates and releases, integration of IoT, ChromeOS, etc has put Hexnode at the helm of the UEM market. The rapid growth of the product in the past few years has translated into the quality it delivers with rapid product expansion.
Plan Pricing
Microsoft Endpoint manager has only 2 pricing options at $8.8 per device per month billed annually for the Enterprise Mobility + Security E3 license and $14.8 per device per month for the Enterprise Mobility + Security E5 license. This exorbitant pricing scheme can take a toll in the long term, especially for smaller businesses.
Hexnode UEM prices its plans from $1 to $5.8 per device per month with a 15-device minimum. Hexnode UEM also provides bulk corporate discounts for large scale companies. The lower price with extensive platform support and free chat support will also make it an ideal solution for small and medium businesses. Several plans with flexible pricing options available on Hexnode makes sure that your organization pays only for what you need. Enterprises can switch between plans seamlessly as per requirements.
| | | |
| --- | --- | --- |
| User Ratings | Hexnode UEM | Microsoft Endpoint Manager |
| Meets Requirement | 9.0 | 8.7 |
| Ease of Use | 8.8 | 8.0 |
| Ease of Setup | 8.5 | 6.7 |
| Quality of Support | 9.7 | 8.1 |
| Product Direction | 9.1 | 8.5 |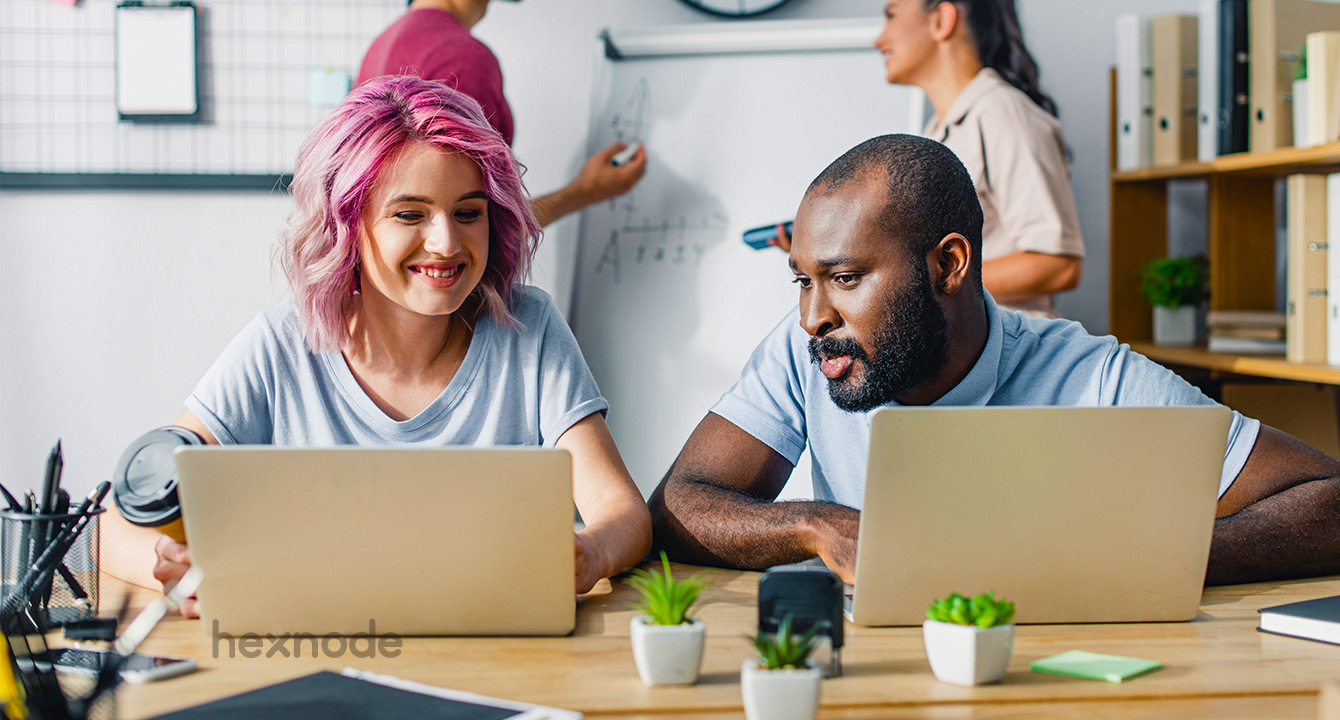 What our customers had to say about Hexnode
Don't just take my word for it here is what customers had to say:
Secure, easy to figure out, and you don't need an advanced degree to figure out how to manage your devices! Great customer support
The interface is very easy to use which cuts down on admin time. Support is very responsive and thorough. We primarily use Hexnode for Android, we use the multi-app kiosk mode in our elementary classrooms and it works wonderfully. We push all Android apps as APKs. I recently started adding some iOS devices and have Hexnode synced with our VPP account.
This is a superb MDM frontend – I would recommend it over the competitors to my clients. Setup is super simple and the ability to create a secure multi-app kiosk was invaluable when setting up a device for clients to use in our reception area. The web client is very well refined and runs beautifully from a range of different devices – it is also easy to use from touchscreen devices – ie iPads or touch based Windows machines.
Microsoft Endpoint Manager may feel like a tantalizing proposition especially for companies that heavily rely on Microsoft products. The exorbitant prices paired with low flexibility and platform support will eventually make you rethink your decision. The adaptability and resolve of Hexnode UEM is what gives it the upper hand against vendors like Microsoft.
Disclaimer
All product and company names are trademarks™ or registered® trademarks of their respective holders. Use of them does not imply any affiliation with or endorsement by them.