Has it been a year already? 🗓
First, a day or two, then a week and month, and now a whole year has gone by, and voila! It's 2023. We at Hexnode welcome the new year with all its grandeur and magnificence. Looking back, we started 2022 with hopes and prayers for a better and smoother episode. While keeping in mind the protocols, we bid farewell to our isolation and returned to the office while settling for another year filled with online events. Hexnode in 2022, welcomed more than 20 new partners to the Hexnode family. We also ventured out and opened a brand-new work hub in Chennai, which allowed us to expand the Hexnode team further.
An unforgettable 2022 🤔
Saying that 2022 was eventful doesn't do justice to it. Backend teams worked cohesively from two locations as we held our flagship events: The Partner Summit and HexCon22. Specially scheduled live events were also held this year to keep our wonderful audience ahead in the cybersecurity space race. All thanks to you amazing folks for showing up and wrapping these events on a special note.
Hexnode Partner Summit 2022 🤝
The second annual partner conference was action-packed and engaging to say the least. We started the event with a keynote speech from Apu Pavithran, Hexnode's Founder and CEO. We had more than 20 partners engage with us throughout the event. The audience had the opportunity to get access to exclusive breakout sessions by Hexnode experts, which allowed the partners to completely harness the full potential of Hexnode and engage in fun games too. Forever gratuitous to our partners, we gave out special awards like the Partner of the year and Sales Story of the year.
Check out the key highlights of the event below
HexCon22 💻
Back for the third year and grander than ever, we hosted HexCon22 – Hexnode's annual user conference. HexCon spanned over three days with the future in focus as the central theme. An interactive three days of learning and connecting was a global event with a footfall of over 1000 attendees and more than 90 speakers. The highly interactive sessions, accompanied by all the lively discussions by the awesome attendees, made for an unforgettable event. Exciting prizes like Apple Watch Series 7, Airpods Gen 3, and Jabra Elite Pro were awarded to participants who topped the leaderboards. We couldn't have made it this far without your love and support, and it was a pleasure to meet you all.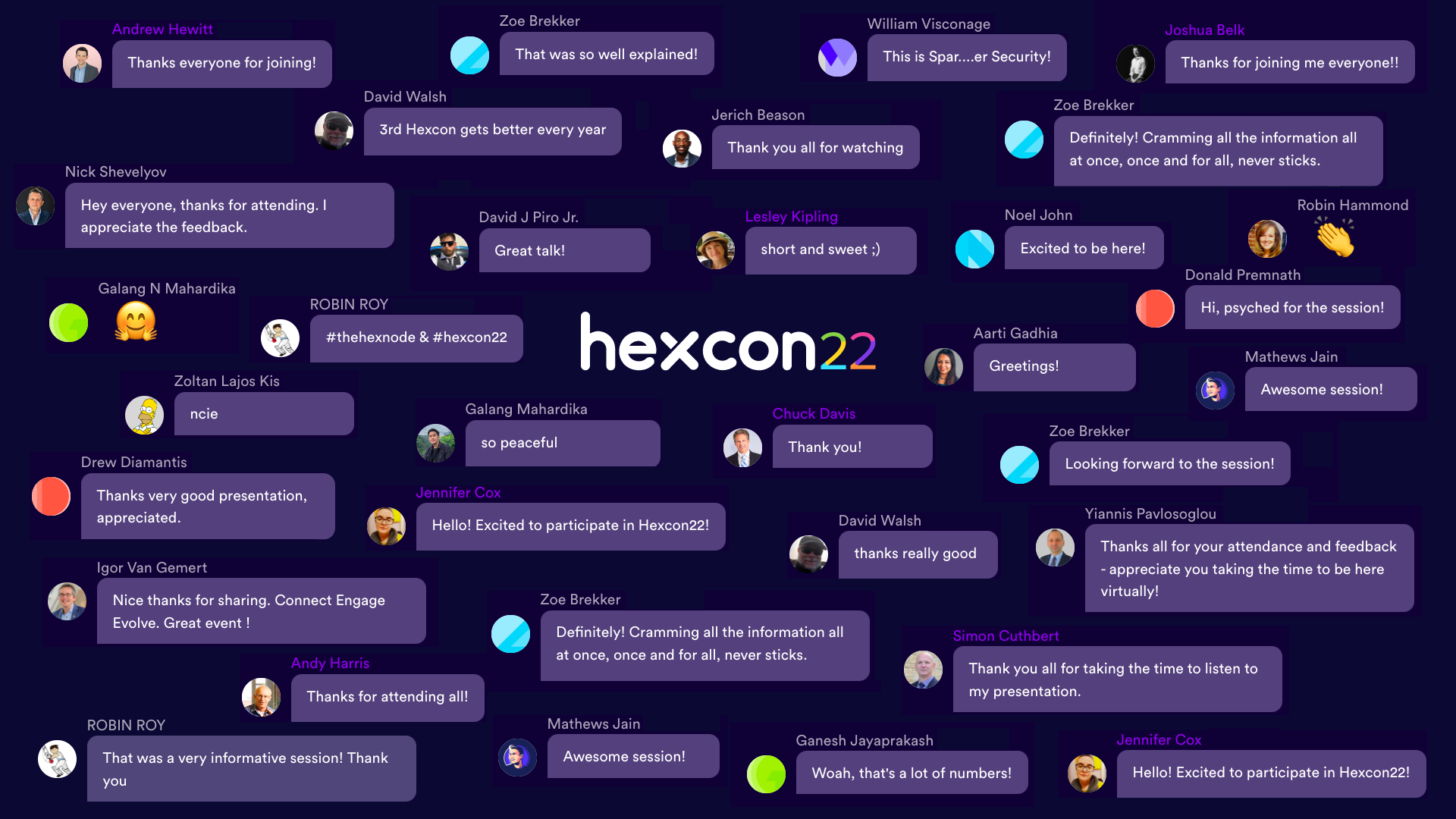 Our Amazing Participants
Going live in 3…2…1…🔴
We had everything from keeping you updated on cybersecurity in education to understanding the importance of endpoint security in the healthcare industry. We made sure to leave no stone unturned. Live events and webinars are just some of the few ways we kept the audience engaged this year while preparing for the future of work.
Growing and evolving 💫
2022 was indeed an eventful year. Furthermore, we also grew and added to what Hexnode was already capable of by releasing new features.
1. Scheduled scan for Google Workspace
With Hexnode UEM, you can now specify the day and hour that the Google Workspace (formerly G Suite) sync should start. In addition, the "Scheduled Scan" function enables you to automatically sync users or groups across the Google Workspace domains of your choice regularly.
2. iOS user enrollment
A new enrollment mechanism that streamlines deploying BYOD. Enabling users to support device management capabilities while allowing admins more precise control over managed apps and data alone. As you complete the enrollment process, a separate volume is created for containing managed data, discriminating it from user data.
3. Hexnode Gateway for macOS
Now you can seamlessly migrate any macOS device to Hexnode UEM from your former device management solution. All you need is a custom PKG file that specifies the Hexnode Gateway settings and device network settings. Deploy the PKG file, and voila! You have initiated the enrollment of your Mac onto Hexnode UEM. You can now complete the migration, and you're good to go.
4. Join and Unjoin Domain on Windows
Who doesn't love the ease and comfort of anything remote? We have updated our remote device actions' skill set and added two new actions to manipulate connecting to Active Directory domains. Now admins can add and remove Windows devices to and from a work domain. The Active Directory domain content specified while executing these actions lets the devices connect and disconnect to the domain safely and process the necessary action.
5. Android XAPK file support
Now with Hexnode UEM, you can use XAPK files to deploy enterprise apps to Android devices. XAPK files are APK files that contain an OBB file, XAPK files contain pre-existing app data along with the base APK file, that makes post-installation app onboarding easier.
6. iOS data usage tracking
With the increase in the use of mobile applications, there was a rise in telecom expenses for enterprises. You asked, and we delivered. Now you can monitor and manage the data used by iOS devices in your organization. You can set limits and schedule updates via email to notify you of the data-tracking behavior of iOS devices.
7. Custom role of technicians
You can now restrict and allow different access levels to the Hexnode console.
Super Admin – The first technician to sign up for Hexnode UEM and has complete control of the portal. They are the ones who can assign different roles.
Admin – This technician has full privileges and can access all portal functionalities.
Apps and Reports manager – this technician has access only to reports and apps.
Reports manager – A reports manager has access only to the reports and the UEM Dashboard.
8. Integrating with Freshservice
With Hexnode and Freshervice together now it is possible to streamline an organization's IT service management and asset management. Admins can sync the devices enrolled on Hexnode UEM with the Freshservice portal. They can now achieve management functionalities and facilitate ticketing services. Device-specific reports, device lifecycle, and other informational data can be drawn from this integration further to gain insight into the organization's device management needs.
Apart from the various features, we also had a total revamp of the workflow on our Resources page and published the resource kit, a new type of content, in 2022. In addition, a new ROI calculator was also put on the website, with which you can see how much you can save by using Hexnode.
A Grammy and an Oscar 🏆
Prioritizing the customers' needs before anything else is something we believe here at Hexnode. Leading analysts and research companies acknowledged Hexnode's efforts and accomplishments. Here are some of them:
TrustRadius has awarded Hexnode a 2022 Tech Cares award for its commitment to corporate social responsibility. Hexnode has won this award for its dedication to securing hybrid work for its employees and encouraging other companies to adopt this work model.
Gartner has mentioned Hexnode UEM as a Notable Vendor in the 2022 Midmarket Context: Magic Quadrant for Unified Endpoint Management Tools report.
Mitsogo employees provided feedback and Comparably listened. Comparably recognized Mitsogo Inc as one of the top-rated companies on 2022's Best Companies for Compensation list. Mitsogo has proven that it provides competitive compensation across the board and retains top talent in the corporate market.
Hexnode has been recognized as a Leader in the IDC MarketScaper. It was fourth in the IDC MarketScape: Worldwide Unified Endpoint Management Software Vendor Assessment reports. Hexnode is now one of the leaders of the IDC MarketScape: Worldwide Unified Endpoint Management Software for Apple Devices 2022 Vendor Assessment.
Our digital printing presses 🖨
We published a crazy amount of content this year, consisting of 220+ pieces comprising 190+ blogs, 10+ infographics, eight datasheets, whitepapers, resource kits, and free tools.
Each targets different fields of the digital era to give you a plethora of updates in this highly evolving age.
What we are brewing at Hexnode for 2023 👨‍🍳👩‍🍳
2022 saw triumph and progress. However now it's time we look forward to the future and, strive to achieve more and grow even more. Aiming for the zenith, we strive to contribute to cybersecurity and work towards blurring the gap between theory and practice.
We are working on new features daily to ease the customers' use of Hexnode. These include
Categorize web content filtering.
Time-based policies.
Pre and Post app installation scripts.
Remotely manage local users on macOS devices.
And a new email app for our Android users.
We also hope to meet you in person more. By ditching the digital boundaries behind, and engaging with you during our signature events. Hexnode is as much yours as it is ours, and we couldn't have done it without our partners, customers, and you, our wonderful audience. Furthermore, Hexnode in 2022 was AWESOME, and together, we shall have an equally remarkable 2023.