Enterprises and organizations are increasingly adopting Apple devices and for good reason. Apple devices are a favorite amongst employers and employees because of their increased security and reduced TCO in the overall lifecycle. In 2021, Mac devices formed 23 percent of all enterprise PC sales in the United States. Apple Enterprise Management is the management of all corporate Apple devices, apps and resources without needing to physically access the endpoints.
Strong support for Apple devices — Macs as well as iPhones, iPads, and Apple TVs — is becoming a must-have function for UEM software providers
-Phil Hochmuth, program vice president, Enterprise Mobility and Client Endpoint Management, IDC.
What is Apple Enterprise Management?
Apple Enterprise Management helps organizations connect, manage and protect their Apple devices – including Macs, iPads, iPhones, and Apple TVs – irrespective of their location. With Apple Enterprise Management, the employers have the option to secure their devices against external threats and automate different aspects of device and application management.
Apple is the brand of choice among employees
Gone are the days when corporates function as unfeeling impersonal entities that only prioritize profits. Now, there is a focus on employees, their choices and a positive shift in the general working culture. Organizations have rightly realized that productivity is directly dependent on the happiness and well-being of their employees. The enterprises that insist on functioning in the old ways must be ready to face consequences like "The Great Resignation".
One of the key points of employee retention is giving them good tech to work with. Who would want to work on devices that they aren't comfortable with or devices that do not work properly? The answer is no one. When given the choice, employees mostly prefer to use Apple devices. As mentioned before, Apple devices are popular in enterprises because of their comparative ease of use, enhanced security features and ease of automation. It helps that Apple is also making great efforts to establish itself in the enterprise market. According to a Forrester report, Mac users would save around $843 over three years as compared to a PC.
Simplifying Apple Enterprise Management with Hexnode
Hexnode's Unified Endpoint Management (UEM) solution includes Apple Enterprise Management. What can you do with Hexnode's Apple Enterprise Management?
Zero-touch deployment
Let's face it – IT is always busy. For good reason. They have to continually deal with network issues, hardware requests, software deployments and updates, provisioning accounts across devices, and even general help requests from users. In such a situation, it makes more sense to automate the processes whenever possible.
When you integrate your Apple Business Manager (ABM) or Apple School Manager (ASM) account with Hexnode, you have everything you need to enable a zero-touch deployment strategy. Deploy and configure the initial setup of the Apple devices in your organization from a central location (your Hexnode portal) – without even opening the box.
Previously known as Device Enrollment Program (DEP), Automated device enrollment from Apple automates the enrollment process of the Apple devices in Hexnode. It also simplifies the initial device setup. You can supervise the devices when they are first powered on – all without touching them.
Why Zero Touch deployment is the future of device provisioning
App management
Previously known as Volume Purchase Program (VPP), Apple's Apps and Books lets you purchase app licenses in bulk. You can deploy these applications to the devices remotely using Hexnode's app management features.
How to install/uninstall/update apps?
Login to your admin account in Hexnode. You can install, uninstall or update the apps from the unified web console in any of the enrolled Apple devices.
What are Mandatory apps?
Some apps are crucial for work. For instance, most of us check our emails the first thing in a typical workday. The increase of remote work culture enhances the need for even more apps. Hexnode helps you to configure such apps as "Mandatory apps". These apps are pushed automatically to the enrolled devices. If the devices are supervised, the apps would be installed silently. If not installed, the device is marked as non-compliant.
How to blacklist or whitelist applications?
Hexnode's Blacklist/Whitelist feature allows you to block user access to specific applications. You can use this feature to block access to apps that pose a security risk or play a role in decreasing the productivity of the employees. You can configure these settings in a Hexnode policy and apply it to the target devices with a single click.
What are App Catalogs?
Hexnode users can use the 'App Catalog' feature to create a customized app store. This catalog contains a set of apps that meets the requirements of the organization. The end-users or the employees can seamlessly download all the required applications from this app catalog, preventing them from running the wrong apps.
Security management
One of the main reasons to choose Apple is the promise of security. Hexnode's UEM solution helps you leverage these security features to their full extent.
Passcode policies
Configure strong passcode policies. It would force the users to configure strong passcodes which is the first and basic step in ensuring endpoint security.
Device encryption
Enforce encryption in your iOS and macOS devices using Hexnode. For Mac devices, Hexnode supports FileVault encryption. FileVault is a full-disk encryption program for macOS that encrypts all the data on the device. Once encrypted, you need a valid recovery key or passcode to access the device. Hexnode's encryption capabilities maintain data integrity, protect privacy, and make sure there is no way for data to get compromised.
OS update management
OS updates Not all OS updates should be installed right away. Some of them may still be buggy, and it would be better to wait before installing them. Use Hexnode UEM to forcefully delay the software updates.
Network security
Configure network settings like Wi-Fi and VPN and deploy them to the enrolled Apple devices. The devices would connect to the network automatically without entering the credentials. This increases the security of the network as the credentials would be shared on a strict need-to-know basis.
Kiosk for iPhones, iPads and Apple TVs
Hexnode's kiosk mode is a restrictive mode that locks down iPhones, iPads and Apple TVs into an application or a set of required applications. In iPhones and iPads, both single-app and multi-app modes are available. Apple TVs can be locked down into a single app.
Web content filtering
Enhance the internet security of the organization by blacklisting/whitelisting websites that are not secure. You can also restrict access to websites on the basis of inappropriate content.
Lost device management
It is not very easy to lose managed Apple devices. Managed or unmanaged, you can recover the lost iPhone, iPad, Mac devices and Airpods if your "Find my" is enabled. If they are managed with Hexnode, then it is even harder. To find or manage a lost or stolen Apple device, Hexnode provides some more features:
Location tracking – Scan the device location from Hexnode's web portal to get the location of your lost device.
Remote actions – Remotely lock the devices, scan the device location at any point of time or even wipe the device if you feel like the device data could be compromised.
Lost mode for iOS – The lost mode in iOS devices locks the device with a custom message.
Non-removable management profile – You can make the management profile non-removable at the time of enrollment with Automated Device Enrollment.
Apple lost mode: Ensuring security on lost or stolen devices
Reports and inventory
The managed Apple device details such as the model, operating system version, enrollment details, compliance info, and more are displayed on the device page. The admin can also get the reports manually or even schedule the reports.
DIY resources and support
Hexnode boasts of a user-friendly interface that even beginners can use. However, that's not the only thing that makes Apple enterprise management easy for Hexnode users. Use the comprehensive help documentation, videos, whitepapers, datasheets and more to make yourself an expert. You can also register in Hexnode Academy to get access to courses and become certified.
For instant support, you can contact Hexnode's support team who are available by chat, email or call on all weekdays.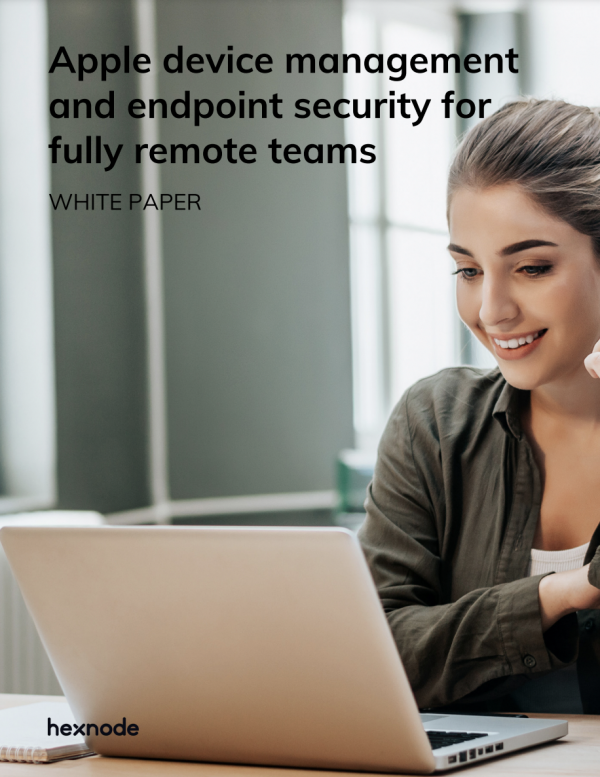 Featured resource
Apple device management and endpoint security for fully remote teams
Find out how UEM helps in taking out the hassle in remotely managing Apple devices.

Download White paper
Bottomline
Apple is on the way to becoming an enterprise favorite and it is important to choose a management solution that moves with this vision. However, we cannot say that Apple is excellent for all enterprise use-cases.
Apple's hardware and software are spot on and it does deliver in performance, security, and [reducing] the attack surface within an enterprise. They also do meet the checklist when it comes to managing corporate-owned devices, COBO or Kiosks for that matter. But for a full-fledged BYOD, User Enrolment still falls short of Google's Work Profile.
-Apu Pavithran, Founder and CEO at Hexnode
When you are managing devices across different operating systems, it seems daunting. That's where choosing a UEM solution like Hexnode comes in handy. If you aren't already a Hexnode user, now is the time to register and start with endpoint management and Apple Enterprise Management.
Start managing your Apple devices with Hexnode
Get started with Apple enterprise management with Hexnode's 14 day FREE trial.

Click to register