" Android is made for business – no matter what your business is." – claims the Android website proudly. While it is a tall claim to make, it is certainly not too far off the mark. Android is the most popular operating system in the world, and it is evident that businesses would also consider that when choosing devices. An Android management software manages the corporate and personal devices used for work in a centralized manner. In this blog, we would be talking about the benefits that an Android management software offers, and the strategies to use this software to its full potential.
Android management software – what does it do?
7 reasons you should use an Android management software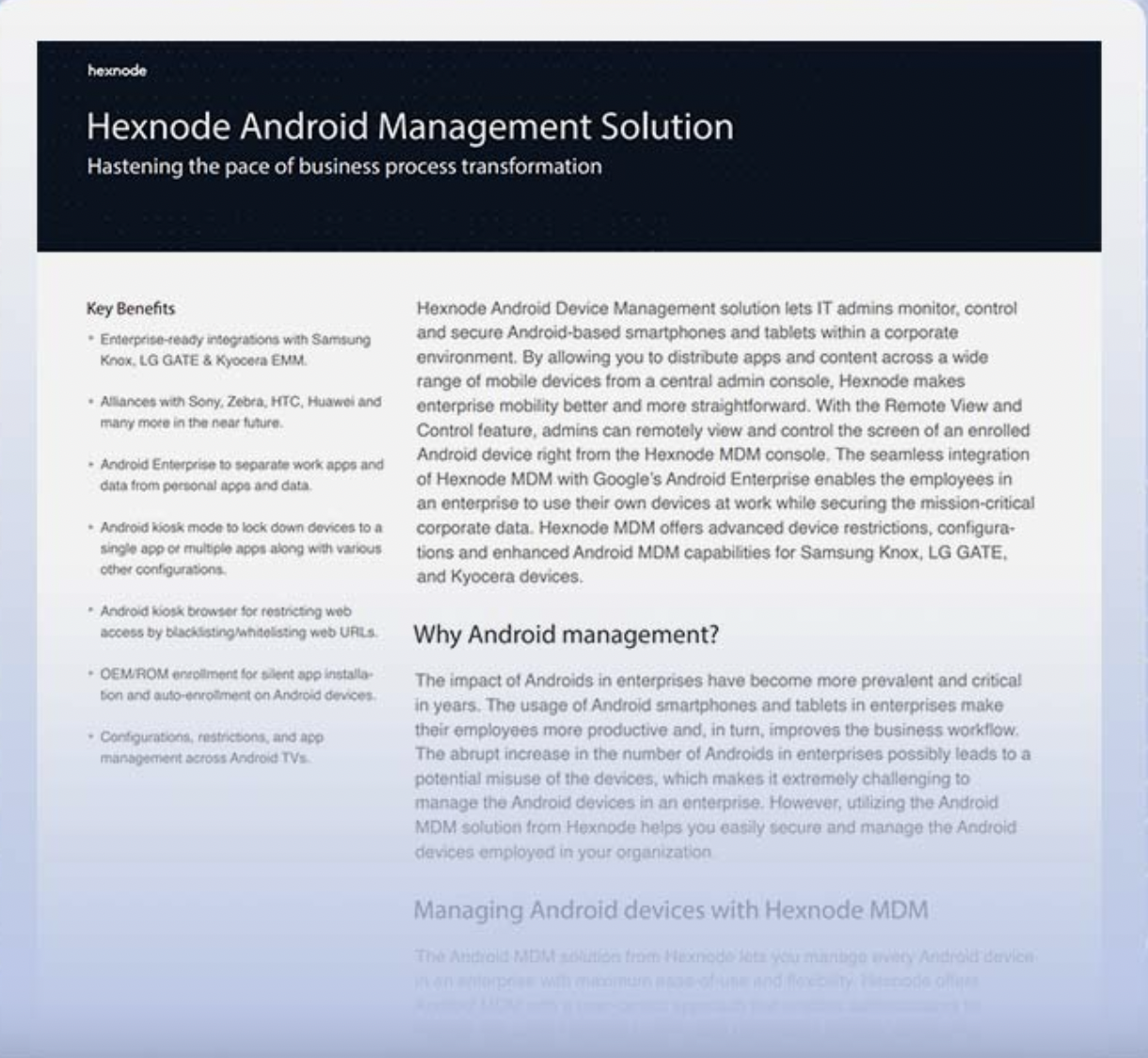 Datasheet
Hexnode Android Management Solution
The Android MDM solution from Hexnode lets you manage every Android device in an enterprise with maximum ease of use and flexibility. Get started with Hexnode's Android Management solution to improve efficiency, increase productivity, save time and overhead costs of managing your corporate devices.
Download
1. One place to manage the devices irrespective of the number.
No matter what investment you make, scalability should be one of the factors that influence your decision. On a small scale, it is easy to manage the devices in your organization even manually. However, when the number of endpoint increase, such an approach wouldn't be feasible. An Android management software is able to manage the devices irrespective of their increase or decrease in number.
2. Reduces the time and effort that IT admins have to invest in managing the devices.
IT admins certainly do not have it easy. They are tasked with handling all the systems in the organization, troubleshoot issues and be on alert against all possible security breaches. If any breach occurs, then we can only sympathize with the sheer amount of work they need to put in for damage control. With such important responsibilities, the best option is to automate the IT processes wherever possible.
3. Boosts productivity.
John is an ideal employee. He doesn't get distracted and browse things unrelated to work during work hours. However, unfortunately, the number of Johns in this world is very limited. For everyone who isn't like John, productivity would be adversely affected because of random or irrelevant browsing not related to work. This issue can be resolved by using a device management software and in the case of Android devices, an Android management software. The admin can use the software to limit the device functionalities strictly to the necessary ones. The Android management software ensures that even if you aren't a John, you stay productive.
4. Easy implementation of BYOD scenarios
Using personal devices for work is nothing new. Around 67 percent of people use their own devices for work. However, these personal devices may pose a serious security risk to the company. An Android device management software helps in implementing, securing and managing BYO devices in the organization.
5. Prevents the devices from being stolen or misplaced.
Protecting sensitive company data is a high priority in every organization. When devices are lost or stolen, the best course of action would be to get these devices back. However, even if you are unable to get the devices back, you must have measures in place to secure or wipe the corporate data. An Android management software lets you employ solid security policies, track the device location and even wipe the corporate data if there is no hope of retrieving the device.
6. Better device and data security.
In 2022, the raison d'être for IT admins is cybersecurity. As mentioned before, an Android management software helps you configure and deploy security policies. For instance, Hexnode UEM's Android management solution lets you configure strong password policies, containerize the work apps and data, enable device encryption, implement location-based policies, execute remote actions and troubleshooting, and more.
7. Higher return on investment (ROI)
The initial costs in setting up and implementing an Android management software are well compensated by the time, effort and security outcomes in the long run. If you have Android devices in your organization, an Android management software is definitely an investment worth looking into.
Hexnode Android management software
Hexnode's UEM solution manages Android, iOS, iPadOS, tvOS, macOS, Windows and IoT devices from a unified console. The Android management solution from Hexnode is an all-encompassing fix for the corporate requirements of an IT admin. Let's take a look at some of the key features of Hexnode's Android management software.
1. Bulk enrollment and deployment
For Android, there are quite a lot of ways to enroll and deploy devices with Hexnode. This includes:
SMS or email enrollment, where the enrollment details are sent to the end user.
Android Enterprise enrollment for both company-owned and BYOD devices.
Zero-touch enrollment methods like Samsung Knox mobile enrollment or Android Zero-Touch enrollment.
ROM enrollment, where the Hexnode app is flashed to the ROM as a system app for greater privileges
The zero-touch enrollment methods allow for out-of-the-box enrollment without any manual intervention. This is quite useful when you are just directly shipping the devices to your remote employees.
2. Profile management and containerization
Hexnode lets you create a separate work profile entity on the personal Android devices used for work. You have full authority to manage this work container on the employee device. Here is a sneak peek into what you can do:
Separation of personal apps and data from work apps and data. It prevents the flow of corporate data between work and personal apps.
Implement a strong password policy for the work container. Even if the device isn't locked, the container password will protect the work apps and data.
Install, uninstall, update and manage the apps in the work container.
Execute corporate wipe to delete all the apps and data in the work profile.
3. Android app management
Device management is certainly incomplete without app management. Android devices run on apps, and it is important that admins get to determine what gets installed and what doesn't. Hexnode's Android management software gives you that option with a wide array of features:
Silent app installation: Install or uninstall the applications on managed devices with zero user intervention.
App blacklisting/whitelisting: Blacklist or whitelist applications to prevent user access to potentially dangerous or unwanted apps. Some apps simply need to be blocked because they serve no purpose except for distracting the employees from work.
Custom Play Store for apps: Instead of deploying the apps yourself, you can deploy a customized Play Store for managed devices. This can be done by creating App Catalogs in your Hexnode web console and then deploying it to the target devices via policies.
Mandatory apps: While some apps aren't needed, some are absolutely essential. Hexnode lets you mark such apps as mandatory. If the apps marked as mandatory are not installed in the devices, Hexnode would attempt to silently install the apps in the devices. If, for some reason, the app installation fails in a device, that device would be marked as non-compliant.
App configurations and permissions: Pre-configure all the app permissions and configurations before it is installed in the Android device with Hexnode. The permissions and configurations would be automatically present when the apps get installed on the devices.
4. Android security management
Many users are lax when it comes to securing their devices, using weak passcodes, or none at all, and not encrypting the data that they contain. Given that mobile devices are routinely lost or stolen, unsecured devices can often provide unauthorized access to data. Some users also root or jailbreak their devices in order to overcome default restrictions or to allow them to customize them, but this makes it much easier for data-stealing malware to be introduced onto a device.

– Fran Howarth, Security Industry Analyst
Hexnode takes cybersecurity very seriously. It is evidenced by the sheer number of cybersecurity experts who joined us from around the world for the last edition of our annual conference, HexCon21.
Talking about Android security in detail would easily take a long time. Here, let's take a brief look into how Hexnode helps organizations to implement Android security strategies with its features:
Certificates for authentication: Certificates are a great way to secure and authenticate users to access the corporate resources like VPN, Wi-Fi and more. The IT admins can deploy identity certificate to the managed Android 5.0+ devices with Hexnode. The certificates would be silently installed in Samsung Knox devices and devices that are enrolled using Android Enterprise program.
Password policies: Passwords are the first layer of security between a hacker and the device. Configure stringent password policies that forces the user to configure strong passwords in the device. This can be done in the Hexnode web console. Push these policies to all the managed devices and check password security off from your security checklist.
Secure and manage networks: With Hexnode, configure and deploy Wi-Fi networks so that the end user gets automatically connected to the network without needing to know the password. You can also configure VPN remotely for securing the flow of data in the network. Hexnode's web content filtering feature allows you to block the user-access to potentially dangerous websites.
OS update management: Some updates need to be installed immediately while we may prefer to wait for some others. Schedule OS updates for Android with Hexnode. You can choose to update automatically, update in inactive hours or postpone the updates up to 30 days.
Android kiosk software: Hexnode's kiosk mode is a special mode in which the Android device is locked down into applications as specified by the admin. The user has no access to any device settings or any other apps unless the admin allows it. The kiosk mode is useful for converting your normal Android device into a purpose-oriented device – for instance, information kiosks or a restaurant kiosk.
To sum up
Apart from the features discussed, you can use Hexnode's Android management software for much more. You can configure mobile data or Wi-Fi restriction policies, execute remote actions such as launch apps, ring the device remotely, broadcast a message and more. You can also generate regular reports for review and auditing purposes. The possibilities are endless. The best way to learn about Android management software is certainly by trying it out for yourself.