When we talk about tablets in general, even though Android comes up, it is not as prominent as their counterpart, the iPads. Why is this the case? Well, the lack of tablet-optimized apps is just the tip of the iceberg.

Other areas where Android falls short in terms of exciting its customers include the lack of options in the premium department, very limited multitasking options and so on. Google left Android tablets in the dust long back and even with that, Android tablets have managed to pull off an amazing feat in maintaining a decent position in the tablet market.

Explore Hexnode's Android management features

The pandemic was a great boost to the Android tab market, with more people going toward remote work and remote learning. This shows that even without Google to help, OEMs like Samsung and Xiaomi have made their impact and are keeping the Android tablet from drowning. But things are looking good for Android tablets since Google has decided to take matters into its own hands.
Google's plan to uplift Android tablet
Google has made it clear that Android Tablets will not be the outcast among Google's powerful arsenal of devices. Starting from Android 12L, Google made it easier for developers to develop apps that can adjust to the bigger screen of Android tabs. This was not the case in earlier versions.
Also, with the new and improved native screen compatibility feature, Google has made it easier for apps made for a smaller screen to adapt to a bigger screen. Apart from that, Google also made it possible to put every app in split-screen mode, making extensive multitasking a reality with Android tablets.
Google scrapped the old policy of not letting users or the system override an app's preferred screen orientation. Now, users or devices can put any app in an orientation that is best suited for the app in question.
Basically, Google's Android 12L was introduced and marketed as an overhaul for large screens. Google is not planning to stop there, with Android 14, tablets are getting more exciting updates. The developer preview is already available.
Why do you need an Android tablet management tool?
With these many updates hitting Android tablets in such a short time, they will become one of the most sought out devices for work and for school purposes. And with such an increased number of Android tablets used for work, the necessity to manage these devices will also be high.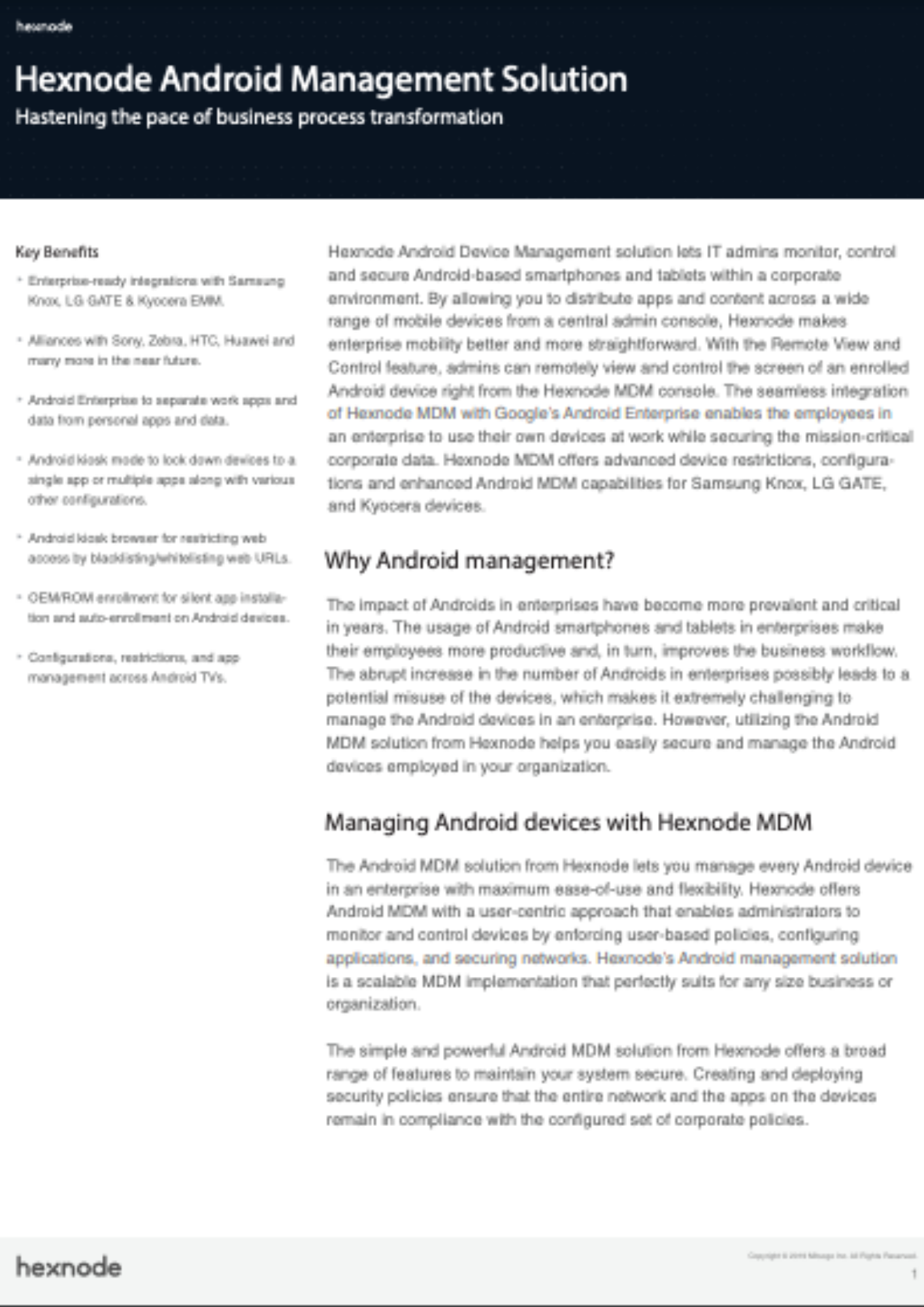 Featured resource
Hexnode Android Management Solution
The Android MDM solution from Hexnode lets you manage every Android device in an enterprise with maximum ease of use and flexibility.
Download the datasheet
The lack of a proper Android tablet management tool to look after these devices can result in huge disaster. Companies won't be able to keep track of their devices and control them. Also, it would be hard for the IT team to fix any kind of issues with the devices. Therefore, these Android tablets can be easily managed, even remotely, with the right Android tablet management solution.
Android tablet management essentials
When it comes to managing Android tablets, not much is different from managing generic Android smartphones. Let's start from the basics, shall we?
Android management usually starts with device enrollment and provisioning then moves on to configuration and policy management to security, app, and network management then finally to device decommissioning. But when considering Android tablets, management doesn't end here. Some other usual features that are normally associated with Android tablet management include kiosk setup, remote actions and so on.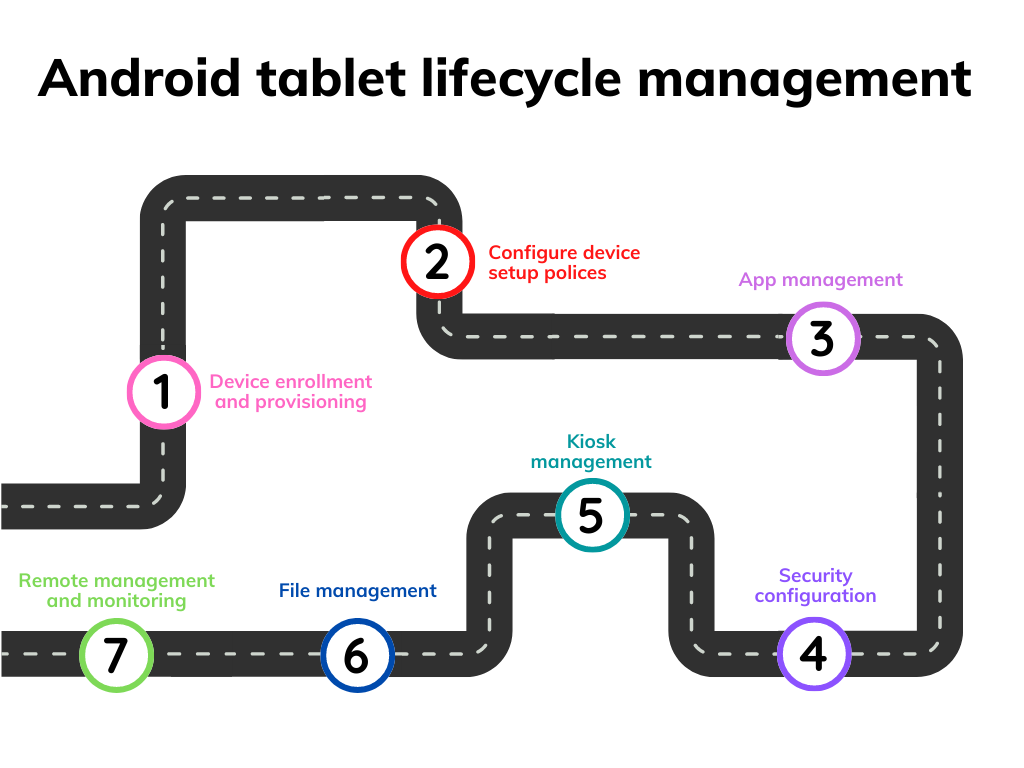 Android tablet lifecycle management
Let us see all the necessary tools to manage Android tablets one by one:
Enrollment
Enrolling devices adds them to management tools like Hexnode, then assigns to users in organization. For Android devices, there are many enrollment methods and Hexnode supports almost all the major ones. Some of these enrollment methods require the end-user or the employees to finish up the enrollment process. But the others will be completely enrolled automatically as soon as the end-user powers on the device. These methods where there is no end-user interaction are called zero-touch enrollment.
Some of the most common Android enrollment methods supported by Hexnode are:
Device set up
After the devices are enrolled, the device settings have to be configured according to the organization's requirements. And how will an IT admin do this? Well, with Hexnode's device management policy, of course. With this feature, admins can configure device management policies in the Hexnode portal and send them to devices. Once these policies reach the device, the settings will be changed.
Hexnode's policy management feature helps IT admins deploy configurations to manage different aspects of a device, namely security configuration, network configuration, accounts configuration and so on. You might be wondering what is possible. Some of the possibilities are password restrictions, Wi-Fi configuration, VPN setup, proxy configuration, APN setup, Email and Exchange ActiveSync setup and OS update schedule.
App management
"Hey, can you push the X app to my device?" "Hey, Y app is not working in my tab, can you have a look?" These two are among the most common messages IT folks get. Aint I right the IT gang? Well with the right mobility management tool you can take care of all things app related.
Hexnode lets you manage almost all surrounding app management. From remotely installing apps on employee devices to deploying app permissions and configurations, almost everything is possible with Hexnode when it comes to app management. It doesn't stop there, you can deploy in-house or custom-made apps, block apps on devices using backlisting or whitelisting, and create an organization-specific custom app play store.
File management
File management lets organizations send any kind of files to Android devices enrolled in their device management portal. A proper one would also let you specify where the file is to be stored on the device.
Guess what? Hexnode has both these features, that is you can send files to any and all Android devices enrolled in the Hexnode portal and also specify which folder to store it in. As a bonus, Hexnode lets you delete files in the devices enrolled in the management portal. Isn't it cool?
An advanced file management feature offered by Hexnode is adding file shortcuts in kiosk mode. You will read more about kiosks later. This helps enterprises make the most out of kiosk devices. Hexnode lets you add shortcuts for videos and PDFs in kiosk devices. With this feature even if a device is locked in kiosk mode, the company can send important files like help documents and demo videos and let their employees view them using approved applications.
Device and data security
When it comes to security, Hexnode does not compromise. Hexnode handles every aspect of device and data security, from establishing password standards and blocking inappropriate content on the web to configuring data encryption in Android tablets.
Hexnode even lets organizations take care of lost devices. You can track the exact location of devices, lock down devices and put the device in lost mode. Also, in the worst case, you can also wipe devices so that no one can get any valuable information from the lost device.
Hexnode takes care of Data Loss Prevention (DLP) too. Features like Managed open-in configuration, data transfer restrictions, restricting data movement by configuring networks and enforcing copy and paste restrictions help enterprises take care of DLP.
Kiosk Management
For those of you who don't know what kiosk devices are, they are devices that are restricted to a single functionality or a handful of functionalities. These are normally used in areas where productivity is of the highest priority or where the device is meant just to do a very particular job like helping customers order what they want to eat at a restaurant or in some cases for advertising.
Kiosks usually come in different shapes and forms. When a device is locked to a single app it is a single app kiosk, when it is multiple apps, it is called a multi-app kiosk, and so on. When a device is restricted to displaying an image or video, it is usually referred to as digital signage. Hexnode helps you lock down Android tablets into single app mode, multi-app mode, website kiosk, and even digital signage.
Remote actions
Remote actions are essentially commands that are performed on enrolled devices but are managed on the Hexnode portal. Why is it necessary? With the use of these actions, an administrator can control all the devices, users, groups, and domains in an organization remotely.
Even when they are in a different location, IT admins can use remote actions to control important tasks on employee endpoints. Through remote actions and monitoring tools, IT administrators can also monitor the endpoints of an organization and their health.
Hexnode offers a wide range of remote actions for all sorts of devices, especially when it comes to Android tablets. Shut down, restart, device ring, device wipe, app installation and launch, location tracking, and password reset are some of the things you can do on Android tablets using Hexnode's remote actions. Another key remote action you can do is remote view and control, where you can see what the end-user is doing on their device and remotely control their device.
This feature is extremely for all IT departments because with this one you can check if all the devices in the organization are working as they should and overall health of corporate devices. Knowing device status can save costs by timely planning services and updates in your company.
Hexnode has got you covered in this regard. With an extensive report generation facility, Hexnode lets IT teams generate reports on virtually everything about a device. Not just endpoints, but even users. Oh, and you can also schedule reports to be generated automatically. Remote monitoring with Hexnode does not end here.
You can remotely troubleshoot devices with a feature we mentioned earlier, the remote view and control. Live device view helps IT understand issues for better troubleshooting. You get a device summary with battery levels and installed apps, in addition to reports.
And finally…
Now you have an idea of what the basic necessities are when it comes to Android tablet management. And as I mentioned above, with more more tablets hitting the market, it is better if you prepare yourselves to manage a large fleet of Android tablets. A UEM like Hexnode will help you manage not just Android tablets, but almost all endpoints you have in your organization. So, what are you waiting for? Try out Hexnode for free and find out for yourselves.
Try Hexnode for free
Sign up for a free trial and explore Hexnode's Android device management features.
Sign up