Give without expecting anything in return – Great words to live by but not a great one in practice if you are running a business [unless philanthropy is your thing, of course]. An enterprise will not invest in something unless there is a short or long-run return.
Almost all organizations use SaaS tools these days. Having your projects available on the cloud makes more sense, especially when you aren't the only person working on them. Imagine you are tasked to decide whether you should switch from tool A to B. Choosing the flashier tool is a good idea (not), or you could check which tool will give you a better result for a lower investment. This is where Return on Investment (ROI) comes in.
ROI (Return what you Owe with Interest) of an MDM solution
The return in ROI of a SaaS tool does not necessarily mean money. It's not like – I give you money, you give me more money. It's more like – I give you money, you give me something more. The 'something' can be anything that can be monetized, like time, effort and, well..money.
ROI has grown into a reliable factor before making a purchase. Anyone would appreciate the gift of foresight when facing a tough choice. An ROI calculator is like an oracle. It'll give you the future in numbers (not riddles), and you get to choose.
Some SaaS tools have evolved from being an add-on to being a must-have for enterprises; one of which is the Mobile device management (MDM) solution. A device management solution has excellent returns. 'How?', The better question would be 'how much?'
The perks of having an MDM
An enterprise without an MDM is like an unmanned fort. The lack of personnel to secure the entrance and enforce its laws within the walls makes it a vulnerable target. By employing a device management solution, you can ensure that the fort remains unbreached.
Modern device management solutions like Hexnode have many features that contribute to their ROI. These features spare the IT team from spending additional time and effort on various tasks. Time is money, and money saved is the perfect motivation to go for the purchase.
Cutting IT some slack
Let's take a look at two statements
Statement 1: An MDM solution simplifies device management.
Statement 2: The IT team is responsible for managing devices.
What can you infer from the following statements?
An MDM solution simplifies the IT team. Good answer. But I was thinking 'an MDM solution would help the IT team a lot.' would be a more apt one.
One tool to rule them all
Once upon a time (a few years ago), an MDM solution wasn't expected to support all platforms. Over time, MDM had evolved to UEM (Unified Endpoint Management), which supports almost all commonly used platforms. With the multi-platform support feature, you can manage all the devices in the enterprise from a single console. Hexnode also supports a unified policy for multiple platforms. This means a single policy can manage devices running on various operating systems, which can help avoid the creation of redundant policies.
After configuring the device, the IT team can supervise the devices from a single tab. With the reports feature, you can keep an eye on device health, compliance, data usage and many more. Hence, you can get an overview of your devices easily. If a device were to stray from the compliant path, the IT admin would know in real-time.
The unified policy and the reports feature help cut off repetitive work and save time. Translating this effort and time into money would mean saving a lot of money.  
Trouble-shoot from
a distance 
So, one fine day your laptop refuses to accept your password. You ping your IT admin, and he comes over to your table, resets your password, engages in some small talk and takes his leave. While it's a great way to get a conversation going with the IT guy, the time it takes for the transit is wasted. In bigger companies, the device might have to move to another office for maintenance. This transit time is equal to the employee's idle time.   
Modern MDM solutions like Hexnode have various features which can be leveraged to perform remote device maintenance. The admin can troubleshoot without leaving his desk with remote view and control. The transit period can be eliminated, but this also means that you won't get a chance to catch up with the IT admin. Maybe you guys should go out for coffee after work?  
Awesome App-titude
An average tech company deploys 155 apps. Most of these apps would be installed during the initial onboarding process. Making a person install a hundred apps one by one sounds unreasonable..not to mention boring.   
Why would you choose that when you can do everything in a single instant? You can use an MDM solution to deploy applications in bulk to multiple devices. This can help eliminate repetitive tasks such as app installing, removing and updating. Since the apps can be remotely deployed, there is no need for the admin to sit amongst the devices. The application management capabilities of an MDM solution help reduce effort, save time, and spare someone from extreme boredom.   
Want some more securi-tea?
Improving management means greater efficiency. Efficiency dramatically improves the ROI of a SaaS product. MDM solutions also serve another purpose. Security. Remember the unmanned fort analogy? The personnel can come on the behest of a device management solution.   
A good number of devices are connected to an enterprise network (at least equal to the number of employees). Each device acts as an endpoint, and each endpoint is a potential gateway. An MDM solution is responsible for securing each endpoint, which decreases the vulnerabilities in the network.  
Containing mishaps
People bring their personal devices to work all the time now. In fact, 70% of employees can't keep their eyes off them. Almost everyone loves working on their device owing to the sense of familiarity. Most companies have accepted the BYOD trend now, at least for some employees.  
Why were people reluctant to accept BYOD? There are quite a few reasons, with data security being the primary concern. Working on your personal device increases the odds of your office documents sliding into your DMs and you'll have no clue how it got there. 
That would be the last thing your company wants. With the containerization feature, you can keep all your corporate data secure within an invisible but very real container. You know what they say; never mix your personal data with your professional data.   
Employing a device management solution is not enough to stop all sorts of data leaks that could happen from your personal device. Naturally, no tool can guarantee 100% effectiveness. However, an MDM solution could help decrease the odds of that happening. If a data leak were to incur, an organization would suffer heavy repercussions. The loss of data and the trust of your clients can be a devastating blow. Reducing the chances of such an event occurring seems like a great return, no?  
Device security
Organizations have become increasingly concerned about data security these days. There are various tools which can be used to secure your enterprise network. However, some people like to go old school. Why bother with hacking and all those technical hocus pocus when you can also go for a classic swipe and run? In fact, Almost 15% of device thefts or loss happens in the workplace.  
With an MDM solution, you can keep an eye on all the devices within used within the enterprise. Can't find your device? Track the location. Worried if someone will wrench open the device and grab the data? Enable lost mode. Super worried? Wipe the device. Stop worrying. Have a cookie and chill.
Psst..will I really get returns with an MDM solution?
If you want a straight answer, then yes, you will. Employing an MDM or a UEM solution is always a good choice. If many devices are used within the enterprise, then the returns go up. An MDM solution eliminates repetitive tasks. The greater the number of devices, the more the eliminated tasks and the more you save. Let's not forget that the initial investment (money you spend on the MDM solution) depends on the number of devices as well. So, it's safe to say that companies with a low device count will still greatly benefit from an MDM solution.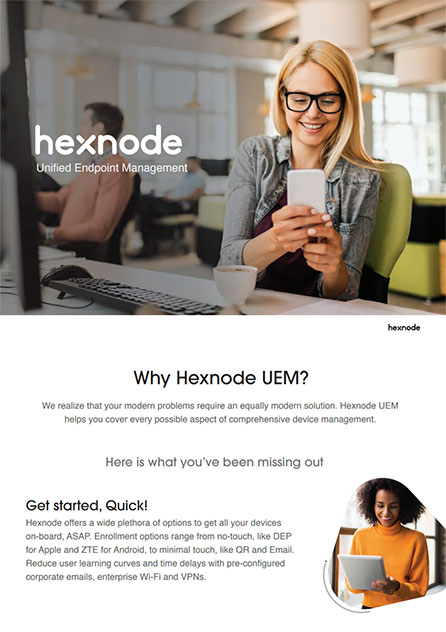 Featured resource
Why Hexnode UEM?
Download the brochure to learn how Hexnode, with its comprehensive set of features, is the right solution for modern-day enterprise mobility problems.
Find out how!
A cyber-attack occurs every 39 seconds, and since most attacks are financially motivated, the odds of losing capital are pretty high. With an MDM solution, you become less vulnerable. With a more secure enterprise network and devices, you can get a good night's sleep without worrying about those scary statistics. If you convert that peace of mind to money, it boosts the MDM ROI.  
Conclusion

 
If you have a device management solution in place, great! If you don't, then maybe you should consider getting one. All the MDM solutions in the market offer a product demo that could convince you to invest in one. Of course, you can always opt for a free trial if that's not enough. Nothing beats testing a product's worth for yourself. Believe it when you see it!