Digital signages are screens where a wide variety of visual contents can be displayed in a fun and interactive way. You can mostly find them in transit hubs, shopping malls, hotels and schools. Many offices use these digital displays to boost productivity and effectively communicate with employees in multiple locations.
Why are Digital signage solutions Important?
Digital signage solutions are great advertising tools. They are the perfect platform to highlight your business milestones and customer feedbacks. Furthermore, digital signage solutions offering flexibility and versatility often provide cloud-based services to help users easily deploy their contents onto the monitors.
If you are a business owner looking forward to expand your presence to more future customers, put your worries at rest as we have made a neat list of the top 10 digital signage solutions you should be using this year.
1. Hexnode Digital Signage Solution
Hexnode digital signage with its powerful content management capabilities enables Android devices to play various media files such as videos, audios, and images in loops. With a simple login to Hexnode's portal, you can centrally manage your screens from any location.  
Before the deployment of devices, they are locked down securely in a kiosk mode. By enabling the Digital Signage Display option displayed beneath the Android Kiosk Lockdown section, the screens can be configured to display the contents you need for your advertising purposes.  
Apple TV kiosk- Making it big with digital signage marketing
The  Kiosk Screensaver is another great option available for users where images and videos can be used as a screen saver for Android devices that are locked down in a kiosk mode. The robust digital signage solution of Hexnode MDM is a perfect choice for SMB's and large enterprises as it helps businesses to cut down costs efficiently and manage their time more productively. The process of setting up digital signages with Hexnode MDM is easy. Users can make use of its dynamic features to create varied types of visually engaging contents that will not only amaze customers but increase the brand value of your business as well. 
Source:
Gartner Reviews for Hexnode MDM 
Pros
Supports multiple media formats – JPG, PNG (images), MP4, MKV (video), MP3, OGG (audio)

 

Create subfolders, choose how many files can be added to the specified subfolder.

 

 

Users can choose 

how

 the fies should be arranged – by name, media type or random

ly

 

 

Add your very own customized background music 

 

Guarantees easier video management with the options to mute the video volume and trim the video clips. 

 

You can display the images specified in the folders and set its display span. 

 

Make more interactive contents by customizing the animation scale, animation effect and background color. 

 

After the video has been added, you can play it in loops, fit it to full screen, trim and mute the clips, and play your own background music. 

 

Users can shuffle the files and set the display screen's orientation to Portrait or Landscape mode. 

 

Set the brightness level. 

 

Specify the number of loops after which the device can go into sleep. 

 

Manage and deploy contents to thousands of screens from a single platform. 

 

Easy to use.

 
Cons
Even though 

Hexnode's

 digital signage solution is only available in Android devices for now, it will soon be extending its support for other OS platforms. 

 

D

igital signage for 

Amazon Fire OS

 supports only the streaming of images.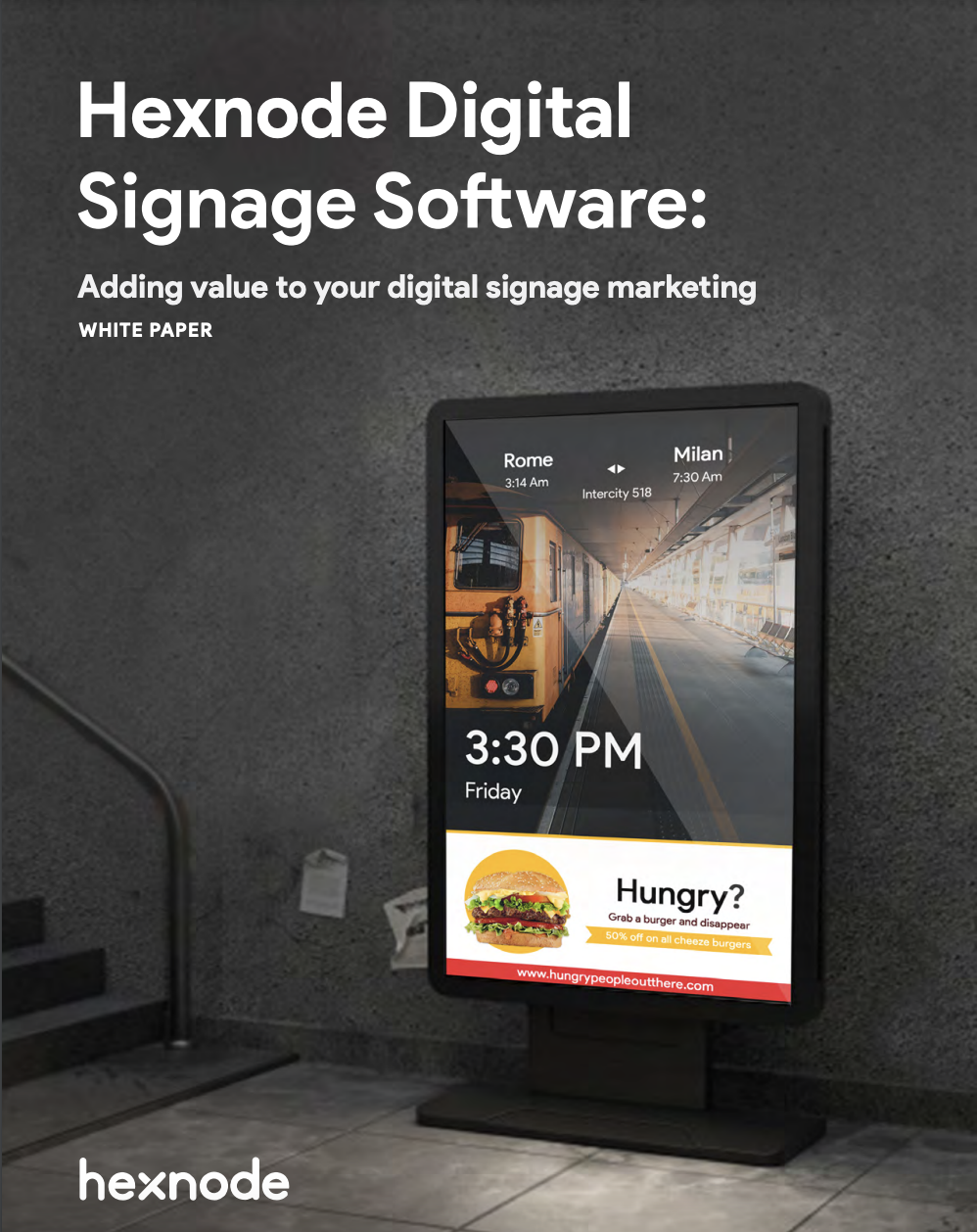 Featured resource
Hexnode digital signage software: Adding value to your digital signage marketing
Signage management can be a piece of cake when you have the right solution with the right strategies in place. Get to know about Hexnode's digital signage software and enhance your signage management strategies.
Download the White paper
2. Reach
This Minnesota based company has been in the digital signage market for a long time. They provide plenty of apps and templates to display schedules, social media feeds and important announcements. Their feature rich software, however comes with a number of limitations. Reach won't be the perfect choice if you want displays with more formal designs.
Pros
Easily allow users to make changes remotely.
Customize photos, videos, and other graphics.
Provides businesses with the flexibility to create multiple themes for different locations.
The touch screen integration helps users to personally connect with their customers.
Cons
Despite offering hundreds of templates, the design options are limited.
People who want a more business-like feel for their displays will have to design their slides in another platform before adding it to the software.
Product is not easy to use, for many of their non-technical users the learning curve remains difficult.
3. truDigital Signage
truDigital is a Utah based company that specializes in providing a cloud based digital signage software. They have a cool display feature where users can keep some of the widgets stationary and rotate other media files at the same time. However, their complicated software makes it hard for first-time users to enjoy these functionalities.
Pros
Flexibility in personalizing the content you want to display.
The cloud-based software provides a good response, users can edit and upload their contents within minutes.
Integrations with many third-party applications such as Instagram, Facebook, Slack and YouTube.
Cons
No multiple sections on a screen.
Absence of livestreaming and background music.
Slides lack customization and the design of the templates are basic.
Some of the out of box integrations do not work.
UI is hard, it takes time for the user to get familiar with the software.
4. Enplug Display OS
Enplug is easy to use and the designs found within the software are smooth. It comes in handy in businesses where the displays are kept simple and minimal. Though they have an impressive list of clients, Enplug is still riddled with some limitations ranging from its displays to connectivity. Users are often left with a wish for more functions to keep their screens lively and attractive. In spite of these drawbacks, Enplug is one of the few digital signage solutions where customers can use the software freely with minimal assistance.
Pros
Easily make different display groups and manage the contents that are to be displayed in them.
Users can assign priority for their contents, high priority contents are displayed first.
Control schedules and remove all the assets you don't want from the screen.
Cons
Difficult to remove display items in bulk.
Lacks the capability to automatically display the screens in the order you want.
The software cannot schedule the slides to run in a specific order, such as displaying a set of slides on the first day of every month.
The hardware can sometimes be difficult to connect.
5. QuickESign
The drag and drop layout editor of QuickESign simplifies the process of including different slide shows, videos, social media feeds, and other widgets into TV screens. This app which also acts as a Roku screensaver will restart automatically when the power fails. The flexible pricing of the software makes it more affordable for small businesses. Like other digital signage solutions, QuickESign is designed for users to create and edit their own customized layouts. The biggest downside of QuickESign includes its lack of intuitiveness for new users and its display functionalities regarding playlists and schedules.
Pros
App contains plenty of widgets to make screens look more informative.
Create multiple presentations and upload it almost instantly.
The preview feature provides users a quick view of the slides they want to publish before deploying it onto their screens.
Cons
Scheduling playlists is not easy.
Difficult to setup different playlists for separate digital signs from the same business account.
Navigating the app for new users will be hard.
Lack of ease for formatting texts.
6. Yodeck
Yodeck unlike most of its competing digital signage solutions, is relatively easier to set up and use. It consists of a good feature set and users can centrally manage their screens from any device. Important highlights of Yodeck include their drag and drop feature and easy deployment of video walls. However, they lack a preview function and the software takes time to reflect any changes the user makes to their contents. Filtering the social media widgets is also a challenge.
Pros
You can use it for multiple screen sizes with different orientations.
Supports a wide range of file types from pictures, videos to PDFs and PowerPoint.
Cons
Takes time for the status to update correctly.
Software lacks a preview function, making it difficult to see the contents before it gets deployed.
All the changes you make on the player won't be reflected right away, you will have to either change it manually or wait for a couple of minutes.
7. NoviSign Digital Signage
Boosting over 20 drag and drop widgets, users can have access to many HD videos, weather widgets, social network feeds, RSS, website integration and interactive polls. It also includes a dashboard where the display units and media players can be tracked in real time. Additional features include proof play reports and live online connectivity. They have a lot of cons when it comes to design as users have frequently reported a variation in the designs they see on the screens.
Pros
The upload time for the contents are quick and the wide collection of widgets allow users to customize their display.
It syncs every 2 minutes so any changes made will be implemented quickly.
Cons
Users always have to do a quick check-in before deploying their contents to the screen as there is always a variation in the design after they have been displayed, especially in terms of location and the sizes of text boxes.
The slideshow feature is limited, it does not support images and videos of different sizes.
8. Screen Cloud
It provides easy integration with different technologies. Screen Cloud is relatively simple to set up and it works well on most hardware. Even when the internet gets disconnected, users who are connected to the software via a firestick will be instantly reconnected when the internet is back up. Screen Cloud with its limited user options cannot be used in large enterprises. They would work well in small businesses that have a limit of 3 to 5 screens.
Pros
Provides easy integrations with a wide range of technologies.
Easy to implement external media sources and customize the screens to different sizes.
Allow users with Google Business or School accounts to easily integrate their apps with Google.
Cons
Does not work well on an Android platform and it has several restrictions in user options and file permission fields.
Some of the apps in the software lack proper customization.
9. UPShow
Upshow purely runs on customer interaction. Their socially fuelled interactive signage solution help various brands to use their TV screens as a medium for customers to share their stories. You can customize your own TV channel by adding various contents generated by customers, entertainment feeds, and games.
The absence of live feeds and limited options for editing the dashboard is a major setback. The default color of the text on light backgrounds makes it hard to read.
Pros
Users are able to let their customers share photos with ease.
Simple deployment of contents to the screens.
Offers the convenience to schedule different slides to run at different times.
Easily filter through social media.
Cons
No background music.
Limited functionalities with the spotlights make it difficult to reorder them.
No control over editing the dashboard.
Absence of live feeds from the dashboard makes the software inconvenient and unreliable.
Users cannot change any of the text settings.
Lacks the feature of leaving some boxes as static.
10. SmartSign2go
Numbered one among the many cloud based signage solutions for SMB's, SmartSign2go offers plenty of features where you can easily create playlists and add QR codes in your screens. Even though they claim to be flexible, the software is very hard to navigate, especially for first time users. Some of the functions that need improvement includes better file management and more template options.
Pros
The function of importing designs is good and you can easily set up multiple users.
Its drag and drop feature offer an easier way to deploy contents.
Simple creation of playlists.
Smooth addition of QR codes
Cons
Lack of better file management makes it hard to view the files with multiple views.
Learning curve is difficult.
Businesses looking for a clean template will have limited options.
Benefits of Using Digital Signages:
Over 200 different companies worldwide market digital signage solutions and the number is still consistently growing. With the influx of digital signage providers, the digital signage market will increase at a compounded annual growth rate of 7.5% between 2021 and 2028. The reason for the rise is due to the growing demand by companies for the development of digital signage solutions, advertisement displays and paper wastage reduction, along with the growing awareness of the benefits of digital signage.
Source:
Conclusion
As more people are in tune with technology now, old advertising mediums like print displays are not attractive enough to capture the attention of customers anymore. They lack the ability to showcase the bright colors and animations that digital signages can provide. By choosing a digital signage software that works well for your business, you can quickly upload your contents onto the screens and monitor them remotely from any location.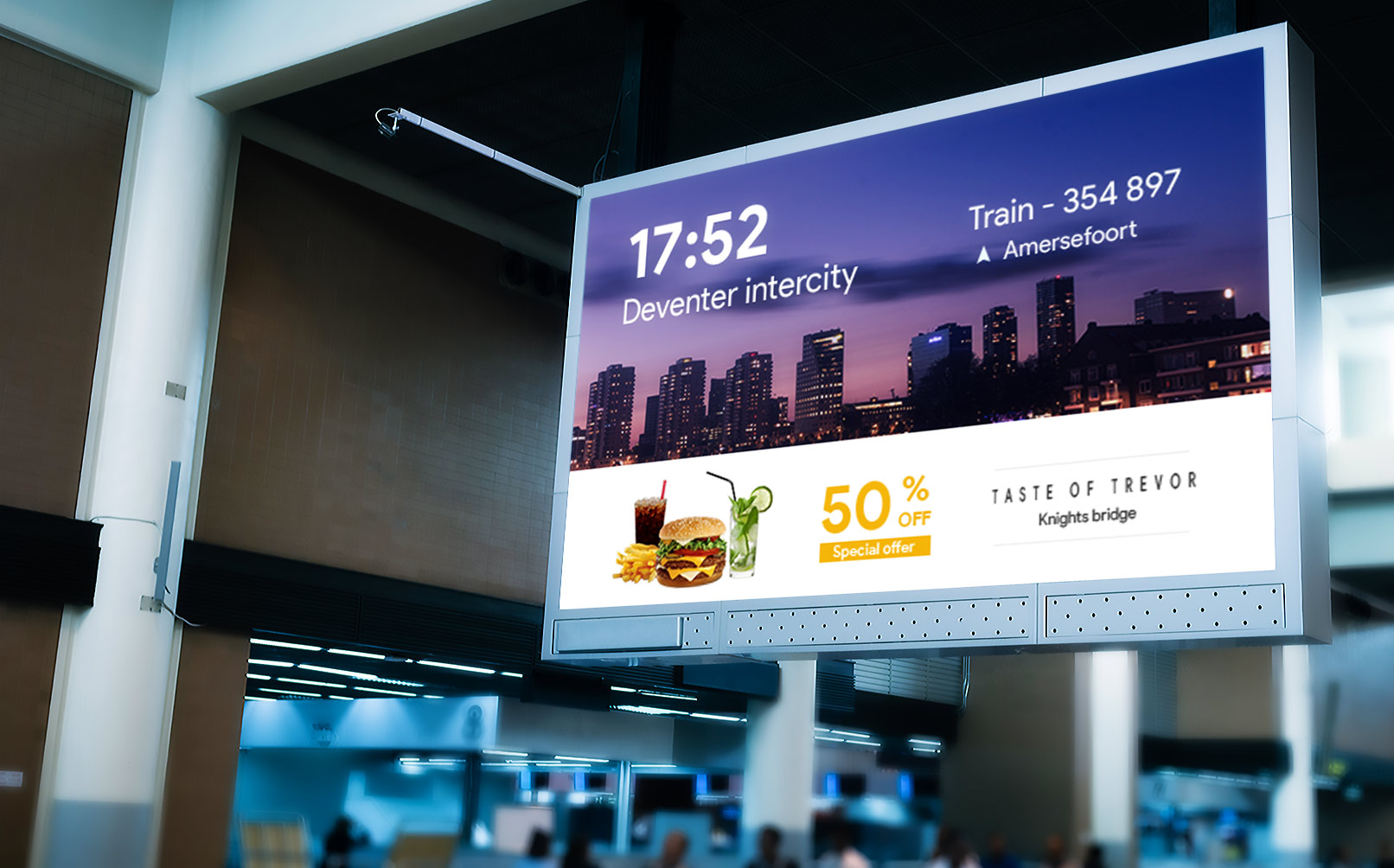 Cloud-based digital signage solutions are ideal for businesses that require time sensitive advertising. The best way to gain the trust of your customers is to make them believe your business answers all of their questions and provides them with the exact solution they're looking for. This can be done by choosing an interactive display where customers can share their experiences and leave behind valuable feedbacks.
Digital signages are extremely versatile and they are far less expensive to implement than print displays where the wastage of paper can lead to more expense and unnecessary purchases.
Disclaimer: All the ratings mentioned within the blog have been taken from popular B2B service review platforms.
Looking for a Digital Signage solution?
Sign up for a free trial and explore Hexnode's Digital Signage capabilities.
Click to start